Events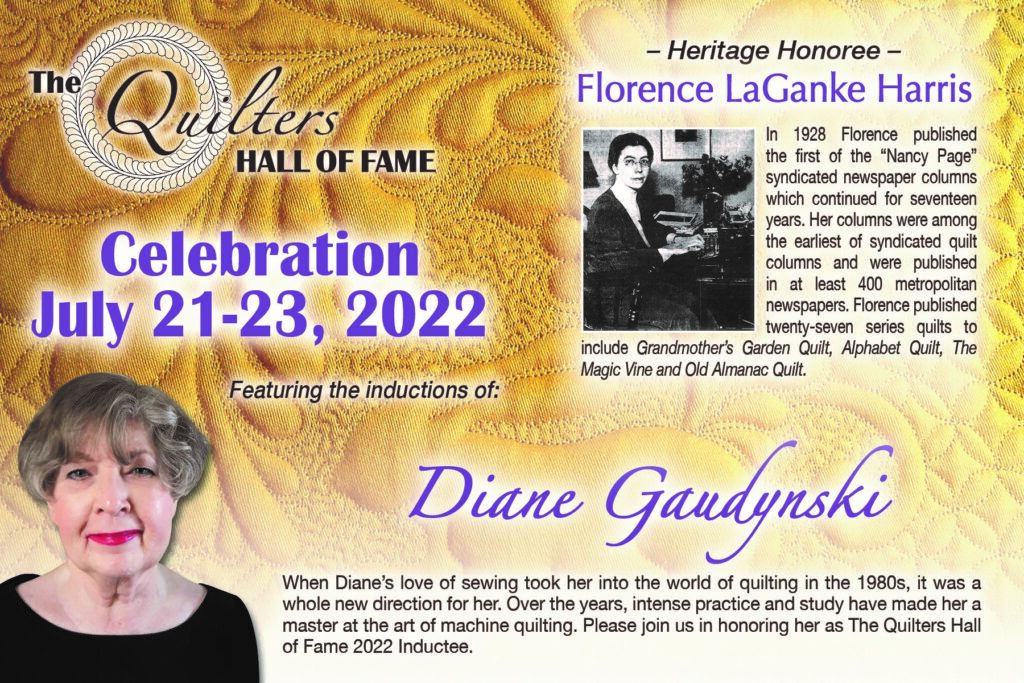 This page is currently still under construction… thank you for your patience!
We are excited to announce Diane Gaudynski and Florence LaGanke Harris as our 2022 Honorees! Celebration 2022 will be a hybrid event. We will be meeting in person in Marion, Indiana for lectures, quilt shows, gallery walks, vendor mall and silent and live auctions. Some of the activities will also be broadcast via Zoom.
Diane Gaudynski will not be able attend Celebration in Marion, but we are looking forward to her participation and involvement through Zoom. She will be involved in the following activities as our honoree: gallery walks, lectures, and the induction ceremony. Attendees will be able to view these Zoom activities whether at home or attending in Marion. We know everyone will enjoy the opportunity to be engaged with Diane in this way.
We will have interesting information about Florence LaGanke Harris, our 2022 Heritage Honoree, presented by Eleanor Burns, Louise Tiemann, and Merikay Waldvogel. These activities will be available in person or via Zoom.
Our use of Zoom for Celebration 2022 was made possible by a generous grant from the American Quilt Study Group. For more information on AQSG: https://americanquiltstudygroup.org/
Click on a title for information and registration. The link will open in a new tab. You will then be able to come back to this tab to look at additional events.
If you have questions or concerns, call us at 765-664-9333 Tuesday – Saturday, 10am – 4pm or email us at admin@quiltershalloffame.net.
Schedule of Events:
Required Enrollment fee covers your admission all three days to all venues.
Wednesday, July 20, 2022
Thursday, July 21, 2022
Friday, July 22, 2022
Saturday, July 23, 2022
Venues:
The Quilters Hall of Fame, 926 S Washington Street, Marion, IN (Google Maps)
Marion Public Library, 600 S Washington Street, Marion, IN (Google maps)
First United Methodist Church, 624 S Adams Street, Marion, IN (Google Maps)
Gethsemane Episcopal Church, 111 E 9th Street, Marion, IN (Google Maps)