Marie D. Webster
There are 52 Inductees (one is a married couple) and one Heritage Honoree in The Quilters Hall of Fame. I'm not going to take them in order, but I will start at the beginning. Not the first Inductee, but the first in the house; that's Marie Daugherty Webster. So many of you already are familiar with Marie Webster and why she deserves to be an inductee, and I won't give you her full story, but if you haven't met her, let me introduce you: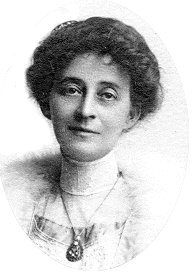 If you want to get to know Marie better, you can read a charming biography co-written by one of her grand-daughters at https://quiltershalloffame.net/marie-webster/
But for today, let's focus on the business part of Webster's
life. She made her home, and operated her business in the building that houses
the Hall of Fame Museum. If you travel to Marion, IN, you can see the gracious
entry opening to what was the front parlor, and take the stately staircase up
to the room she used as her office. Imagine raising a family there, maintaining
a position as one of the local social elite, and hopping on the train for a
business trip to Chicago.
Maybe in some later week I can write about the designer aspect of Webster's career, but in the meantime, let's take a look at some of the records of her business ephemera. The Museum usually has a rotating display of some of Marie's own quilts, her clothing and personal items, but you probably didn't know that there are many business artifacts in the collection too. Here's an example of how her patterns were marketed.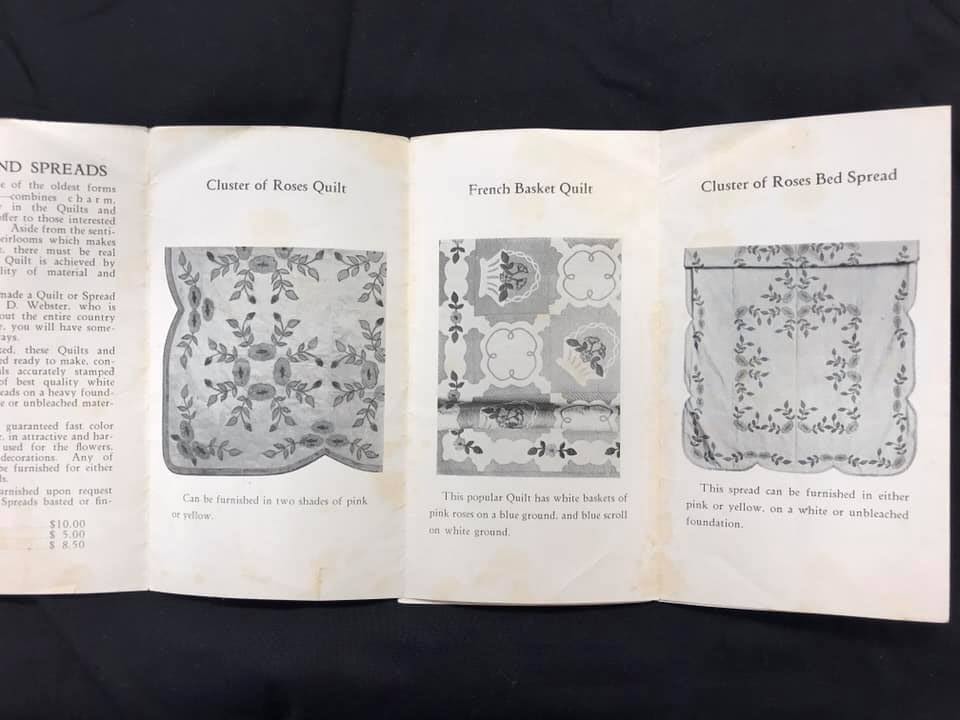 This is a 1930's original multi-fold trade catalog labelled
"Quilts and Spreads". It shows nine
Marie Webster patterns in black and white with pricing and colors
available. The blurb explains how the
kits were shipped, " Attractively boxed, these Quilts and Spreads are furnished
ready to make, including all materials accurately stamped on a foundation of
best quality white cambric, and the Spreads on a heavy foundation of either
white or unbleached material."
You can find other trade items in the Museum's collection at
https://quiltershalloffame.pastperfectonline.com/webobject/1462A6EC-FD09-445C-AFB4-833843745621
https://quiltershalloffame.pastperfectonline.com/webobject/E188A91F-06AC-4004-B423-719130381878
https://quiltershalloffame.pastperfectonline.com/webobject/8F88F984-7F3C-4D5F-A3E8-282682226921
I'm wondering who in today's quilt world would compare with Marie Webster? Fons and Porter immediately come to mind as women who built a sideline into a serious business which is still going strong today. They are also Hall of Fame inductees, and I'll write about them another week. But surely there are some more recent entrepreneurs who would be comparable. I sometimes wonder whether the internet has changed the way we do business to the extent that, either there is no longer a place for a Webster-style business, or we have so many small businesses that no one stands out. What do you think? I would love to hear who you think could be a current parallel to Marie Webster as a quilt designer and entrepreneur.
Your Quilting Friend, Anna