Mary A McElwain
MARY A. McELWAIN

2019 Heritage Honoree

Mary's shop opened in 1912, in a corner of her husband's jewelry and watch shop. She sold quilted, knitted, crocheted and embroidered items made by herself and others, at one time employing sixty women to create the items. She also sold quality fabrics, supplies, and patterns. In her shop she offered lessons in needle arts, bed turnings, and an inviting atmosphere. In 1933, when Mr. McElwain retired, Mary's quilt shop took over the jewelry shop and continued until Mary's death in 1943.
Mary had a talent for marketing. Although this was a period of time when women's expected place was to be in the home, she created a business that reached national and international clientele. In the Midwest, she addressed women's groups, spoke to radio audiences via WLS-Chicago, and was one of the judges of the Sears and Roebuck quilt contest for the 1933 Century of Progress World's Fair in Chicago.
Mary's shop was a "Go To" destination and drew wide acclaim, drawing customers from across the US and Canda. The Rockefellers came to purchase quilts from her. People came by the busloads to shop, see the displays and the bed turnings. From 1929 – 1942, Mary also operated a second store in St. Petersburg, Florida.
Mary expected excellence on the work that came out of her studio. She would audition and hire only the best hand quilters whose talents were in the 10-17 stitches per inch range. It was an honor to be employed by Mary.
There were specific identifiable characteristics of quilts that connected to Mary's studio: (1)
Mary advocated that only Peter Pan cottons were used which are identifiable by knowledgeable examiners.
All quilt tops, quilted "in-house"; whether made there or by clients were quilted to a standard of 10-17 stitches to the inch.
Cross hatch in the quilts quilted by Mary's quilters were always one of the following grids: 1/4″, 5/8″ or 1″ grid. (The 5/8″ grid is an excellent indicator as most people would quilt 1/2″ grids.) Other repeated motifs were used, including: feathered wreaths, an ovoid feather motif, feathered hearts, feather plumes and double rodding which she called "double broken lines."
Mary had a good business relationship with Marie Webster. Mary sold Marie Webster patterns and kits; they were prominently featured in her shop and in her published brochures. Also, Marie recommended Mary to customers looking for good quiltmakers to finish their quilts.
Mary was fascinated by dolls and miniatures and displayed a 300+ doll collection in the shop which she, herself, had collected or were given to her by customers.
But McElwain was more than that. She was also a wife, mother and grandmother, still finding time to make quilts for family members.
Thanks to Carol Butzke for her contributions to this biography.
Mary McElwain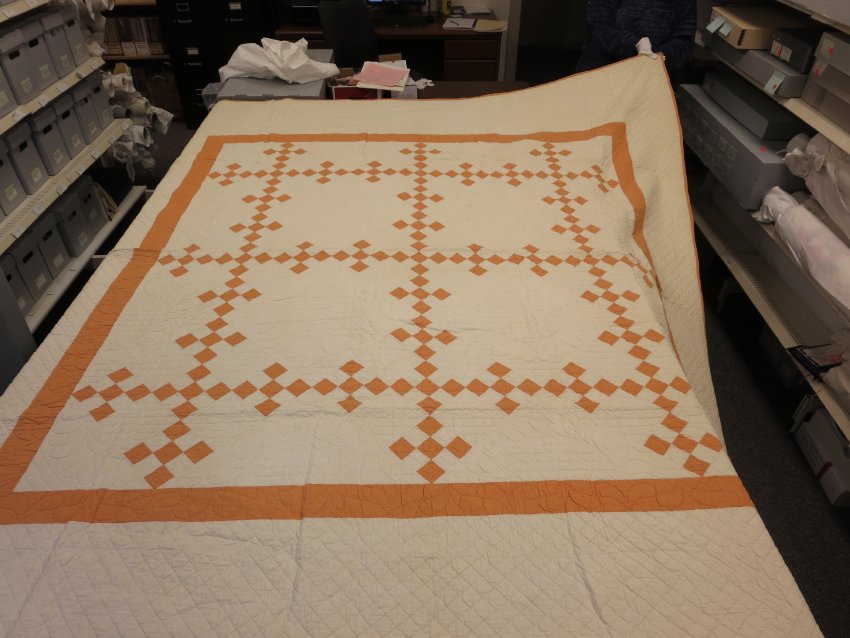 Nine Patch on Point from the Collection of The Quilters Hall of Fame.