Shopping at TQHF!
I was going to tell you about a living quilter this week, but there's something time sensitive I need to address.  As I write this, there are only 19 more shopping days until Christmas! But don't worry; The Quilters Hall of Fame is here to help.  Have you browsed the online store?  If not, I'll give you some teasers with the individual links here and a general link to the store below. I know that not all of you readers celebrate Christmas but take a look anyway because you might want a gift for another occasion—or even something for yourself; you deserve it this year.
If you've enjoyed learning about the Hall of Fame Honorees through this blog, you'll probably like the book version.  There's lots of new info I haven't included and plenty of beautiful pictures.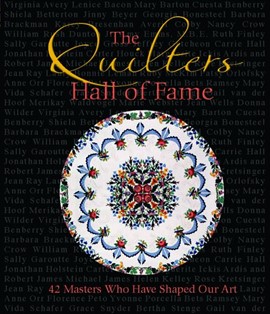 You'll find many other books in the store.  They're written by some of the Honorees so you can't go wrong.
Or how about showing off your knowledge of Marie Webster with a mask in a limited-edition fabric taken from her quilt designs? On the right is Poppies and on the left is French Baskets.  There are more in the store.
I've started baking my Christmas cookies and I always wear an apron in the kitchen.  I have florals and dogs, Mardi Gras and Halloween, and several general-design ones, but I pull out the Santas and the reindeer for December.  If you know someone who wishes they could be in Paris, why not get a French-themed apron? Or, if you prefer not to "travel", there's always candy.
Didn't get that holiday sewing done? (I know you had lots of time this year, so you were probably making a full-sized quilt, finishing UFOs and sewing masks.) But if you're short on a hand-made gift, we've got it.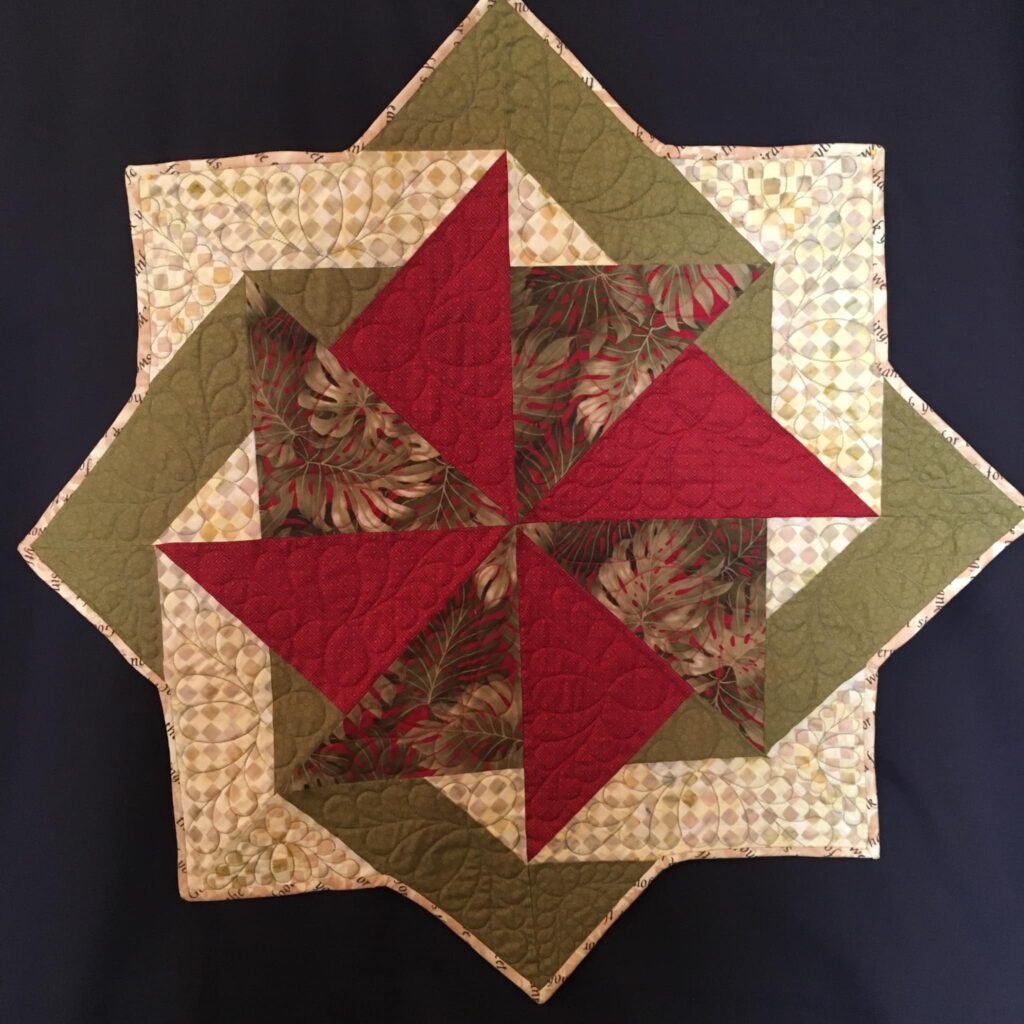 Or here's one that doesn't use the traditional red and green and could be out all winter long. I know I would never do so much piecing for a table runner, so this would be worth the price.
I'm not going to include any pictures of the many bags that are available; you can use the link below. But who wouldn't appreciate receiving a tote gift? I know most people aren't going out much these days, but come summer, we'll all be looking for something to cram our beach stuff into. Shop ahead.
The homemade items in the online store have all been made by volunteers, myself included, and the sales help support The Quilters Hall of Fame. If you want something for a Christmas gift, order soon to allow for shipping. And TQHF says "Thank you".
I don't want this week to be all infomercial, so let me re-visit an idea from last week. I told you a little about my development of the connection between fashion trends and quilt designs. Well, it turns out that great minds think alike: The International Quilt Museum just hosted a virtual session on a similar theme called "Mad Men, the Mid-Century Modern Aesthetic, and Modern Quilts". It was presented by Luana Rubin of eQuilter.com and Dr. Carolyn Ducey, curator of collections at IQM. (I say "similar" because I was looking at contemporaneous connections, and they took the connection forward from the 1950s to current modern quilting.) Ahhhh; affirmation!
There's a link below for more of IQM's virtual events; be on the lookout for the recording of "Mad Men" (December First Friday) and for upcoming First Friday postings. And there's a link for Textile Talks too. So much to "do" this winter; maybe I won't miss getting out.
By next week, my tree should be up and baking done, so I promise a full post about (who will it be ????).
Your quilting friend,
Anna
Shop.https://quiltershalloffame.net/online-store/
IQM. https://www.youtube.com/playlist?list=PL8wATen2F838IkHMwslSWnvPPCGb1hYk1
Textile Talks. https://www.youtube.com/playlist?list=PL8wATen2F838IkHMwslSWnvPPCGb1hYk1