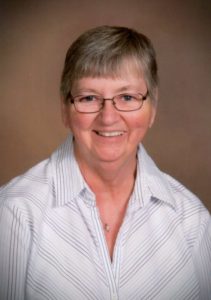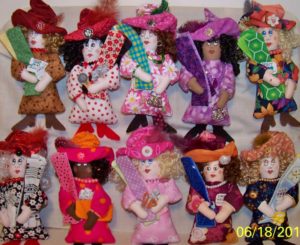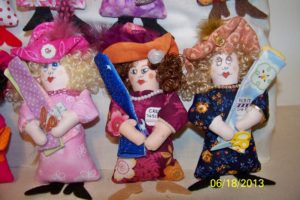 I was born in Marion, Indiana, in 1948, but now live in the small town of Swayzee, Indiana. I'm a retired nurse with twenty years as an Obstetrics nurse, fifteen years as a hospital medical librarian, and two years as an office nurse in a women's OB/gyn center.
I'm a member of the Marie Webster Quilt Guild and have held several offices over the past fifteen years, and the Quilters Hall of Fame where I volunteer occasionally at the welcome desk when the QHF is open.
As a child, I watched my mother sew on her treadle Singer. Boy, did we get in trouble for playing with that treadle!! I was interested in learning to sew, knit, and crochet as a young girl, to make clothes for my dolls, but I was left-handed and everyone else in my family who wanted to teach me was right-handed. Finally, my mother's best friend, Jane, sat me down across from her and told me to do exactly what she did. I did and low and behold I learned to knit and crochet!
I was first introduced to sewing in seventh grade Home Economics class. We made a simple pillow case, and I can still make a beautiful French seam!! We went on to sew an apron, and then the next year clothing. I continued to make some of my own clothes throughout high school, then clothes for myself and my four children for many years, and now my eight grandchildren.
            I also enjoyed cross stitch, plastic canvas, making dolls and teddy bears, and other crafts. I became interested in quilting in the late 1990's and it is my number one hobby now. I especially love to applique. Two of my quilts have won awards at past TQHF Celebrations and I pieced and appliqued the 2015 Opportunity Quilt.
________________________________________________________________________________________________
Fabrik Addikt Doll Pin Workshop

Saturday, July 22, 2017 9:00am- 12:00pm. I found the doll pins pattern in a quilting magazine in 2002 and fell in love with them! I've made at least a hundred, maybe more. For this class I will provide the doll already sewn and stuffed. The fun comes in choosing the fabrics for the dress and hat and then adding the embellishments. This class will be held at the Marion Public Library, Meeting Room A. The class is $35 for TQHF members and $40 for non-members. There is also a $10 kit fee payable in class. Kit includes:

Prepared Doll with matching threads

Freezer paper pattern for dress, hat and shoes

Batting square for hat

Selection of doll hair in several colors with matching thread

Felt squares for shoes

Selection of stitched "fabric bolts" for doll to hold

Fiberfill

¾ inch jewelry pin back
I will also furnish lots of beads, buttons, jewels, feathers, etc. for embellishments, beading needles, Micron pens and paint for faces, Hot glue gun/glue, Fabric glue and toothpicks, Blush and Q-tips
Supply List:

Two 6" x 18" pieces of fabric for dress and hat

One 6" x 10" piece of coordinating fabric for hat

Thread and bobbins to match fabrics

A turning tool or a 4-inch straw and purple thing or other tool

Tweezers

Hemostat or other stuffing tool

Hand sewing needle

Basic sewing supplies & scissors

Sewing machine, cord and foot pedal
I will provide a wide assortment of embellishments, but if you have beads, ribbon, miniature buttons, etc. that you would like to use, feel free to bring them.
Click here to register for Fabrik Addikt Doll Pin Workshop!