A Virtual Tour With Shiela Betterton
Last week, we went outside with Jean Wells, and now we're going to England with Shiela Betterton.
I have to admit, I didn't know about Shiela before I started volunteering at the Hall of Fame. But now that I know her, I feel we would have been kindred spirits—both accidental volunteers, and both taken up in quilt study. Shiela's interest in quilts came from her volunteer work at the American Museum in Bath, England. She apparently wandered in one day while taking her young daughters out in their "pram", and returned many times to enjoy the displays of decorative arts from America. Not long after, she developed a special interest in quilts and volunteered as a docent. You can read how she went on to develop the quilt collection at the American Museum and become its first textile curator, traveled abroad to study quilts, and shared her knowledge of quilts in four books; go to Honoree section of the Hall of Fame website: https://quiltershalloffame.net/shiela-betterton/
This is Shiela on the left, storing quilts in an armoire in the New Orleans Room at the American Museum.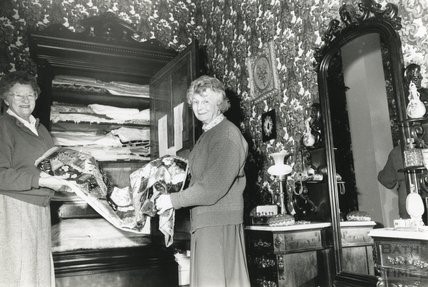 You can compare the current storage system at the Museum (note the nice shot of a Marie Webster French Basket quilt) here: https://americanmuseum.org/2013/07/quilt-display-and-storage-at-the-museum/
The Quilt Index has an article written by Shiela in 1994 describing the then-current collection. You can find it here: http://www.quiltindex.org/~quilti/docs/Vol3_no1-compressed.pdf Scroll through to page 14 and Shiela will tell you in her own words what she thought was important at the Museum. Or if you're curious to know what she said about "royal" quilts and quilters, there's this article http://www.quiltindex.org/journals/article.php?Akid=2-B-19
Shiela was a professional friend of another Honoree, Helen Kelley. They shared not only a love of quilts, but also fueled each other's interest in Navajo textiles. You may remember that I told you the Hall of Fame received Kelley's extensive book collection of Native American art; Betterton also found numerous Native American objects and photos in the American Museum collection, and wrote a book on the subject.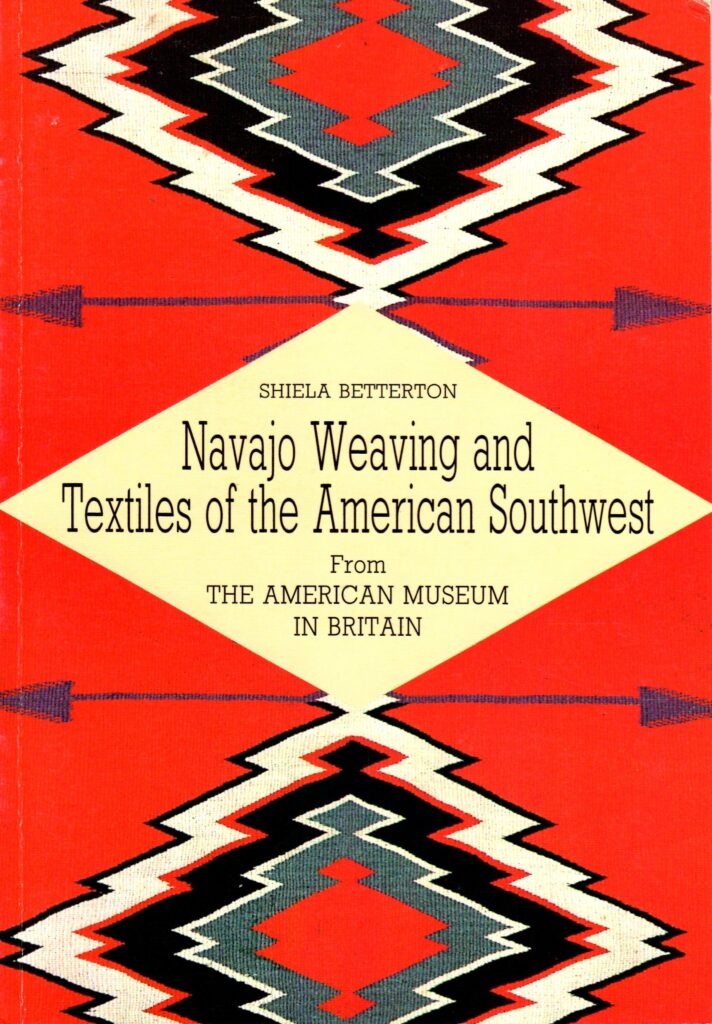 I would love to see the correspondence between those two on these subjects! (Yes, they lived in a time of letter-writing, and given international postage rates, it was on onion skin paper, so it's probably hard to read now –if it still exists.) Do you remember Helen's postcard quilts?  According to Helen's husband, Bill, the image on this one is Shiela Betterton. Can you see it?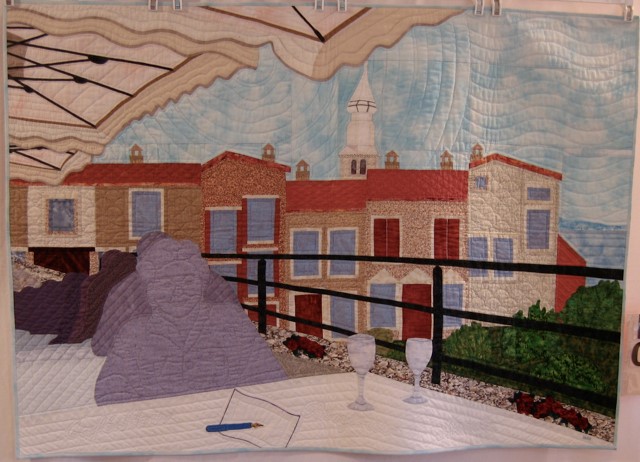 No discussion of Shiela Betterton is complete without some information about the American Museum, so here's our virtual visit. Opened in 1961, the Museum bills itself as "The only museum of American decorative and folk art outside the United States". It's housed in Claverton Manor, "beautifully situated above the valley of the Avon and commanding delightful views over a most attractive county. The mansion contains a noble entrance hall, a suite of lofty and elegant reception rooms; in all 20 bed and dressing rooms and every domestic arrangement, suitable for a large establishment; …" (from an 1869 for sale advertisement in the Times).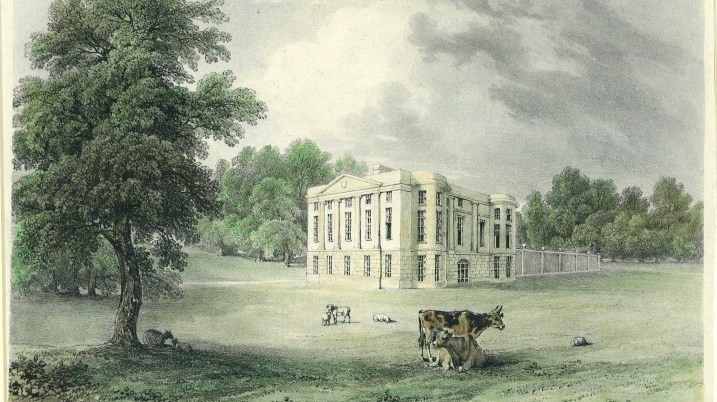 You can read the whole history here: https://americanmuseum.org/about-the-museum/history/the-history-of-claverton-manor/ And here's what it looks like today.
In addition to furnishings, other textiles, folk art, Native American objects, and other Decorative arts, the Museum currently has a collection of about 250 American quilts. This includes a lovely Baltimore Album quilt, and the Mimosa Hall Plantation Chalice quilt made circa 1860 by slaves in Texas for the use of the Anglican bishop of New Orleans during his visit to the plantation.
I don't know how technologically proficient Shiela was, but the Museum's website is a delight, and she would have loved the access it gives—sharing quilts and other art with the world. Poke around and you'll find the Baltimore Album and Chalice quilts. And there are quite a few interesting blog posts about quilts, including one about Red Cross quilts of World War I here: https://americanmuseum.org/2020/05/red-cross-quilts-from-wwi/ These are two of the ten Red Cross Quilts in the museum collection.
Or, if your taste tends to more modern, you can go down the rabbit hole of posts about the 1994 Kaffe Fasset exhibit there. Read them all if you have time;  there are great photos in each post. It seems that Kaffe came to live in Britain in the early 1960s, and stayed in Bath.  That began a long association with the American Museum, where he was inspired by the Museum's diverse collections – especially its many antique quilts. His first exhibit there was in 1994.  Read more about the exhibit thirty years later here https://americanmuseum.org/whats-on/full-events-listing/current-exhibitions/kaffe-2014-the-colourful-world-of-kaffe-fassett/  Here's a teaser photo to get you started, and another one of the current Kaffe Corner.
I hope you enjoyed this Museum "tour"; it makes you want to see more than the Pump Room the next time you are in Bath, doesn't it? If you get there, be sure to remember the legacy of Honoree Shiela Betterton.
Your quilting friend,
Anna