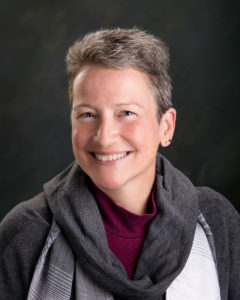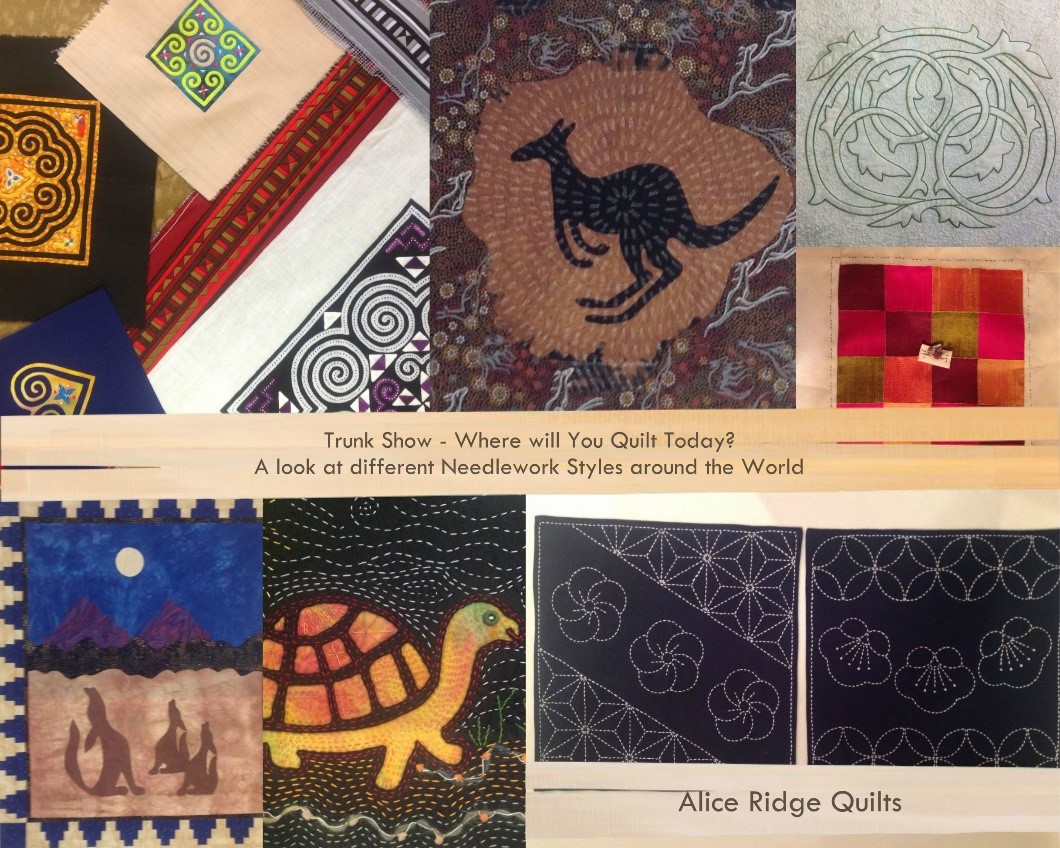 I learned how to sew and embroider by hand when I was in second grade, taught by my grandmother and my great aunt.  I got my first sewing machine when I was in 5th grade and have been sewing ever since.
I have been quilting on and off for over 35 years,  Quilting "obsessively" (as my husband says) for the last 15+ years.   I have been a Traveling Quilt Teacher for about the last 8 years. Just about all quilting styles appeal to me.  Handwork and machine, traditional to art quilts. I love to try new techniques and 'tweak' old ones to make them new and fresh!
I have a small rigid heddle loom to weave my own fabric to incorporate into some of my art quilts. I love playing with the different textures that you can get from different fibers!  I also crochet and knit, and am learning how to tat lace.  Never a dull moment!
Personal info: I am married to a career Army man (35 yrs Active Duty !!)  and have traveled all over the world.  We have lived on 3 continents….I've lost count of the number of times we've packed and moved ! 3 children -  2 daughters and 1 son.   The girls are in Indiana, my son is in the Army and his location changes as often as ours does. 4 grandchildren  - 2 girls and 2 boys, all of them in Indiana. 2 cats, crazy and stupid, but lovable anyway.
Thanks for Sharing in my Quilting Adventures!!
AliceRidgeQuilts.com
________________________________________________________________________________________________
Quilt Trip Around the World
Tuesday, May 9, 2017, 6:30pm. I am a Military Wife,  and my husband and I have traveled all over the world.  My trunk show presentation is an exploration of the different styles of quilting and needlework that I have encountered in my travels. Some of the pieces are authentic to an area, some are my personal interpretation of a place or style,  but, all of them are colorful and unique! I hope that you enjoy my presentation, and afterward, I hope that you ask yourself not "what" you will quilt today, but "Where" ! This lecture will be held at the Marion Public Library, Meeting Room B during the Marie Webster Quilt Guild meeting.

_______________________________________________________________________________________________
 Intro to Free Motion Quilting: Fun From Fillers to Feathers!
Saturday, May 13, 2017, 10:00am. This is an all day class to introduce students to Free Motion Quilting.   If you have ever wondered how to get started with Free Motion quilting, this is the class.  Time to step beyond the "in the ditch" quilting! This is a Technique Class, not a Project Class. We will make work on different types of free motion stitches and designs, from Fill Stitches to Feathers! Class is all day, with a quick break for lunch. Class is open for Confident Beginner and up.  You MUST be familiar with your machine. We will be working on our samples all the time and will not have time to "figure out" or trouble shoot an individual machine. Your machine must be able to drop or cover the feed dogs and have a free-motion or darning foot.
This workshop is free for Marie Webster Quilt Guild members. The cost for non-members is $20 and includes a membership in the guild.
Supplies:
-Quilt "sandwiches" for practicing different Free Motion Quilting stitches and exercises.Each sandwich should be 12" – 15" square,  neutral or solid in color so that you can see the stitches. Please use quality Cotton Batting, no polyester or high loft batting.  Please use quality quilting cotton fabric and quality thread.  Yes, we are practicing technique, and not making an actual project,  but the quality of the parts you use will have a direct impact on the ease (or difficulty) of  the quilting exercises.  I suggest a minimum of 8 sandwiches,  You can always practice more, but it stinks if you run out of practice space before we run out of class time! Spray Baste the sandwiches so that they are secure for practice.
-Thread for quilting, should be a shade or so darker than the fabric so that you can see the stitches, but not so strong a contrast that the thread screams at you for every little bobble made while practicing.
-General sewing supplies,   thread scissors,  marking pen or pencil that will wash out. I like to use a Frixion pen for marking on light fabric, it makes a clear thin line that is easily removed.
-Quilting Gloves
-Free Motion Foot and also your Walking Foot
-Please have your quilt sandwiches prepared before class so we can spend all our class time on skills and exercises.
-Please make sure that your machine is cleaned and oiled and has a new needle before class.  You will be giving it a workout!
-Please make sure that you are comfortable and familiar with your machine and that it is in good working order.  We will not have time in class to 'trouble-shoot' your machine.  We are gonna QUILT!!!!! ______________________________________________________________________________________________
Quilting From the Hardware Store
Friday, July 21, 2017 3:30pm-5:00pm-Join me for a light-hearted lecture and trunk show featuring quilting tips from the hardware store! Everyone runs to the quilt shop- and I agree that's fun to do- BUT have you ever explored the many hidden wonders of the Hardware Store? This lecture will be held at Marion Public Library in Meeting Room B.
Click here to register for Quilting From the Hardware Store
________________________________________________________________________________________________
Machine Applique
Saturday, July 22, 2017 9:00am-12:00pm- This class will make a small wall hanging using four (4) different techniques for machine applique. Each technique will provide a different "edge finish" look and give you the skill set to make your applique your own style, from a formal edge finish to a casual or 'primitive' look. Please bring your own machine so you are comfortable with its use! This workshop will be in Room 120 at Sunnycrest Baptist.
Supply list coming soon...
Click here to register for Machine Applique
________________________________________________________________________________________________