Words and stitches define Helen Kelley. Through her "Loose Threads" column in Quilters Newsletter Magazine and her many creative quilts, she established herself in the quilt world. Beginning in 1946, when Helen started to quilt, she was on a forward path that has used her education and inquisitive skills to the utmost. Her columns were full of honest, practical experiences that relate to quilters' lives. They were comforting and corresponded to people's everyday joys and problems. Many readers kept her articles right on their bed stands, just like a good novel.
A prolific quilter, Helen made more than 150 quilts, including Renaissance, which was recognized among the one hundred best quilts of the twentieth century. Every stitch holds a story and is backed by hours of study.
Helen Longfield was born April 28, 1927, in Englewood, New Jersey, of  English and German heritage. Her early years were spent on the East coast, from New York to Georgia, where her father was a consulting engineer for textile mills. It was in her high school years in New Haven, Connecticut, that she developed a love of the theater. She attended Stephens College in Missouri, and graduated in 1947 with a degree in theater from the School of Speech at Northwestern University in Illinois, where she joined the Delta Zeta sorority. At the University of Minnesota, she did graduate studies in speech pathology. Of course, this explained her knack for humor and style in both her writings and lectures.
Helen experienced all the difficulties of the Depression and World War II. In 1945, when she was home from school, her brother, Rennie, was released from the German POW camp Stalag VIIA where he had been taken prisoner in November 1944 while his military unit was pushing north from eastern France. She spent hours with him recording his experiences and wrote it out in a forty-page double-spaced manuscript that they called "Kriege." This early foray into writing began a career in which Helen would use the experiences of ordinary people to encourage others, which was the basis of her "Loose Threads" column.
In the  1940s, with Helen's fiance in the Marine Corps, a quilt seemed essential. Not knowing another quilter, Helen studied the character and style of old quilts and was able to figure it all out. After marriage, she and her husband, Bill, lived for many years in Schenectady, New York, then moved to Erie, Pennsylvania, and Johnson City, New York, before Bill led them back to Minnesota, his native state, in 1962. Amid all these moves, including those associated with his service in the Marine Corps, Helen toted her trusty Singer featherweight sewing machine with her to make clothing and costumes for herself and their children.
In time, their family grew to five children, and raising them became a challenge and a full-time endeavor for Helen. Their son, Billy, was born developmentally disabled, so his life required flexibility and creativity from everyone. Their daughter, Connie, is blind. Both Connie and Billy were diagnosed with type 1 diabetes when the family arrived in Minnesota, and Helen had to manage their insulin and diets among all her other duties. Their four daughters have grown into remarkably flexible and creative women. They all sew beautifully. Even their daughter Connie sews, although she is blind; the walls of her California condo are hung with quilts, both hers and Helen's.
While most people give gifts to family, Helen made special quilts in recognition of each family member. By the end of her life, Helen had five grandchildren and seven great-grandchildren, and her role had evolved into "Grandma Kelley's" quilts.
One of Helen's most famous quilts is The Unicorn (1987), which began with traditional designs but changed once her research started. She was inspired by the symbolism in Renaissance paintings and the mille fleur tapestries in the Cluny Museum in Paris. On the back of the quilt, Helen listed the symbols used, such as the strawberry plant at the feet of Mary, representing righteousness.
Another noteworthy quilt, Renaissance, seven years in the making, was finished in 1983. In this quilt, she set out to blend the art and traditions of Norway with American quilts, resulting in a stunning tribute to her husband's maternal grandmother, who came to America from Norway at eighteen and was known as "Granny" by the family. Each motif is a double applique with black applied first, under a second image inspired by Norwegian woven tapestry. Helen considers this a strong, groundbreaking quilt, especially since it was made during the bicentennial time when most quilters were still using traditional patterns. This quilt received recognition in many venues, including Marion Nelson's Norwegian American handicraft exhibit, which opened in St. Paul, Minnesota, and traveled to Seattle, Washington, and Oslo, Norway. It was later acquired by the Minnesota Historical Society.
At the end of her life, Helen still found creative inspiration by using old patterns in her exciting contemporary quilts. On her website, she stated that "ethnic needlework from around the globe has fascinated me... the origins of American Indian ribbonwork and of Indian Star quilts have been of particular interest to me."
Helen's Postcard Quilts evoke precious memories of places she has visited. Finally numbering twenty-four quilts, all in a thirty-five-inch by fifty-inch format, they include images of Norway, Jamaica, Canada, New Zealand, England, Scotland, Wales, France, Austria Switzerland, and many states and cities in the United States.
A nonpostcard quilt that Helen made to commemorate a family vacation in Jamaica was stolen from a quilt show in Chicago. She called this Come Back to Jamaica and gave a framed photographic copy to each of her daughters. Another of her quilts, Crazy Jubilee, or as her family knows it, Victoria was acquired for the quilt collection at the International Center for Quilt Study in Lincoln, Nebraska.
Helen's writings have appeared in several books and countless magazine articles, and her own library reflected her ambitious research abilities. her popular column, "Loose Threads," was published in Quilter's Newsletter Magazine from 1983 through 2008, with her last column appearing posthumously in the December/January 2009 issue. As a result of all this research and writing, Helen's work as a writer consultant and historian continues to inspire and entertain readers.
Early on, Helen recognized the importance of putting a time period to quilts in her 1985 self-published book Guidelines for Dating Quilts. Her book Scarlet Ribbons was a twenty-five year study of the Native American Indians' use of French silk ribbon for reverse applique floral designs. In 2003, Every Quilt Tells a Story: A Quilter's Stash of Wit and Wisdom was the first of three collections of favorite "Loose Threads" articles. Helen Kelley's Joy of Quilting won the Midwest Book Award for the best craft/hobby book in 2004. The title of this book was chosen for reflect Helen's pride that her mother had learned to cook under Irma Rombauer, author of The Joy of Cooking. A third collection of her writings, Loose Threads: Stories to Keep Quilters in Stitches, was published in 2008.
Nothing pleased Helen more than her family, her church involvement, and her meaningful Minnesota quilt guild, and she found a way to balance these three loves gracefully. As the first president of the Minnesota Quilters in 1978, she was very proud of the role they have played in sustaining the growth of the American quilt today. She helped with the Minnesota Quilt History Project by driving throughout Minnesota and the Dakotas to pick up and return quilts for documentation. At Minnesota Quilters Meetings, Helen's name tag would show her as "Member Number 3," and she was always comfortable staying in the background, enjoying the work of others.
In 1998 she was named "Minnesota Quilter of the Year." Other awards included 1995 Artist of Distinction, Fiber/Metal Arts of Minnesota, and the 2000 Minnesota Textile Center's Spun Gold Award.
Helen enjoyed talking to other quilters. At the same time that Minnesota Quilters was forming, Helen found four other ladies whom she respected as quilters and who liked to get together frequently. They called themselves the Idiots and shared humor, coffee, and treats as well as serious thoughts about quilting. Her family has two small, unique friendship quilts that came from the group.
Helen designed four large biblical wall quilts for her church, North Como Presbyterian Church. She, and a great group of quilters from the church, pieced and quilted the four hangings. On permanent display in the  church great room, they are Women of the Bible, Jesus and the Children, I am the Vine, and the Good Samaritan.
Helen shared her quilt knowledge as a teacher, with more than 300 engagements in thirty-five states and nine foreign countries, where her teaching was well received due to her engaging style and meticulous research. Sharing quilt knowledge "across the pond" led to many opportunities for Helen. She gave a number of talks and workshops in England, at the American Museum in Bath and the Victoria and Albert Museum in London.
With her inquisitive mind, Helen was able to form wonderful friendships, especially with noted quilters. Her technique was just to write and request an audience. this worked with two English honorees of The Quilters Hall of Fame, Shiela Betterton and Amy Emms M.B.E., the North Country quilter who was decorated by the Queen.
Other honoree friendships for Helen included Mary Barton and Bonnie Leman. Helen recalled a wintry Iowa drive on ice with Bill to visit Mary. In her sweet and delicate manner, Mary shared her quilt expertise. Bonnie Leman was always very good to Helen also, so it was easy for her to respond to this trust.
In her understated and humorous way, Helen summed up her life in these words: "What have I done with my life? I am a pretty good sewer. I have a family that tolerates me. I am a pretty poor businesswoman since I give things away. Being the daughter of a Victorian woman meant that a well-bred woman never discussed money. However, I married a man who makes enough money to buy groceries and I have made enough to buy fabric."
By Georgia Bonesteel
"There's nothing that beats the pleasure we feel when we have clipped off that last thread end, and our very own quilt,
child of our heart,
is finished."
Helen Kelley
Patchworks website, May 2008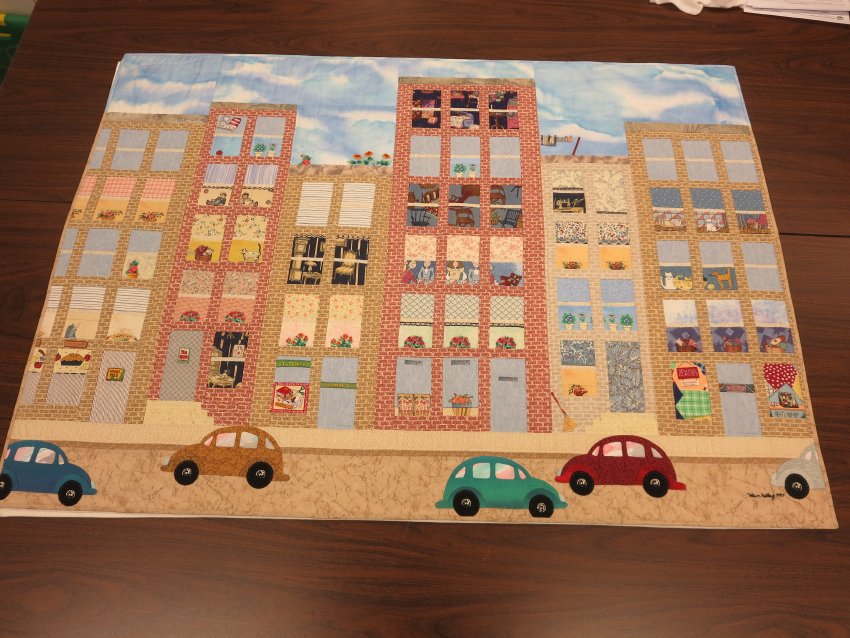 Postcard # 5: New York - The sameness of the vertical and horizontal lines of the buildings in Manhattan hide the diversity of people who live inside. This quilt gives you a peek inside the windows to view the hippie, the quilters, the old people and the gypsy tea room. The generic cars let you imagine yourself in your own car, driving down the street.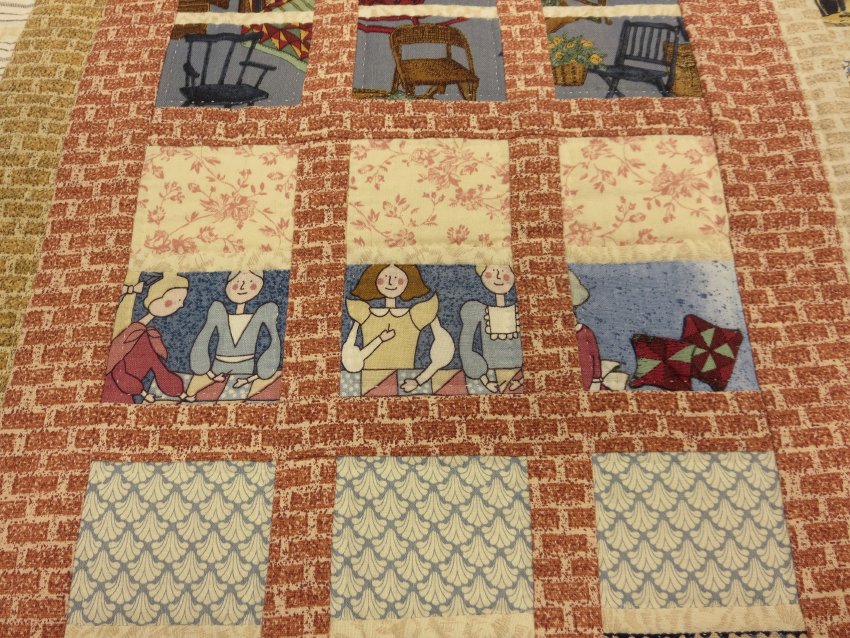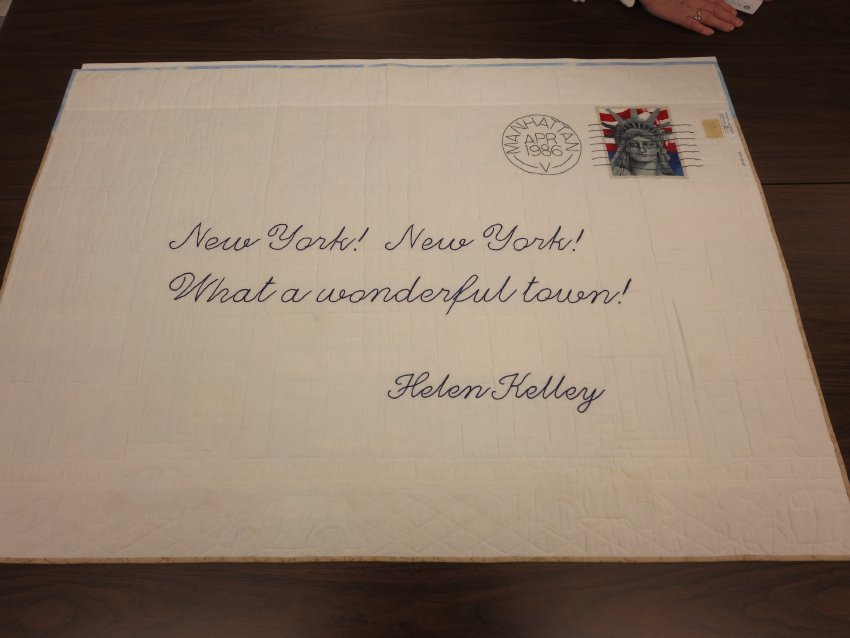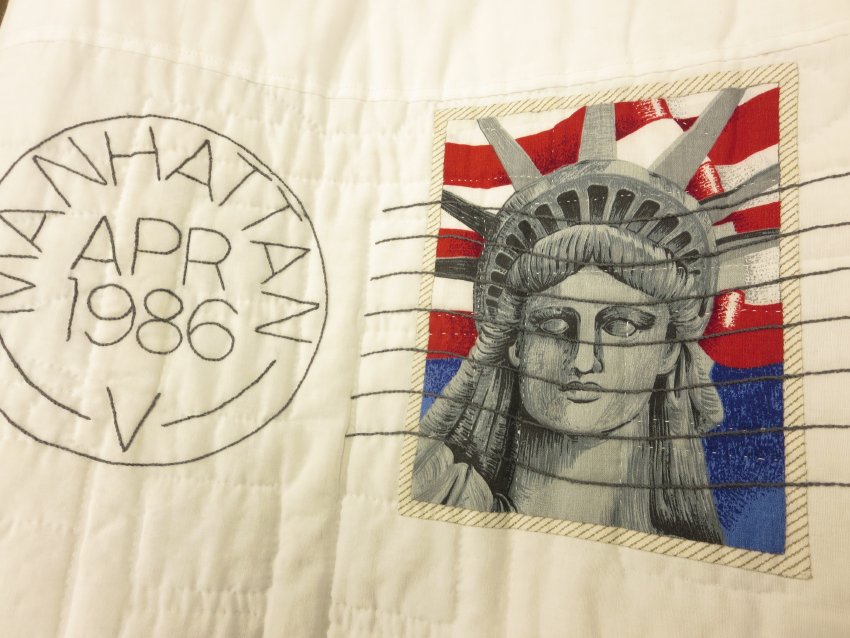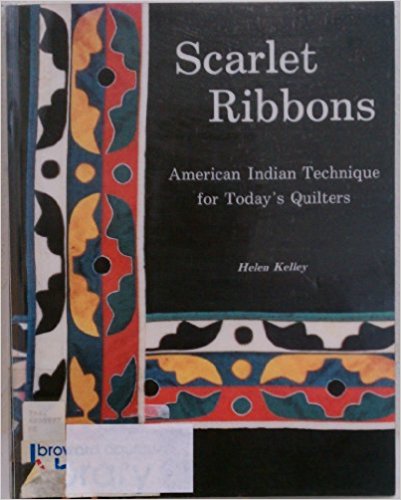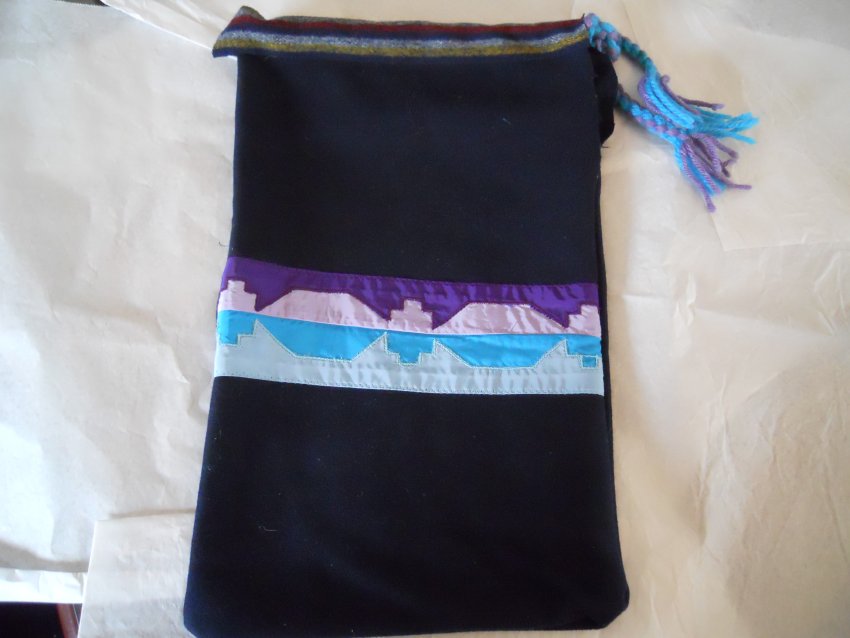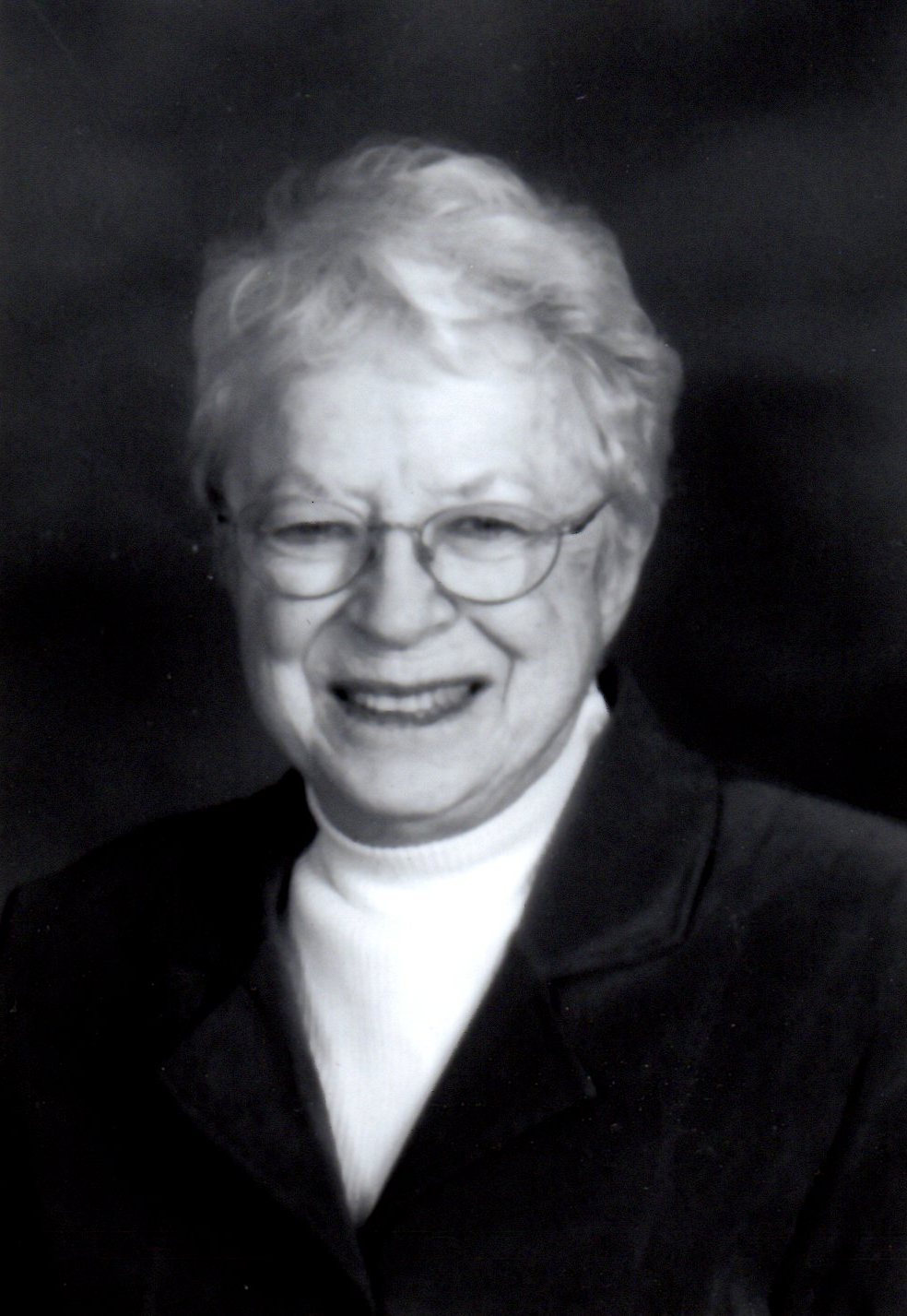 Selected Reading
Kelley, Helen. Dating Quilts from 1600 to the Present. Lafayette, CA: C&T Publishing, 1995.
------. Every Quilt Tells a Story: A Quilter's Stash of Wit and Wisdom. Stillwater, MN: Voyageur Press, 2003.
------. Helen Kelley's Joy of Quilting. Stillwater, MN: Voyageur Press, 2004.
------. "Loose Threads." Column in Quilter's Newsletter Magazine from no. 149 (February 1983) to no. 407 (December 2008).
------. Loose Threads: Stories to Keep Quilters in Stitches. Stillwater, MN: Voyageur Press, 2008.