By Mackenzie Richards
With an astounding 45-year career, Mimi Dietrich has one of the best applique reputations in the quilting world, having written 17 books and receiving several awards and honors. Mimi Dietrich has lived in Maryland her whole life. She hails from Baltimore and has most certainly left her mark on her hometown. Mimi was born on January 21, 1948. While Mimi is a world-renowned quilter, she didn't start her career until 1974. She made her first quilt while pregnant with her first son, Jon. She said, "I've always loved sewing, and I figured if I could sew, I could quilt." This was when her love for quilting started.
Mimi met her husband in college at the University of Maryland Baltimore. They both graduated in 1970 and welcomed their first son, Jon, into the world in 1975. Mimi graduated with a degree in American Studies. For the first six years after college, Mimi taught middle school and preschool. 
Mimi created her first quilt in 1974 for her newborn son, Jon. Since then, she has created quilts for her second son, Ryan, as well as her husband, Bob. She loves to continually create quilts for her family, especially her three grandchildren. 
Mimi's interest in American Studies is part of what got her interested in the history of Baltimore. A majority of her quilts are a homage to Baltimore. She has been teaching Baltimore Album classes for more than 20 years as well as teaching a class on quilting at her Alma Mater. In teaching this class, she was given a grant from the National Quilting Association. 
The class that Mimi taught at the University of Maryland Baltimore was a history course that she taught using quilting. Part of the grant money she received from the NQA went toward a shopping spree for her students at local quilt shops. Mimi said of teaching, "OMG! I love teaching! It is my happy place! I love seeing the light bulbs go on when students learn something new, and I love to see my students' accomplishments." 
In addition to teaching at a university and instructional classes in her hometown, Mimi has also taught internationally. She has taught classes in both Canada and Bermuda. Some of her favorite memories include teaching on cruises to Alaska. 
Mimi is not only a teacher but also a skilled writer. She has written 17 books in her career. She credits Happy Endings, her first publication, as her best work. Written in 1988, the book is still being printed in 2020 - a notable accomplishment and long life for a quilting book. Overall, her books have sold over half a million copies.

Some of Mimi's other popular books include Mimi Dietrich's Favorite Applique Quilts, A Quilter's Diary,  and Pink Ribbon Quilts: A Book Because of Breast Cancer. A Quilter's Diary is not only her most recent book, but also a book that teaches people how to create a quilt of their life story. Pink Ribbon Quilts is one of her more heartfelt books that, in her own words, "has touched the hearts of many quilters." 

Mimi quotes her quilting style saying, "I love applique! It's my favorite quilting technique- maybe because it's so relaxing." Most of Mimi's quilts are applique, including one of her most famous quilts "Baltimore Hon." This quilt, along with many others, has been on display at the Maryland Historical Society since March 2019 until March 2020. Mimi has had an exhibit there entitled "Hometown Girl" for a year now.
Mimi is a strong advocate for quilting guilds. She is a founder of both the The Village Quilters in Catonsville and the Baltimore Applique Society. Mimi sees guilds as a great way to fellowship with other quilters and continue learning. Everyone has different techniques, fabrics, and styles to share with each other. 
To add to her repertoire, Mimi has also taped two TV shows for Simply Quilts. The first was about quilts from her book Quilts from the Smithsonian. This book shows the marriage that she created between quilting and American history. The second show was titled "Artful Applique" and filmed in her living room. 
Mimi Dietrich has been presented with several awards and honors in her 45-year career. First and foremost, she has been selected as the 2015 Quilters Hall of Fame honoree. Secondly, she was named Professional Quilt Teacher of the Year by the International Association of Creative Arts Professionals in 2013. 
It is with great honor that we welcome Mimi Dietrich into the Quilters Hall of Fame as the 2015 honoree. Mimi stated, "Last week I was getting quilts together, and I realized that one of my early dreams about being a quilter was coming true...having a one-woman show!!"
"...may all of your quilts have 'happy endings!'"
Mimi Dietrich
Happy Endings: Finishing the Edges of Your Quilt
(1987) pg. 9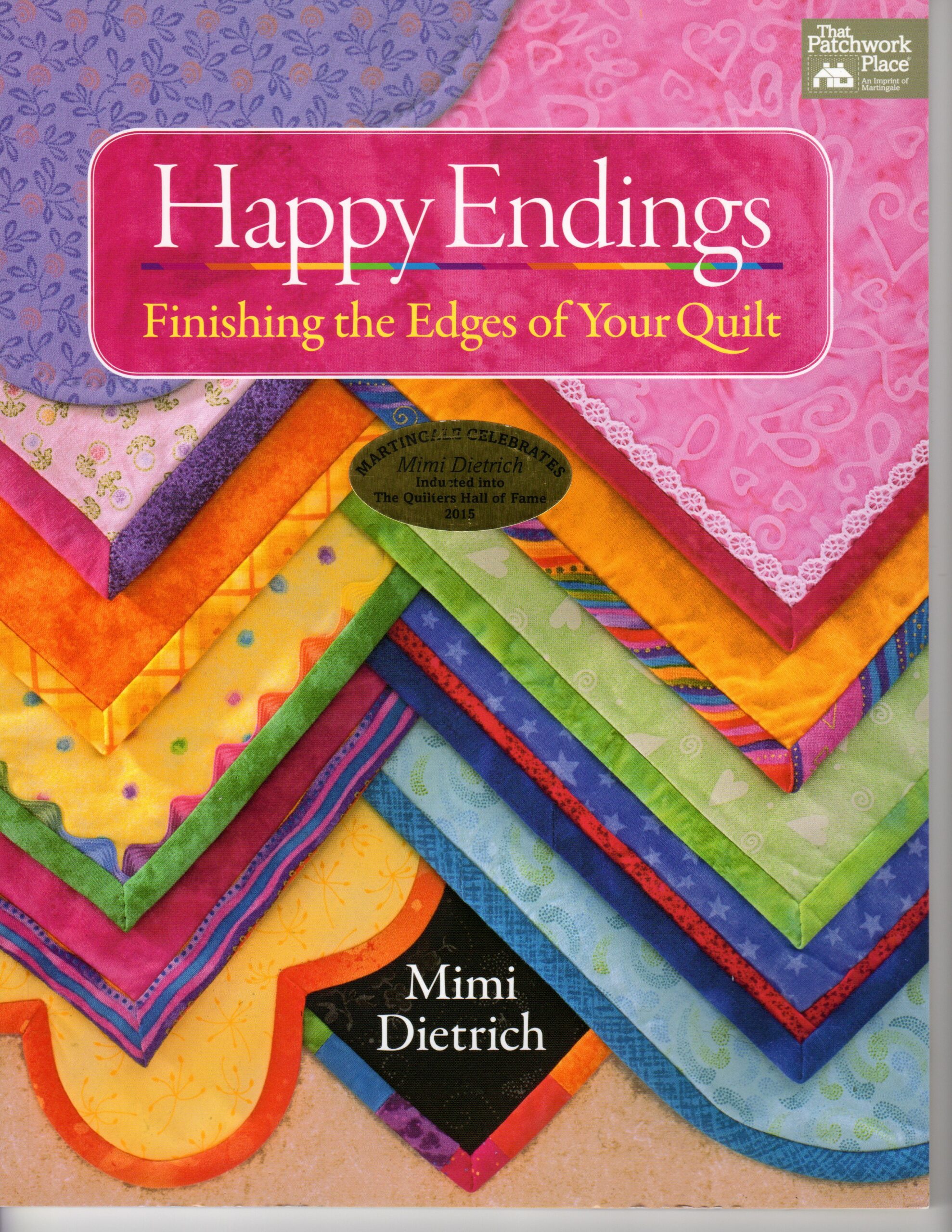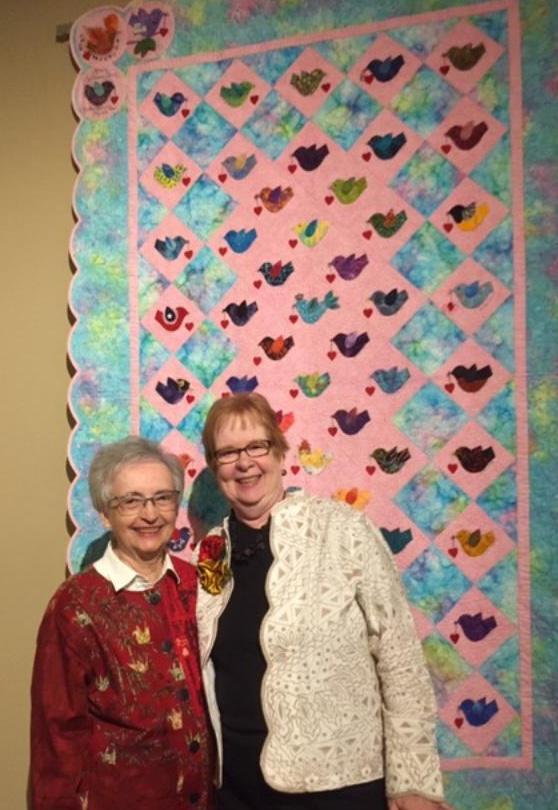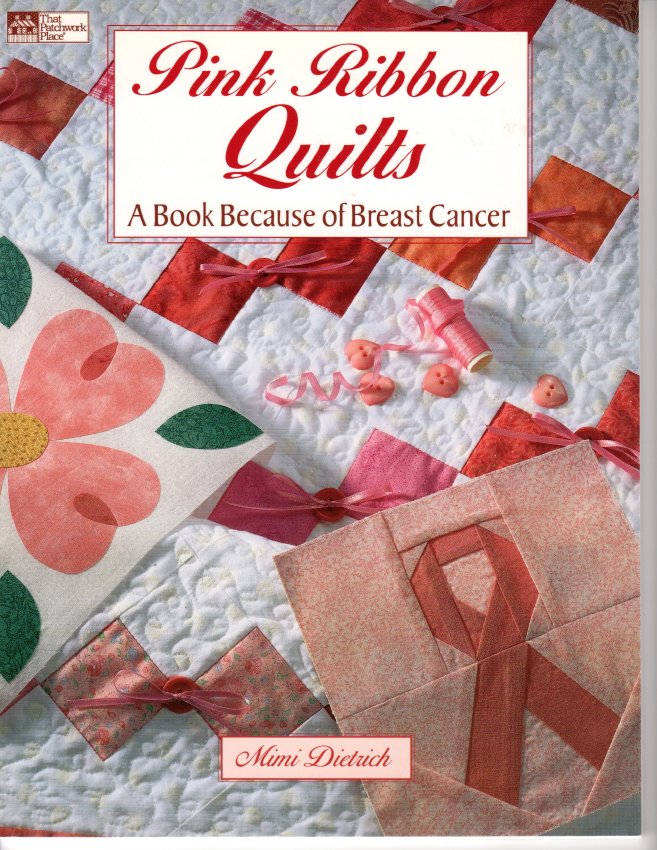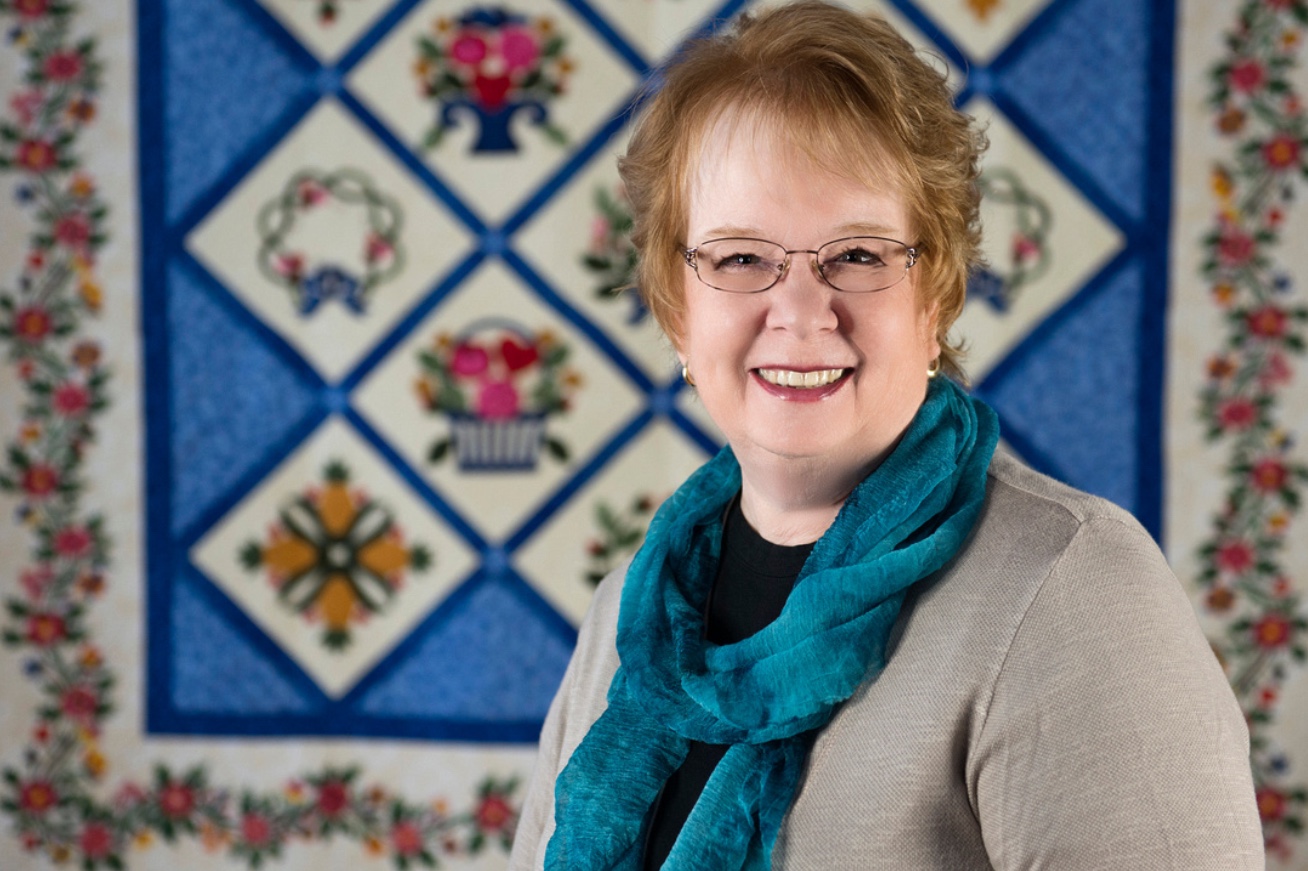 Selected Reading
"2018 Alumni Awards: Mimi Dietrich '70, American studies." Baltimore, MD: University of Maryland Baltimore County, 2017.
Dietrich, Mimi. A Quilter's Diary Written in Stitches. Bothell, WA, Martingale, 2008.
-------. Baltimore Basics: Album Quilts From Start to Finish. Bothell, WA, Martingale, 2006.
-------. Baltimore Blocks for Beginners: A Step-by-Step Guilde. Bothell, WA, Martingale, 2012.
-------. Favorite Applique Quilts. Bothell, WA, Martingale, 2007.
-------. Happy Endings: Finishing the Edges of Your Quilt. Bothell, WA, Martingale, 1987
O'Grady, Jenny. "Stitching Her Story." Baltimore, MD: University of Maryland Baltimore County, 2019.
Baltimore Basics
This quilt is featured in Mimi's book, Baltimore Basics and is now in the Permanent Collection at The Quilters Hall of Fame.
Mimi opens the book with, "You're about to begin a wonderful journey as you applique designs inspired by quilts made in Baltimore more than 150 years ago!" And she invites you to take a place in Baltimore's quilting history with her.
Please enjoy the quilt and detail photos!