When Marianne Fons and Liz Porter met in a beginners' quilting class in 1976, they were young mothers interested in a hobby that would let them make beautiful quilts for their homes. They did not know it at the time, but they were part of a renewed interest in American crafts in which quilts would take star position.
Soon Marianne and Liz were teaching classes, offering Beginning Quilting in the small town of Winterset, Iowa, in Madison County, home of the famous covered bridges. From this beginning they eventually build one of the best know brands in the quilting industry and became two of the most widely known quilt personalities in the world
With degrees in English, Fons & Porter next added writing quilting books (Classic Quilted Vests, published by Yours Truly, Inc. 1982), to their skills, quickly becoming well-known for quality, easy-to-follow instructions. In 1993, their Quilter's Complete Guide was published by Oxmoor House. A comprehensive handbook on all aspects of quilting, the Guide became one of the best selling, most widely used quilting manuals ever published. Quilter's Complete Guide sold over half a million copies. With approximately 20 other book titles and numerous magazine issues to their credit, Fons & Porter have probably written more pages of quiltmaking instructions than any other writers.
Fons & Porter's first 13-part series for Public Television began airing nationwide in 1995, immediately gaining a following because of Marianne's and Liz's down-to-earth instructional style and casual interaction with each other on air. They not only served as hosts for the shows but planned the content as well. Their popularity and their dedication to teaching others how to enjoy quilting as much as they do has made their shows Number 1 on public television nationwide.
Their love of antique quilts led them to develop several lines of reproduction fabrics for quilters for both Piney Woods and Benartex.
The success of Fons & Porter's Love of Qulting on TV lead to the introduction of Fons & Porter's Love of Quilting magazine, first published by Oxmoor House. From its beginnings, the magazine featured the personalities and quilting styles of Fons & Porter. In 2001 Marianne and Liz had the opportunity to purchase Love of Quilting magazine. During their ownership, they grew the circulation from around 40,000 to nearly 300,000 subscribers.
Along with publishing the magazine, the two built a successful mail order company and retail store. In 2005 they developed a line of quilting tools and notions carrying the Fons & Porter brand.
Through the years, Fons & Porter, either together or separately, have taught classes and/or lectured at virtually every major quilt show in the country and for quilt groups in almost every state.
They were honored with the 2005 Michael Kyle Award of Achievement honoring commitment to creativity and excellence in the quilting industry.
Under their ownership, the mission statement for Fons & Porter was always, "Our goal is for you to enjoy making quilts as much as we do."
After selling the businesses, Liz Porter moved to the Austin, Texas area where she is active in several quilt groups. Now that she is retired, she is making even more quilts than ever before and loving every minute of it.
Though retired from publishing, Marianne Fons' love of quilting and the quilting world continues. She served on the Quilts of Valor Foundation national board of directors for seven years and during that time co-produced two documentaries about the foundation's work with Iowa Public Television. "Quilts of Valor II" continues to air nationwide.
In her own community, Marianne helped found the Iowa Quilt Museum, which opened in 2016. The museum's changing exhibitions attract visitors from around the world to Winterset, where Marianne also undertook the renovation and reopening of the Iowa Theater, her town's classic, single screen movie house. In her spare time, she pursues fiction writing and yoga practice.
Marianne has given much to the world of quilting, but says it's been a two-way street, acknowledging her pride and pleasure at having been able to make a living, raise a family, and impact her community doing something she truly loves. She recently said, "I enjoy making quilts now as much as I did when I was a beginner in my twenties—before the rotary cutter, the fat quarter, or the popularity of the longarm quilting machine."
Thank you, Marianne and Liz, for all your contributions to the world of quilting!
"Our goal is for you to enjoy making quilts as much as we do."
Fons & Porter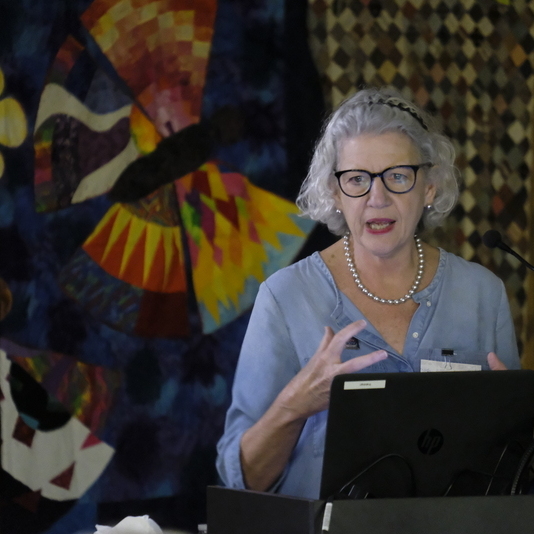 Marianne Fons speaking during Celebration 2019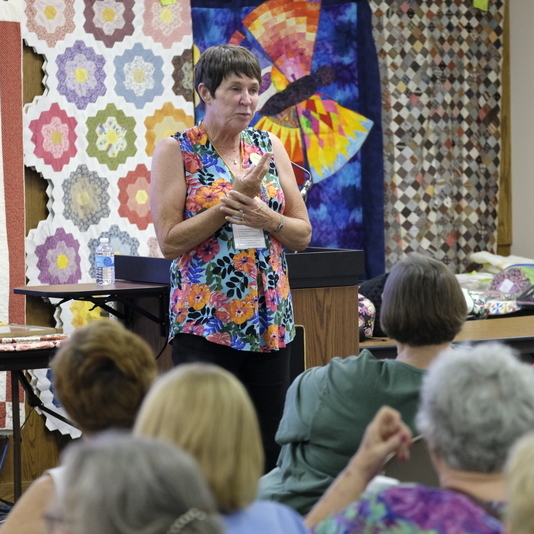 LIz Porter speaking during Celebration 2019