By Karen B. Alexander 2001
Barbara Brackman's first introduction to quilts came in the early 1960's through her college roommates at the University of Kansas.  Even her boyfriend had quilts.  "It was the personal value they place on those quilts that first caught my attention." remarked Barbara when interviewed by the author in 2001. Though Barbara saw no quilts during her early childhood, she nevertheless was taught to sew and embroider, which she enjoyed very much.  She was born in New York City and only moved to Overland Park, Kansas when she was entering high school.
"My real introduction to quilt research seems almost fortuitous when I look back". Barbara said.  "I was taking an art history class in 1965 at the University of Kansas.  One day I got to poking around in drawers at the back of the classroom at the University of Kansas Art Museum and came a upon the Carr Hall block collection.  Hall had donated the collection to the University in 1935.  I was immediately drawn to them because I loved the elements of pattern.  The blocks had languished there for some time....I immediately became interested in cataloguing the.  Carrie Hall had also donated a lot of paper ephemera to the University. This was my next discovery.  It was like my own little playground."
This chance encounter with the Carrie Hall collection eventually changed the course of her life.  "I began recording quilt patterns on index cards from day one." stated Barbara, "starting with the Carrie Hall Block Collection and the paper ephemera accompanying her collects, but I didn't try to make a quilt until 1966.  I tried using Rose Kretsinger and Carrie Hall's book, The Romance of the Patchwork Quilt in America, as my guide.  Not the  best "how to" book for a beginning quilter, but it was the only book about quilts that I was aware of at the time."
Barbara soon began to comb libraries for books and old magazines that might carry quilting designs and added a new index card every time she found another pattern."My card index file continued to grow steadily". she said.  "Once I had the information and pattern sketched on the index card, I would sort the cards. I am so visually oriented that I very quickly began to intuitively see the interconnections of the vast number of patterns."
In the early 1970's another major milestone occurred in her slowly evolving second career as a quilt historian: Barbara received a gift subscription to Quilter's Newsletter Magazine. Her immediate reaction was to realize that she could write pattern history articles.
When she contacted Bonnie Leman, founder and editor of Quilters Newsletter Magazine, Barbara was invited to submit some articles. The two met face to face in Denver in 1975,  launching Barbara's long and productive relationship with the magazine, which continues to this day.  Her very first article-on the history of airplane patterns-was published in December 1977.
In 1976, while living in the Chicago area, Barbara began teaching classes on basic quilting, with the  emphasis on design,  at evening continuing education classes.  During the day, however, she continued to teach within her career field, developmental education.  About this time she also began lecturing on the history of quilt patterns, Returning to Lawrence, Kansas, at the end of the teaching year.  Barbara joined the Kaw Valley Quilt Guild and delved ever deeper into her fabric and pattern studies.
From the late 1970's on, Barbara  would play a remarkable number of rolls within the quilting world: author, lecturers, teacher, curator in pattern and fabric identification would have a profound impact upon quilt history nationally and internationally.  Quilt historian Merikay Waldvogel commended Barbara for sharing her discoveries by publishing what she found: "My twentieth-century quilt research built upon Brackman's findings, and her advice and counsel was always forthcoming and welcomed." she says.  The theme of Barbara's unfailing generosity in encouraging others, of sharing her ideas and knowledge as well as her time and practical assistance, is echoed again and again by those who have worked with her.
As the demand for access to her research increased in 1979 Barbara translated her index card pattern identification system into a self-published photocopied series.  The many state quilt documentation projects that began in the mid-1980's would draw upon this research extensively.  In fact, so frequently was Barbara's pattern identification system referred to that patterns simply became known by their "Brackman Number."
Barbara credits three other Quilters Hall of Fame honorees as highly influential mentors: Cuesta Benberry for her emphatic advice.  "Do your own original research"' Sally Garoutte for setting high standards for accurate history; and Joyce Gross for her tireless encouragement and razor-sharp questions.  Barbara presented her research on patterns and on World's Fair quilts in four papers at American Quilt Study Group Seminars, from 1981 to 1983.
Fabric dating became a logical extension of Barbara's interest in quilts, and in 1985 she decided to educate herself in a field with a scarcity of published material. Four years later her book Clues in the Calico: A Guide to Identifying and dating Antique Quilts  was published.  Her own self-published pattern identification work, Encyclopedia of Pieced Quilt Patterns, was published in a new hardcover edition in 1993 and has become probably the most referenced book in the study of quilt history along with its companion volume, Encylopedia of Applique.
As a freelance writer specializing in history and folk arts, Barbara's research has never simply been limited to quilt history.  She also writes and consults about women's history, visionary art, cowboy costume, and Civil War history and she has written for a variety of publications, including Country Living, Fiberarts, the Carion, Kansas!, the Christian Science Monitor, Americana, and Fine Homebuilding.  She has served as a curator and consultant to numerous museums as well.
Barbara shared a studio space with business partner and friend Terry Clothier Thompson in Lawrence, Kansas, from 1997 to 2001.  Their classes in textile history attracted students from around the nation; they offered these same classes as far afield as Germany and Japan.  In 1999, their first of many reproduction antique fabric lines with Moda of United Notions of Dallas was released at the spring Houston Quilt Market.
In 1999, Barbara began to publish her first mini-newsletter series Material Pleasures, focusing on the history of nineteenth-century fabric production and dyes.  This series formed the basis for her later book America's Printed Fabrics 1770-1890.  Her 2002 series Making History: The Twentieth Century focused on pattern designers of the early twentieth century.  The subsequent book Making History: Quilts & Fabric from 1890-1970 made the 2009 Kansas Notable Book List,  In 2008, she received the Lawrence Cultural Arts Commission Phoenix Award.
The latest honors simply reinforce the significance of Barbara Brackman's lifetime achievements.  The Quilters Hall of Fame recognized her many pioneering contributions to the study of quilt and textile history by selecting her as the 2001 honoree.
"My interest in computers and visual perception may have influenced the way I look at quilts, but I must confess my childhood fascination with girl detective Nancy Drew may have influenced me more.  Each undated quilt I see as an unsolved mystery that summons the quilt detective in me."
Barbara Brackman, Clues in the Calico, 1989, p.10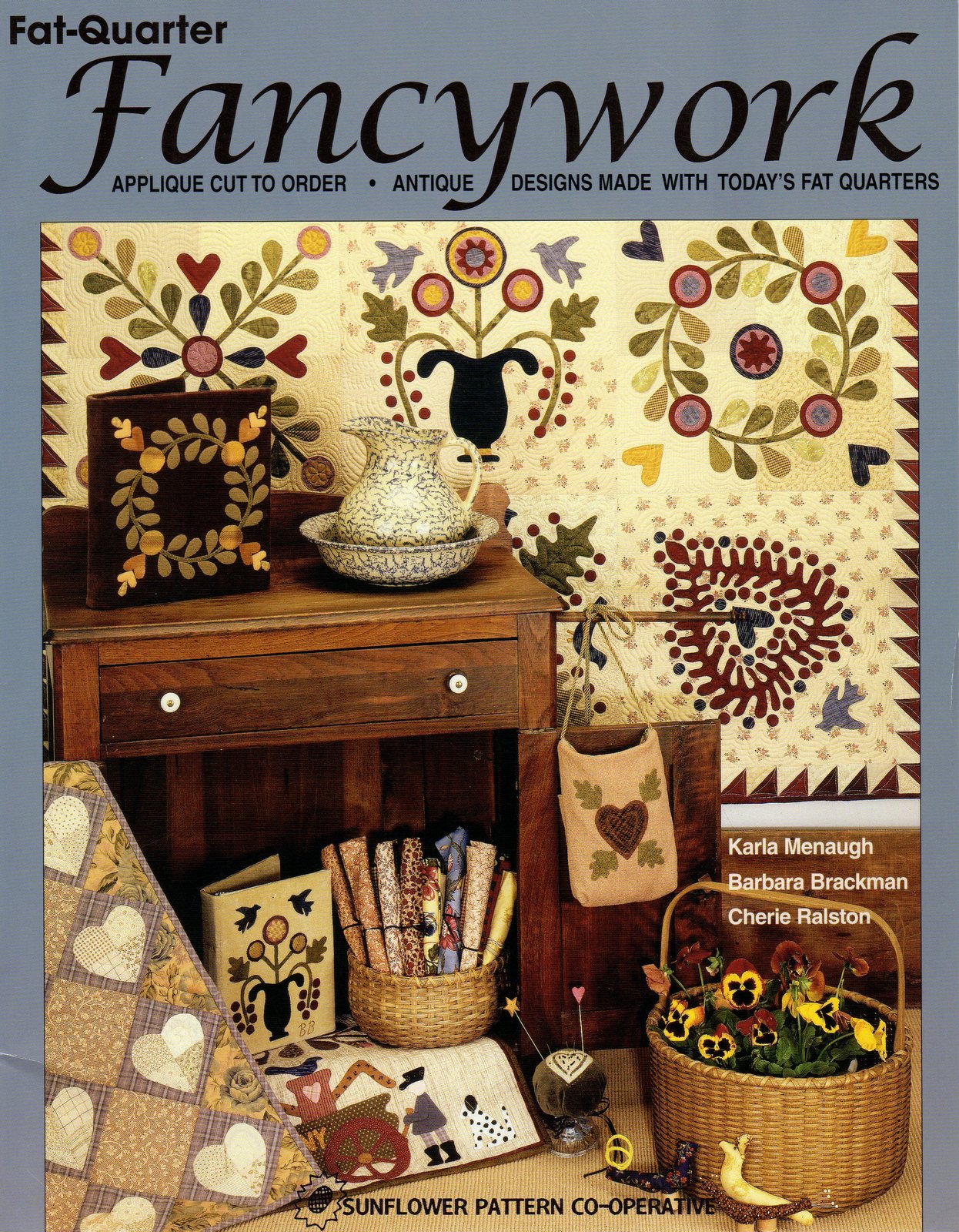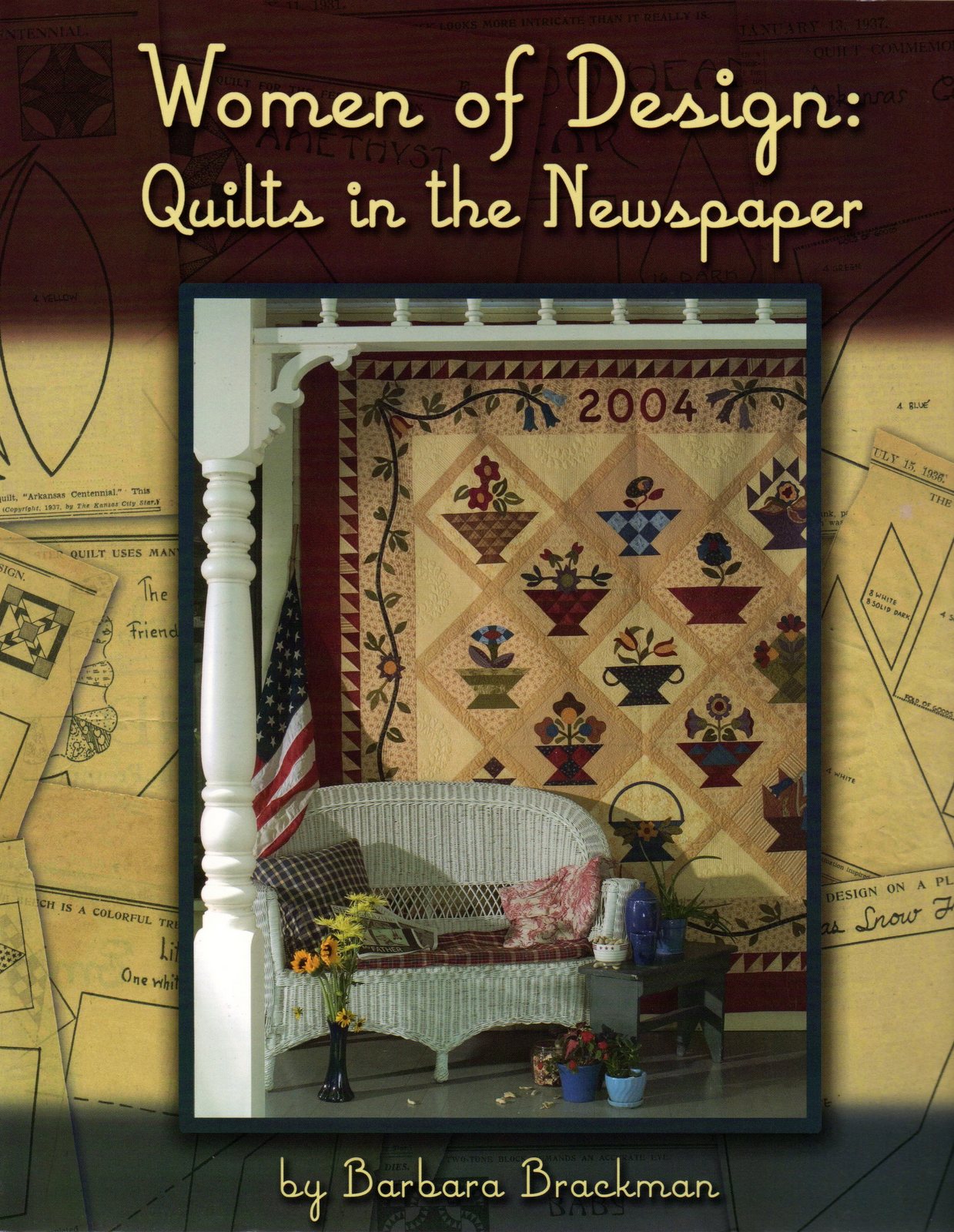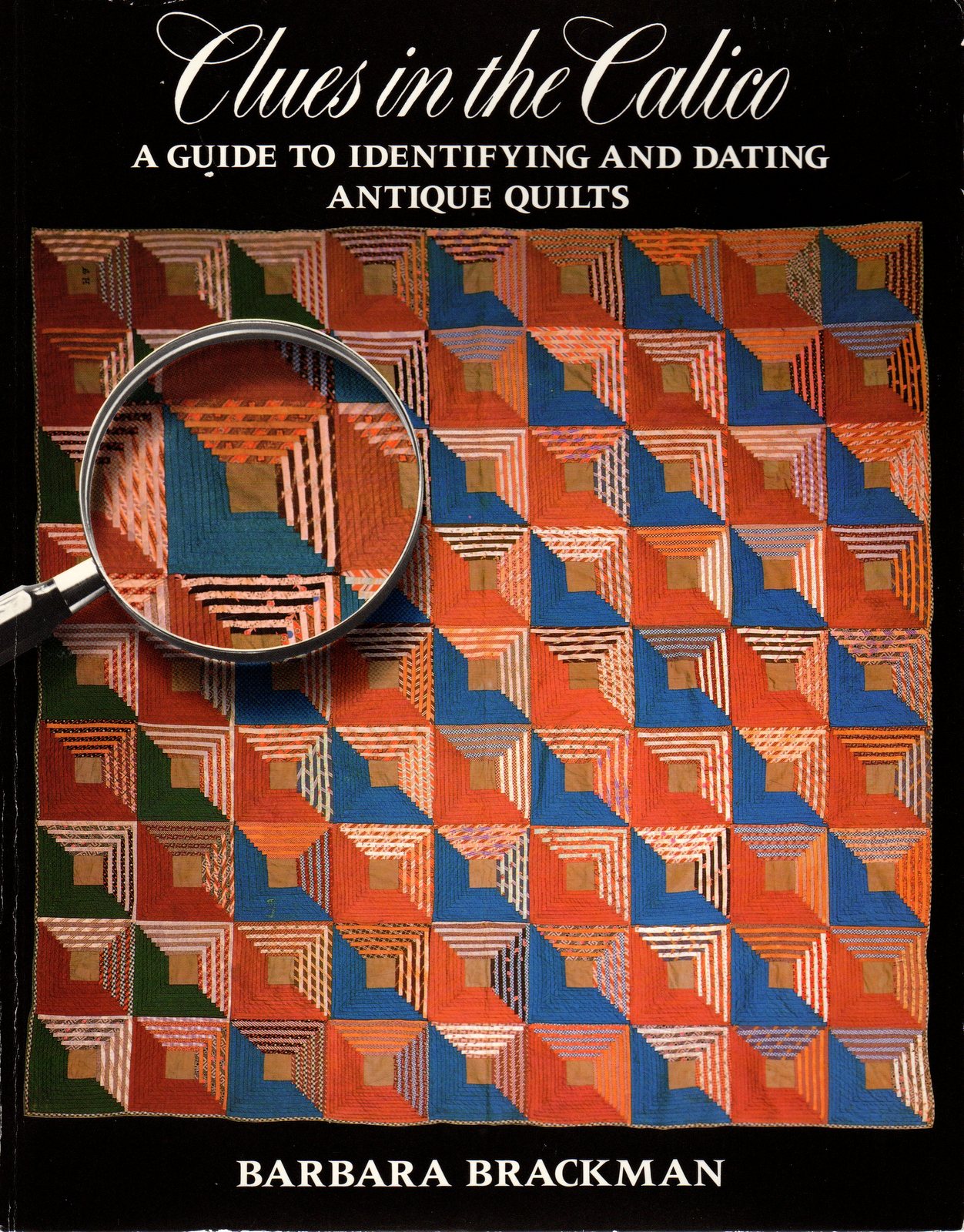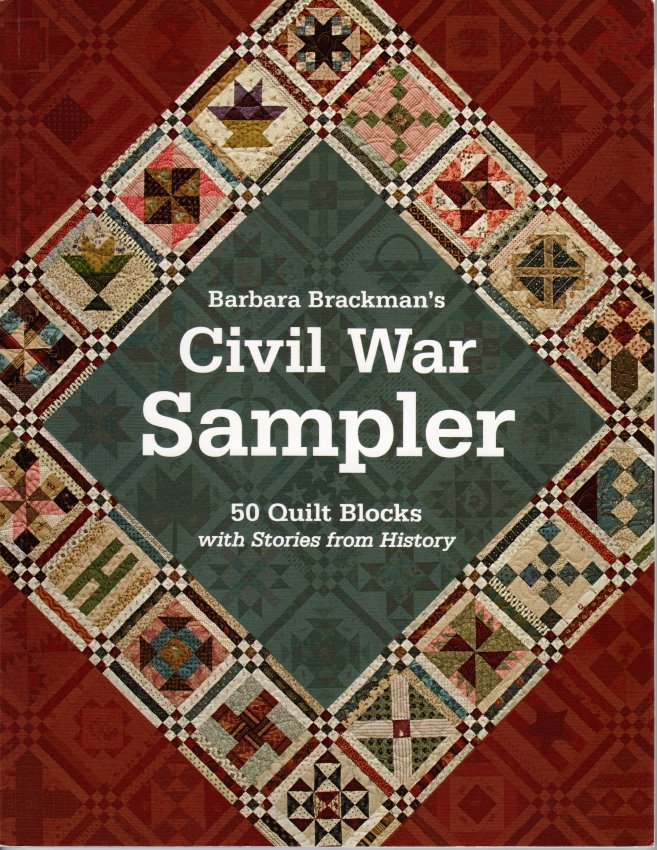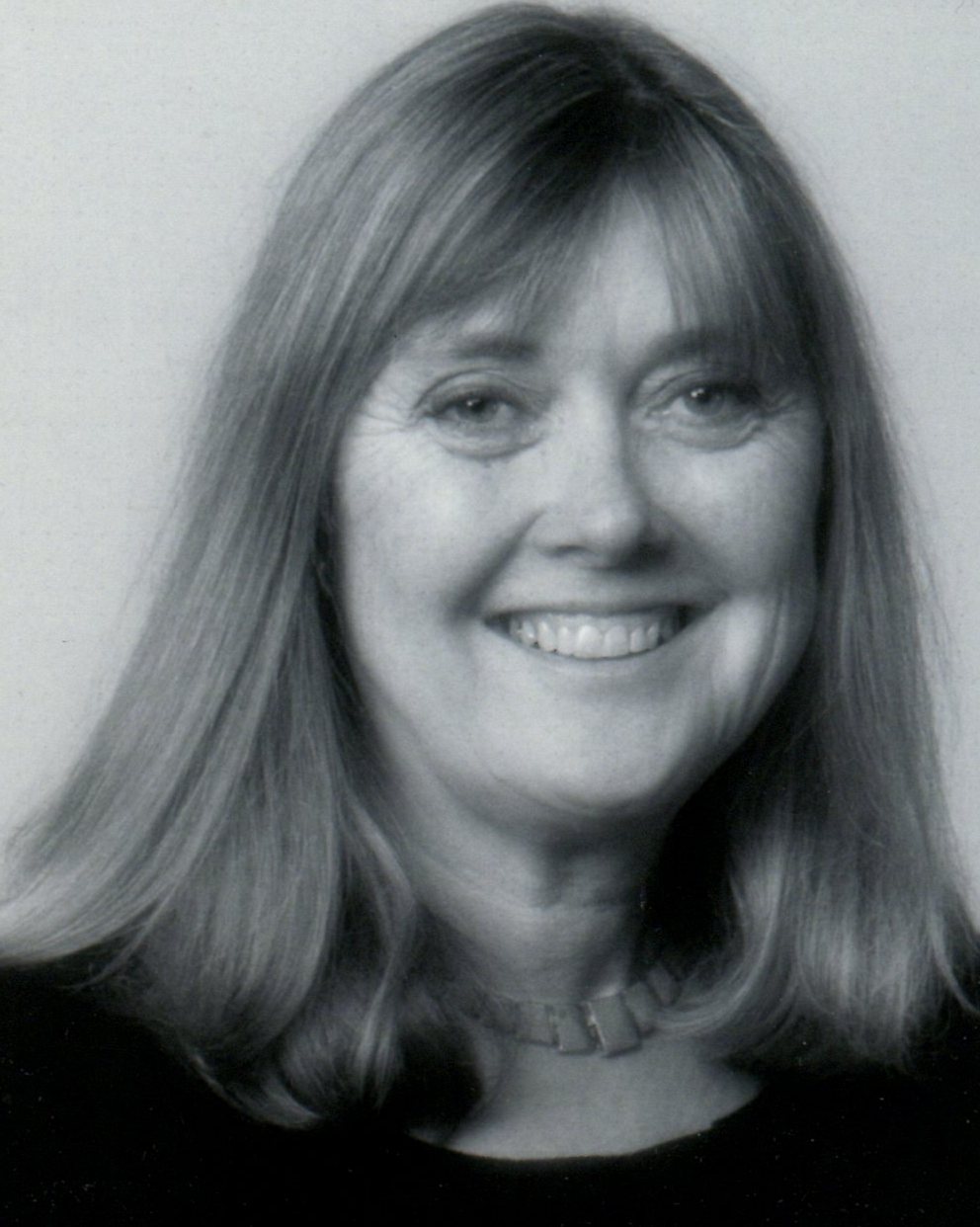 Selected Reading
Brackman, Barbara. "A Chronological Index to Pieced Quilt Patterns, 1775-1825." Uncoverings 1983, Mill Valley, CA: American Quilt Study Group, 1984.
Clues in the Calico: A Guide to Identifying and Dating Antique Quilts. McLean, VA: EPM Publications, 1989.
Encyclopedia of Applique. McLean, VA: EPM Publication, 1993.
Encyclopedia of Pieced Quilt Patterns. Self-published, 1979. Reprinted by American Quilter's Society, 1993.
Patterns of Progress: Quilts in the Machine Age.  Exibit catalog. Los Angeles: Autry Museum of Western Heritage, 1997.
"Quilting on the Overland Trails:  Evidence from Woman's Writings. "Uncoverings 1192 San Francisco, CA:  American Quilt Study Group, 1993.
Brackman, Barbara, et al, Kansas Quilts and Quilters.  Lawrence: University Press of Kansas, 1993
Waldvogel, Meriday, and Barbara Brackman, Patchwork Souvenirs at the 1933 World's Fair. Nashville, TN: Rutledge Hill Press, 1993.