Collector, historian, quiltmaker, and generous friend are some of the terms used to describe Mary Barton, a woman who had a mission: to collect historically important Iowa quilts and related material for others to study and enjoy. Soft-spoken, she modestly stated, "I prefer to call my work independent research, conservation, and preservation."
Mary's desire to collect, understand, and share resulted in one of the most comprehensive collections of quilts, costumes, and fashion plates ever assembled and donated to public institutions. Mary was one of the first to collect both clothing and women's magazines as a means to provide a reliable way of documenting and dating quilts by the fabrics they contained. Her meticulous notes and countless scrapbooks have made important comparative studies possible.
Mary Alice Pemble was born June 9, 1917 in Indianola, Iowa. Mary enjoyed her tomboy years with her equally active brothers and sisters harvesting fruit in the orchard or weeding in the garden or the strawberry patch. The family had cows, chickens, four ponies, and a large garden, so there was always home activity. For the girls, the afternoons were a time to play with their dolls or to play dress-up with costumes a neighbor had given them.
Both of Mary's Grandmothers were quiltmakers and made quilts for Mary when she was young. Mary began sewing and embroidering her own clothes at an early age and kept fabric swatches and pictures showing herself wearing these garments as a record of changing styles. And she won prizes with her outfits- which, in addition to dresses, included suits and coats- at the Iowa State Fair.
Mary was an outstanding athlete in high school, and in 1935 she was Representative All-Around Girl Athlete and on the winning volleyball team. She started college at Simpson, then transferred to Iowa State College (now Iowa State university), where she earned her B.S. in landscape architecture, a very unusual field for women at that time. In July 1942, she married Tom Barton, a classmate. Shortly after their wedding, they moved to the Washington, D.C., area, where they both worked in the Hydrographic Office of the Navy Department as engineering draftsmen, making air navigation maps. She was the only woman in the department.
In 1946, Mary became a full-time homemaker when their first child was born. her husband's career took them from Washington, D.C., to Iowa, to Michigan, and back to Ames, Iowa, in 1955 when he joined the faculty and later became head of the department of landscape architecture at Iowa State University.
In 1949, at the time of her grandmother's death, Mary's mother gave her some family quilts; this was the start of Mary's quilt collection and her interest in the textiles they contained. In 1967, she purchased her first quilt at a local farm auction. Concerned about some fine Iowa quilts bringing high bids at auction and leaving the state for distant eastern museums, she recognized the need to save as much as she could of Iowa's heritage- and "save" she did. She collected quilts, quilt tops, quilt fragments, blocks, fabric scraps, quilt patterns, periodicals, fashion illustrations, books, newspaper articles, mail-order catalogs, family record books, diaries, and photographs. The numerous notebooks she compiled are now housed in Iowa public institutions to be used and enjoyed.
Mary was an active member of the Faculty Women's Club at Iowa State University and took part in a special interest group called the Heritage Division. In 1968, Mary suggested a program about quilts. When she was asked to develop the program, she began her thorough research about quilts and quilt history using the few books then available on the subject. Her play Aunt Mary's Quilting Party acted out the age-old American custom of a quilting bee. On January 8, 1969, this play was performed to an enthusiastic audience of the Faculty Women's Club.
In 1968, inspired by her research and her collection of antique fabric, Mary began her Heritage Quilt, showing the immigration of her ancestors from England and Germany and their migration trail from North Carolina, Pennsylvania, and New York westward to Iowa. An original design, this quilt features a symbolic eagle in the center with four churches in the corners, to show religious freedom, and rows of houses and log cabins- their new homes in Iowa. The pioneer women and children wear dresses made of antique fabric and walk among a variety of miniature quilt patterns. After seven years the finished top was quilted by a group at St. Peti's Lutheran Church in Story City, Iowa in time for the 1976 bicentennial celebrations.
Mary Barton stepped onto the national stage that year, receiving honorable mention at the National Bicentennial Quilt Contest held in Warren, Michigan. In addition, this masterpiece won a blue ribbon at the Iowa State Fair and was later selected as one of America's 100 Best Quilts of the 20th Century. She later made a number of the other quilt tops, often reproductions of her favorite antique quilts.
Mary was soon invited to lecture at some of the earliest quilt conferences, including the Kansas Quilt Symposium in 1978 and the Missouri Quilt Symposium in 1980. She served on the planning committee for Iowa's first statewide quilt gathering, the 1983 Heirloom to Heirloom Quilt Conference, where she set up an innovative Study Center, which she described as "the largest collection of comparative dating helps ever opened to a quilt conference group." The Study Center included quilts and tops as well as scrapbooks, fabrics, and quilts arranged by decade from 1800 to 1940. In 1984, Mary Barton installed a similar study area at the Continental Quilting Congress in Arlington, Virginia, where she was honored by induction into The Quilters Hall of Fame.
While Mary Barton found her many accomplishments rewarding, she knew that the lasting legacy of her work was the preservation of quilts and historic textiles and the information she had collected about them. Beginning in the 1970s, she donated items from her collection to various organizations in her home state, including the Farm House Museum and the textiles and clothing department at Iowa State University , Simpson College in Indianola, and the First United Methodist Church in Ames. The Department of Special Collections of Parks Library at Iowa State University now houses several hundred fashion plates from magazines that Mary collected.
In 1987 and 1988, she presented her famous Heritage Quilt to the Iowas State Historical Museum, along with a major gift of sixty-seven quilts and tops, her numerous fabric sample muslin panels, and countless notebooks about nineteenth-century textiles. Thanks to Mary Barton, researchers can now study these items in a climate-controlled room in their new building. These materials were also featured in the museum's 1993 exhibit Patterns for Learning: Selections from the Mary Barton Collection.
Mary also donated more than one hundred quilts to the Living History Farms near Des Moines. These gifts form the core of their exhibits, showing quilts and other textiles in their historic settings. In all, she donated more than two hundred quilts and quilt tops that will be preserved by Iowa organizations as an enduring record of women's artistic and creative endeavors. As Mary herself put it, "I'm just trying to save things for future historians."
Mary Barton passed away on December 7, 2003. At her funeral service, her family displayed some of the quilts she had made- a fitting tribute to Mary's quilt-filled life.
By Pat L. Nickols
Photo courtesy of the State Historical Society of Iowa.
"I just try to preserve material which will be useful to future historians."
Mary Barton, Quilter's Newsletter Magazine, no. 141 (April 1982), p. 29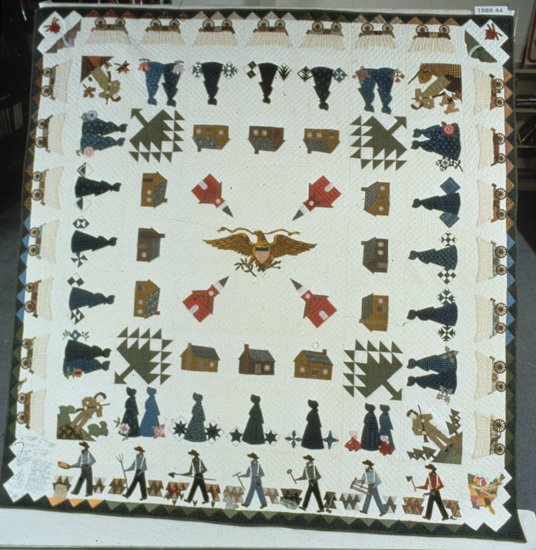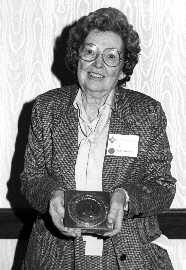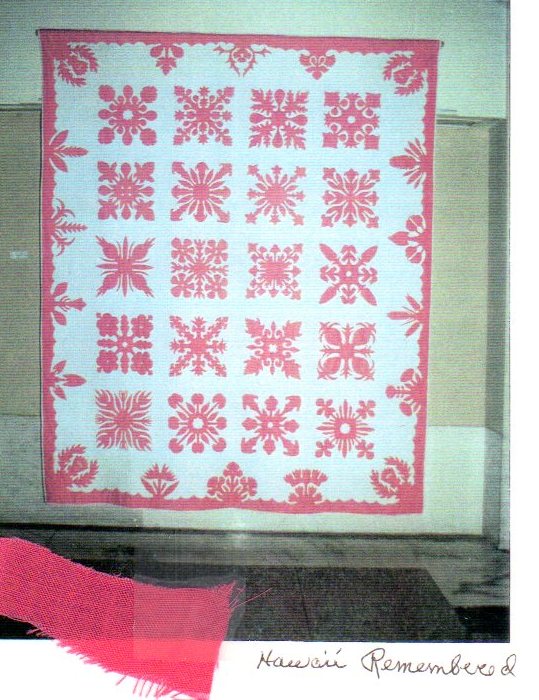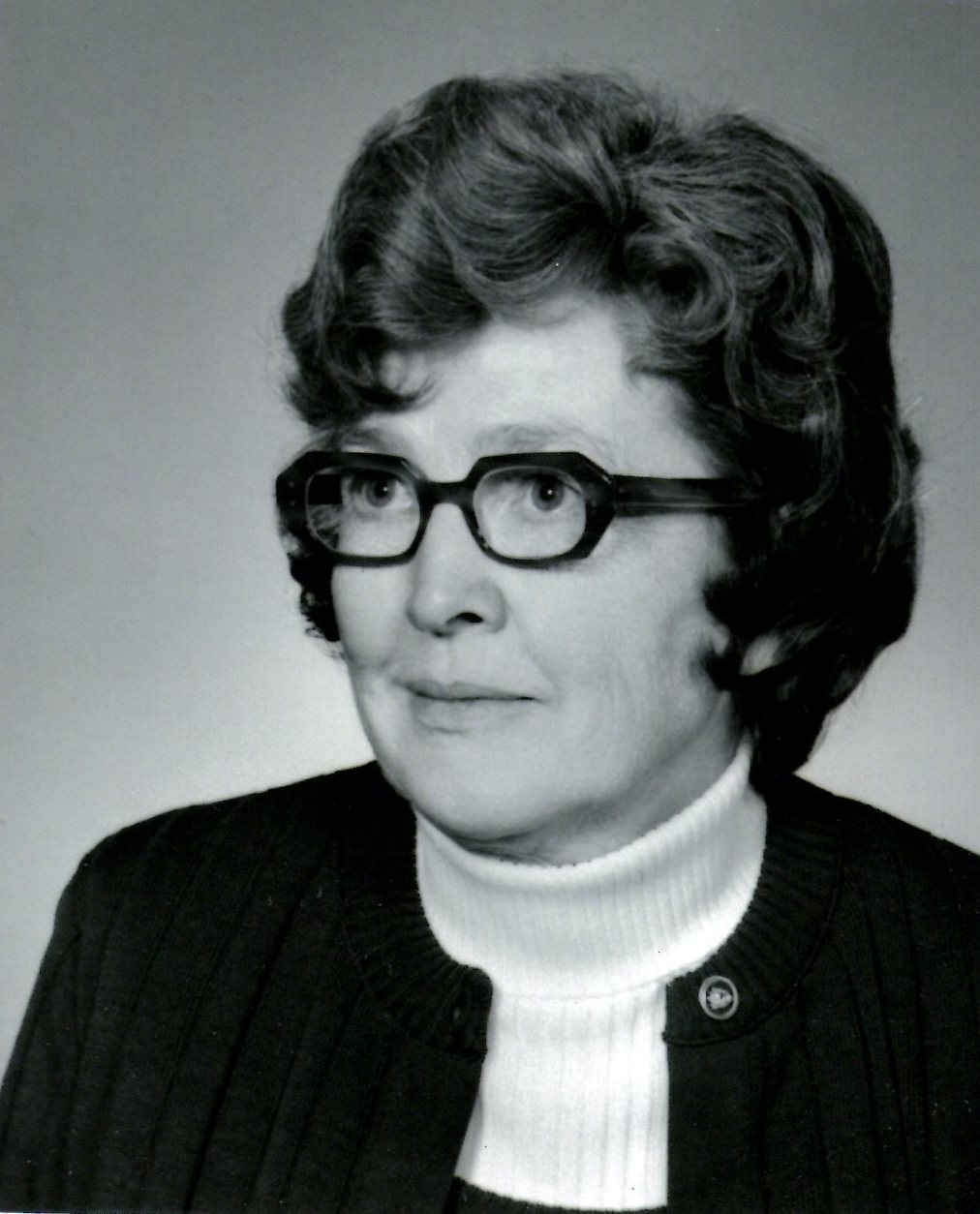 Selected Reading
Austin, Mary Leman, ed. The Twentieth Century's Best American Quilts: Celebrating 100 Years of the Art of Quiltmaking. Golden, Co: Primedia Special Interest Publications, 1999.
Benberry, Cuesta. "The Meetin' Place: Cuesta Benberry Introduces Us to Mary Barton of Ames, Iowa." Quilter's Newsletter Magazine, no. 141 (April 1982): 29.
Houck, Carter. "Meet Mary Barton." Lady's Circle Patchwork Quilts, Spring 1984, 16 - 17, 63.
Kiracofe, Roderick. The American Quilt: A History of Cloth and Comfort 1750 - 1950. New York: Clarkson Potter, 1993. Photographs of Mary Barton Collection dresses, quilts, and quilt blocks on pp. 34 - 35, 39, 86, 87, 131, and 216.