By Deborah Divine
Eleanor Burns' sewing career began at an early age on a small crank-handled sewing machine using her Aunt Edna's chicken feedsack fabric.  She graduated to her mother's green Elna sewing machine as she entered her teenage years, and, as one of her trademark sayings indicates, she's put "the pedal to the metal." ever since.
Her enterprising spirit, her extraordinary ability to make complex things simple, and her passion for sharing what she's learned with others have been keys to her success. Dyslexia did not hinder her efforts.  In fact, it inspired her.  Her college career resulted in a Bachelor of Science degree in Education from Edinboro State College in Pennsylvania.  She also did graduate work at Penn State University in special education preparatory work.  She began her teaching career in the Pittsburgh, system.
In 1967 she married Bill Burns.  He assisted her in the publication of her first book, Make a Quilt in a Day: Log Cabin Pattern, by providing illustrations for her instructions.  The marriage ended in 1980. Graphic artist, Pam Nedlik, was brought on board to take the illustrations and text for the book to a more professional level.  The book was an immediate success, so Eleanor decided to name her new pattern business "Quilt in a Day". In 2018, "Quilt in a Day" celebrated its 40th anniversary.
Just as other Quilters Hall of Fame Honorees before her (notably Marie Webster) have been assisted by family, other family members have also been integral to the Quilt in a Day success story.  Eleanor's sisters are involved:  Patricia Knoechel has assisted with quilt designs and production, and Judy Knoechel managed inventory.
Both sisters helped with the initial move from the home based business to the 16,000 square foot building where Quilt in a Day is housed today.  Eleanor's sons, Grand and Orion, helped with shelving books and mail order processing when they were young boys, to the present day when Orion is general manager for the Quilt in a Day company.
Eleanor's granddaughters have participated in recent television broadcasts, as have the "grand-dogs."  In addition to family members, Eleanor has a very dedicated staff, including Sue Bouchard, who can be seen working behind the scenes as well as on stage during live performances, besides her many other duties.
Eleanor's goals are "to encourage, nurture and motivate new quilters by simplifying the process and sharing her techniques through a variety of printed and visual media." She incorporated rotary cutting, using specialized rulers to simplify the cutting process, and assembly-line sewing that greatly lessens the time to produce quilts.
She has published over 125 books and patterns since 1978's self-published, Make a Quilt in a Day: Log Cabin Pattern. Beginning in 1987 on the Learning Channel, she has also produced television programs, with a continuous series on PBS since 1990 and on RFD-TV since 2005.  When interviewed in 2012, Eleanor said of her TV shows, "Since I have been on television so many years, children that Watched Quilt in a Day with their mothers or grandmothers are now grown up and are continuing the family tradition!" As of 2019, she has performed over 430 live stage shows to over 250,000 Quilters.  In addition, she has developed "Signature" fabric lines and several special sewing machines.
Teaching is her passion.  When interviewed by Sherry McConnell, The Quilters Hall of Fame's vice president, Eleanor stated, "My students bring inspiration to my life and work.  I get the kindest words, verbally and written, on how my teaching has changed their lives or inspired them.  Most importantly, they talk about the self esteem they have gained from becoming quilters....Their words bring tears to my eyes."
Eleanor has found inspiration for many of her books and patterns in the work of other Honorees.  In Sherry's interview Eleanor explained, "My research begins with looking up blocks in Barbara Brachman's Encyclopedia of Pieced Quilt Patterns, Ruby McKim's  One Hundred and One Patchwork Patterns (the first book I ever purchased), Ruth Finley's Old Patchwork Quilts and the Women Who Made Them, Aunt Martha, Kansas City Star newspaper clippings, Anne Orr patterns, old Country Living Magazines...anything old in my collection.  If the name is traditional and students can look it up and identify it, the pattern is usually a winner!"
Eleanor keeps up with changing media trends to stay in touch with her students and general audience worldwide.  She is active on on Facebook and YouTube, in addition to her www.quiltinaday.com and www.stripquilter.com Quilt in a Day websites.  She has been featured on programs on other websites such Quilter's News Network (www.qnn.com), Quilter's TV (www.quilterstv.com), and The Quilting School (www.thequiltingschool.com).
When Eleanor's television series first began, she quickly became a well known personality in the quilt world. "The plan was to bring my techniques to my students without traveling. In a sense, the idea backfired, because once I was on television, the students then desired to meet me in person," she said, and her travel schedule became even more demanding.
Each year during the American Quilter's Society (AQS) Quilt Week in Paducah, Kentucky, she does live performances four time a day featuring her latest techniques, tools and humor.  The performances are informational and hilariously entertaining, with Eleanor typically dressed in colorful "unusual" attire.  Her characteristic "strip toss," when she throws leftover scraps over her shoulder to "get rid of it" has caused numerous viewers to ask, "Who picks up the pieces?" All of her ventures are designed to educate, encourage and inspire quilters of all level and abilities.
For her 25th anniversary in business, devoted students and fans sent 712 signature Quilter's Dream blocks to Eleanor to be sewn into a 9' by 48' quilt that was displayed on Eleanor's show tent in Paducah during the 2003 AQS Show.  With her wry wit, she announced plans to have the world's largest sleepover under one quilt.
In addition to her teaching and writing, Eleanor has designed several fabric collections for Benartex, Inc., including "Eleanor's Anniversary Florals," "Rainbow Florals," "Yours Truly, Eleanor Burns," Yours Truly Holiday," Magic Vine," "Victory Garden," "Ellie Ann," and "Zoey Christine."
She served as official spokesperson for Elna USA from 1997 until the Elna brand was sold in 2006.  Tacony Corporation makers of Baby Lock Sewing Machines, named her spokeswoman for their Quilter's Dream Sewing Machine Series and under-writes the Quilt in a Day TV Series.
Besides being the 2012 The Quilters' Hall of Fame honoree, Eleanor has also received the following awards:
1.  Primedia Awards of Excellence, 1992, 1994, 1998, 2003 2.  Business Advocate Award for San Diego 1993 3.  San Diego Book Awards Association Certificate for Outstanding Accomplishments 1993 4.  Michael Kyle Award of the San Diego Book Awards Association for outstanding accomplishments in "How To" books 5.  American Quilter's Society All-American Quilter 2005.
In 1999, she was honored by Quilts, Inc., host of International Quilt Market, with the Michael Kile Lifetime Achievement Award "for her support of the quilting industry and her work to achieve a long-lasting effect for the advancement of quilting." This honor is regarded as the most prestigious award presented in its field. In her home community in the San Diego area, she was honored for outstanding accomplishments in published "How To" books in 1996 and the North County Times gave her their 2002 Women of Merit Award.  In 2005, Eleanor was one of five living persons voted "All American Quilter" by American Quilter's Society members, for having made "the greatest contributions to quilting in recent years."
Educator and entrepreneur extraordinaire, Eleanor Burns has truly earned her place in The Quilters Hall of Fame.
We welcome Eleanor to the distinguished group of people known as TQHF honorees.
"My mission is to take the fear out of quiltmaking...so everyone can find success."
Eleanor Burns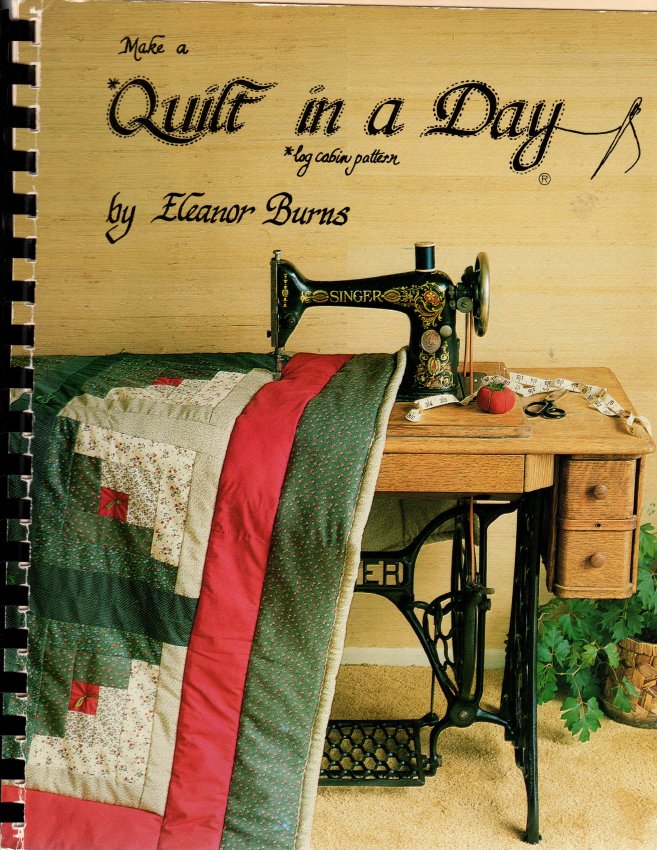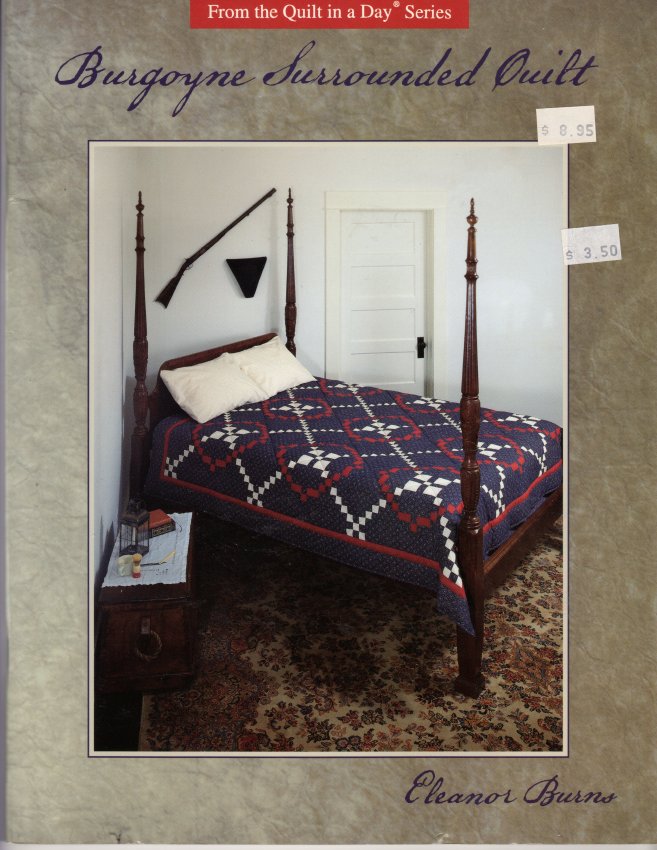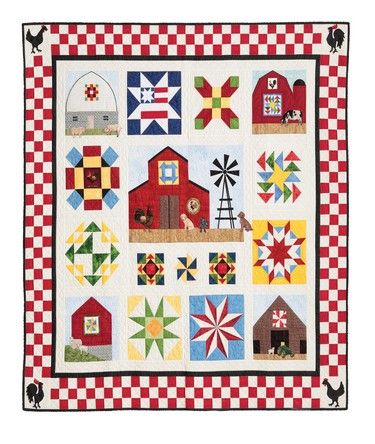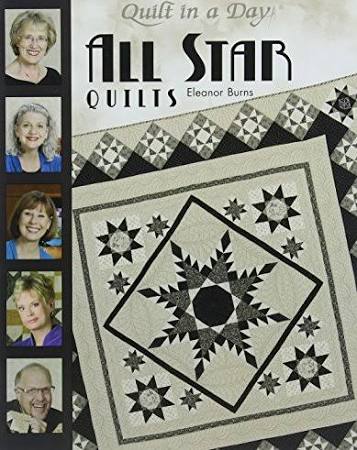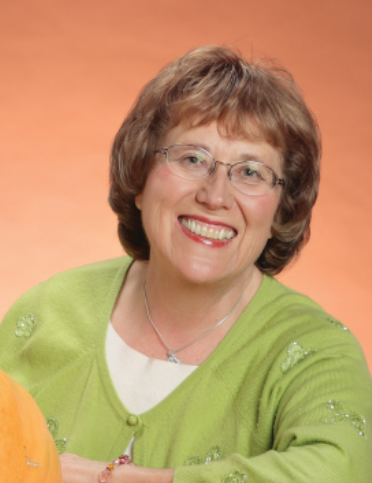 Here is a gallery of log cabin ideas to help you get started on your own log cabin quilt!
These come from Eleanor's book, Forty Fabulous Years.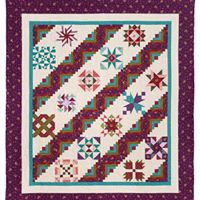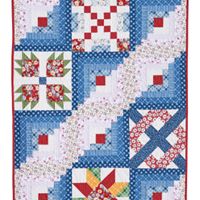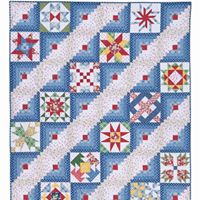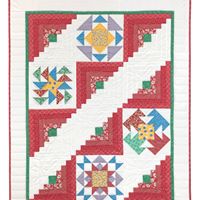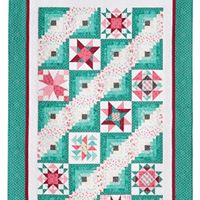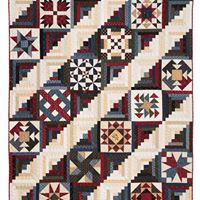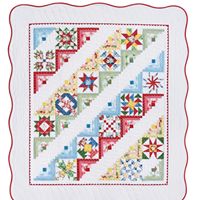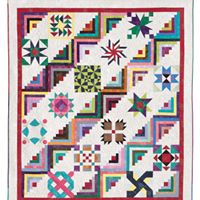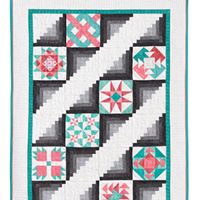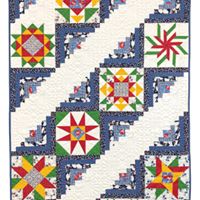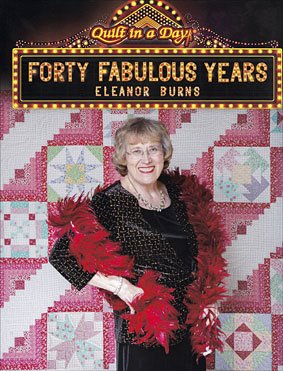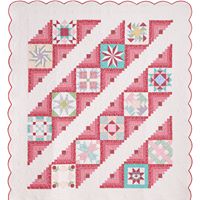 Selected Reading
Burns, Eleanor. Make a Quilt in a Day: Log Cabin Pattern.  San Marcos, CA: Quilt in a Day, 1978.
_____. Applique in a Day (Quilt Block Party). San Marcos, CA: Quilt in a Day, Inc., 1994.
_____. Stars Across America. San Marcos, CA: Quilt in a Day, Inc., 1996 (Includes patterns dedicated to Honorees Marie Webster and Carrie Hall.)
_____. Machine Quilting Primer. San Marcos, CA: Quilt in a day, Inc., 1996.
_____. Star Spangled Favorites. San Marcos, CA: Quilt in a Day, Inc., 2002
_____. Still Stripping After 25 Years. San Marcos, CA: Quilt in a Day, Inc., 2003.
_____. Egg Money Quilts: 1930's Vintage Samplers,.  San Marcos, CA: Quilt in a Day, Inc., 2005.
_____. It's El'ementary.  San Marcos, CA: Quilt in a Day, Inc., 2005.
_____. Quilts Through the Seasons. San Marcos, CA: Quilt in a Day, Inc., 2006
_____. Victory Quilts: 1940's Sampler Quilts.  San Marcos, CA: Quilt in a Day, Inc., 2008
_____. Orion's Star Quilt.  San Marcos, CA: Quilt in a Day, Inc., 2009.
_____. Tales of First Ladies and Their Quilt Blocks.  San Marcos, CA: Quilt in a Day, Inc., 2012