Few have achieved the success that Nancy Crow has in the art world. Her graphic, linear quilts are highly desired by museums and private collectors. "I create my own work," says Nancy, "including designing, dyeing, cutting, arranging, and machine piecing."
As an artist, Nancy is a risk taker, always on the edge, never working with a safety net. She produces quilts of stunning originality, with an explosive use of color that is visually demanding and interactive. Nancy began dyeing her own cloth in the  late 1980s to achieve the full range of color not readily available in traditionally manufactured fabrics. Working in her studio, she mixes and dyes and achieves her personal interpretation of the richness of color for which her quilts are known.
Nancy's studio, added as a wing to her farmhouse, is an artist's dream. Light spills from multiple windows and, on every available surface, thousands of yards of hand-dyed fabric wait for inclusion in future quilts. Nancy prefers to "work on the wall" without patterns or templates, making many compositions in a series to help focus and refine her ideas. her goal is to create ten new pieces a year to be hand quilted by several women she employs. She is constantly charged with new ideas, only lacking sufficient time to execute them all.
Her designs come from within her subconscious, which acts as her interpreter of life experiences and of her surroundings. Nancy says, "My quilt compositions result from how I perceive my reality." Her graphic interpretation of nature depicts design elements from the plowed furrows of the fields, the branches of her favorite crab apple trees, and their timber-frame barn remodeling projects.
Born in Loudonville, Ohio, Nancy was the youngest of eight children. She describes her family as "stoic, straightforward, and direct." her parents encouraged a love of nature in their children, as well as a respect for the value of a liberal arts education. In 1965, Nancy earned a B.F.A. in ceramics at Ohio State University, and she finished the three year M.F.A. program with a major in ceramics and a minor in tapestry weaving. She is married to John Stitzlein; they are the parents of two sons, Nathaniel and Matthew.
As a mother, Nancy believes strongly that "a person shouldn't have to give up what she loves in order to raise children." She has instilled in both her sons a love of the arts as well as an appreciation of the multiple roles women play. As a result, both her sons have degrees in fine arts. Matthew is a master carpenter and Nathaniel is working as a graphic designer, artist and sculptor. Her husband and sons were instrumental in erecting the timber frame barns on their farm.
Nancy is a consummate artist working long hours in her studio yet balancing her virtual isolation by teaching workshops nationally and internationally. Nancy exhorts her students to work intuitively and improvisationally, and to learn to cut shapes without the use of templates. She shares her love of color by encouraging experimentation with rich gradations of solid hues.
Nancy's contributions to the quilt world are many and varied. In 1979, along with Harriet Anderson, Virginia Randles, Francoise Barnes, and others, Nancy Crow organized the first biennial Quilt National, a professional, juried exhibition that promotes contemporary quilts and is held at the Dairy Barn in Athens, Ohio. Nancy also was instrumental in beginning the Art Quilt Network in 1988, the first large organization of professional quilt artists. In 1990, with co-director Linda Fowler, she organized the Quilt/Surface Design Symposium, which offers in-depth workshops for serious quiltmakers and other craftspeople from around the world.
Nancy is the author of six books: Nancy Crow: Quilts and Influences, Nancy Crow: Work in Transition, Gradations: From the Studio of Nancy Crow, Nancy Crow: Improvisational Quilts, Nancy Crow, and Crossroads. Lavishly illustrated, her books serve as textbooks on her  developing focus and style. Two of her quilts have appeared on the covers of Maya Angelou's books. As a commercial fabric designer, Nancy designed fabrics for John Kaldor from 1993 to 1996. From 1996 to 2002, she designed two fabric collections each year for Westwood, Inc., under the name Nancy Crow for Kent Avery.
Nancy continues to reach out to other quilters through her teaching facility, the Crow Timber Frame Barn. In 1997, Nancy's husband and sons moved an 1848 barn onto their ninety-acre farm. A basement and second story were added. By 2000, the barn was fully renovated, ready to offer five-day retreats on many different topics. The Crow Timber Frame Barn is open each year for a month in the spring and another in the fall. Nancy hires other prominent artists to teach alongside her and refers to this venture as the Crow Barn Workshops.
The Barn hosts in-depth workshops in surface design, fabric dyeing, screen printing, composition, machine piecing and other topics, with each student enjoying an individual eight-by-eight-foot design wall and a large worktable.
In 1997, Nancy Morrison Crow was inducted into the Quilters Hall of Fame. In 1996, she was selected for the National Living Treasure Award by the University of North Carolina (Wilmington) Museum of World Cultures for excellence in a traditional handcraft, and in 1999, she was named a Fellow of the American Craft Council. The Ohio Arts Council has awarded her many fellowships, including a grant for travel in China in 1990 and 1991 as an exchange artist.
Her quilts have been exhibited throughout the United States and worldwide- in South Korea, Japan, Germany, Finland, Ireland, England, France, New Zealand, and South Africa. In 1995, she was the first quiltmaker to be featured in a one-person show at the Renwick Gallery of the Smithsonian Institution. In 2002, her work was included in the exhibit Six Continents of Quilts at the Museum of Art and Design in New York City.
Nancy's quilts form part of many corporate and museum collections, including the Renwick Gallery, Smithsonian Institution; the American Museum of Folk Art and the Museum of Art and Design in New York City; Miami University Art Museum in Oxford, Ohio; and the Indianapolis Museum of Art. Two of her quilts, March Study and Double Mexican Wedding Rings #4, were selected for the Houston Quilt Festival's major exhibit, America's 100 Best Quilts of the 20th Century in 1999.
As artist, designer, curator, organizer, and teacher, Nancy has dedicated her life and her talents to establishing quilting as a recognized art form. With creative energy and tenacious determination, she has forced her quilts to be examined with new eyes- not merely as warm bed coverings, but as works of art.
By Amy Korn and Vickie Douglas
"No time to waste.
Just feel the joy and liberation!
Become one with the fabric; feel its rhythms;
understand the medium! Everything leads to freedom!"
Nancy Crow,
Improvisational Quilts (1995), p. 3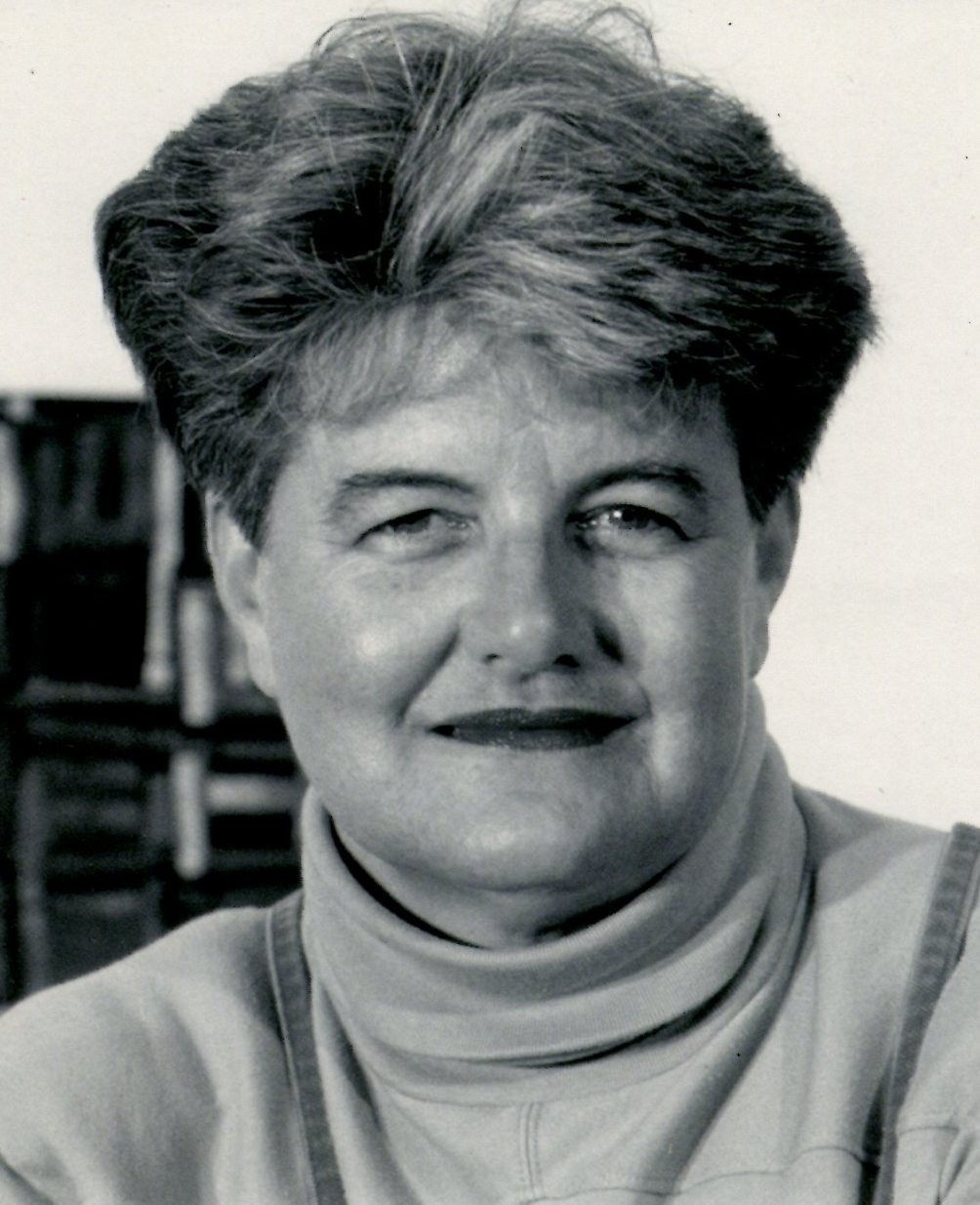 Selected Reading
Crow, Nancy. Crossroads: Nancy Crow. Elmgurst, IL: Breckling Press Publishers, 2007.
------. Gradations: From the Studio of Nancy Crow. Saddle Brook, NJ: Quilt House Publishing, 1995.
------. Nancy Crow. Elmhurst, IL: Breckling Press Publishers, 2006.
------. Nancy Crow: Improvisational Quilts. Lafayette, CA: C&T Publishing, 1995.
------. Nancy Crow: Quilts and Influences, Paducah, KY: American Quilter's Society, 1990.
------. Nancy Crow: Work in Transition. Paducah, KY: American Quilter's Society, 1992.