Yvonne Porcella laughs when she remembers her first quilt, which she made as a wedding gift in 1963. "I'm thankful there's no record of that quilt" she says, recalling it was made of two sheets and was tied rather than quilted. She has come a long way.
She grew up as Yvonne Bechis in Watsonville, California, south of San Francisco. Her memories do not include a family member who quilted; instead, she calls her family "inventive" adding, "It was common for us, if we wanted something, to make it... whatever [it was]." her father had a wood-burning business, while her mother taught Yvonne and her sister to sew and knit. Upon graduation from high school, Yvonne entered the University of San Francisco, where she received her bachelor's degree in nursing in 1958. That same year, she married Robert S. Porcella, who practiced family medicine. She gave up nursing in 1979 but keeps her license current.
Yvonne is a workaholic- exceedingly devoted to whatever she is doing until its completion. While raising four children in the 1960s, she continued to sew and make clothes for her family. She grew tired of making clothes only to see the same fabric on someone else, so she decided to make her own fabric, teaching herself to weave on a child's loom. She grew increasingly serious about her creative endeavors and carried her spinning wheel and loom around to local fairs and craft shows. Yvonne also became deeply involved with the Northern California Handweavers and the wearable art movement that had its roots in the Haight-Ashbury district of San Francisco. Her woven textiles became garments, and when she realized the heavy fabrics were too hot to wear, she added patchwork to her repertoire and used the handwoven pieces as focal points in her "collage garments."
In 1972, Yvonne's first gallery exhibition highlighted her weavings and wearable art. The wearables were based on ethnic clothing brought home by returning Peace Corps volunteers. She mixed patterns and materials from Japan, Guatemala, Germany, and Afghanistan to create unique garments that appropriated geometric patterns in the deep indigos and reds of the cloth from those countries.
Yvonne's first book, Five Ethnic Patterns, was published in 1977, followed the next year by Plus Five Ethnic Patterns. In the late 1970s, she brightened her palette and focused more on patchwork for garment construction. She also started experimenting with silk. Pure, lively colors replaced the deep, rich tones of the ethnic clothing tradition. A number of Yvonne's garments entered the collection of the Oakland Museum in 1995.
In 1971, Yvonne attended the West Coast Quilters' Conference in Portland, Oregon, where she met quilt artist Beth Gutcheon, and future Hall of Fame honorees Virginia Avery, Jinny Beyer, Jeffrey Gutcheon, and Michael James. Soon she was working on her first art quilt, Takoage, which is now in the collection of the Renwick Gallery of the National Museum of American Art, Smithsonian Institution. She remembers her feelings upon its completion: "There's no one in the world that's made a quilt like this!... I was so frightened that people would think I was over the top because it was so different."
Known primarily for her use of color, Yvonne has taken her art quilts in two seemingly separate directions. Vintage Porcella quilts, such as Takoage, contain vibrant colors and distinct patterns, mixed courageously. The piecework in these early art quilts is an extension of the way she had approached her wearables, in which colors, patterns, and cultures were mixed without regard for "rightness." Rhythm is an important element and is achieved through the careful selection of patterns and colors. Polka dots, stripes, florals, and solids are combined to create a surface energized by complex textures.
Yvonne's quilts soon evolved into strip-pieced, quilted kimonos that were inspired by a 1978 trip to the Asian Art Museum in San Francisco. Like her quilts, these kimonos were intended to be appreciated as art. She knew she wanted to avoid their practical use when she saw models wearing them incorrectly, so she began making oversized kimonos to be appreciated for their form rather than their function. She took the statement to its ultimate conclusion in 1986 with Snow on Mt. Fuji, an eleven-foot tall, six-layer kimono created for the traveling exhibition The Art Quilt and now in the collection of New York City's Museum of Arts and Design.
In 1986, the first book to include her art quilts was published, Yvonne Porcella: A Colorful Book- a book of pure color, pattern, and inspiration. Upon seeing six years of her work in print, Yvonne began to rethink her direction. To her trademark stripes and checkerboards she appliquéd popular imagery and personal references, and her narrative quilts were born.
Over the years, Yvonne's work has appropriated figures and objects taken from her daily life. Her titles for these bold and colorful quilts are every bit as playful as the quilts themselves: It's About Beets & Perfume and Non Fat, Low Cholesterol, Chemically Enhanced Frozen Dairy Dessert. In more recent pieces, the iconic images have broken from the confines of the smaller grids and dominate the entire surface. But they are still trademark Porcella: a fantasy world of checkerboards, stars, and polka dots with a healthy dose of humor.
The other side- the classical one- of Yvonne Porcella encompasses quilts created with lyrical, translucent colors inspired by the Japanese "floating world," ukiyo-e. The Tale of Genji, a tenth-century Japanese novel by Murasaki Shikibu, is the strongest source of inspiration for these quilts, which are magically transformed from hand-dyed and hand-painted silks that mimic the most beautiful formation of the earth, sky and sea. Shapes float freely in the infinite space, reminiscent of the surrealist paintings of Joan Miró. For Yvonne, these quilts seem to fulfill a need to be painterly. Their creation has coexisted with her primary-colored quilts, which in some ways gives her a split personality. According to Yvonne, "the painted silks are the calm, peaceful, restful side and the bright contemporary colors, the more jarring, humorous, happy uplifting side." Their lyrical titles include In Autumn the Evening Shows Its Lavender and Enchanting Is the Plum.
Lately, Yvonne has been motivated to experiment with new techniques that are less stressful on her hands. She prefers fused fabrics, which are looser and less defined than the shapes that were previously appliquéd, allowing her to combine cotton and silk fabrics in the same piece.
Yvonne is a tireless advocate for the art quilt movement through her teaching, writing, and curating, and is amazingly generous with her ideas and advice. In 1989, she founded Studio Art Quilt Associates (SAQA), a nonprofit organization dedicated to educating the public, documenting the art quilt movement, and advocating the recognition of the quilt as art. The organization sponsors annual educational conferences and consults on regional and national exhibitions, while encouraging critical writing. Yvonne proved her commitment to the mission of SAQA by continuing as president of the board of directors until 2000, at the request of its members. The cause isn't finished, since she remains troubled by the lack of serious attention given to fiber artists by collectors, galleries, and museums. She sees a great deal of work ahead for all involved.
Yvonne is a favorite speaker across the country and has shared her talents with students in Japan, France, Germany, Australia, and Switzerland. In 1998, she was selected as one of a handful of artists to represent the United States in the Ninth International Triennial of Tapestry in Lódz, Poland.
Her honors include the Silver Star Award presented by Quilts, Inc. at the International Quilt Festival in 1998, and selection of her quilt Keep Both Feet on the Floor as one of America's 100 Best Quilts of the 20th Century. In 1998, her many contributions to the art quilt movement were recognized by her induction into The Quilters Hall of Fame.
By Alyson B. Stanfield
"In my career, I do not set goals, but rather just let things develop. I will admit that there is a compelling need for me to be creative... Color and inspirations are what drive me; anything I see, read, or hear can be the substance of my work."
Yvonne Porcella, "A Compelling Need to Create," The Quilters Hall of Fame Newsletter, no. 14 (Fall 1998)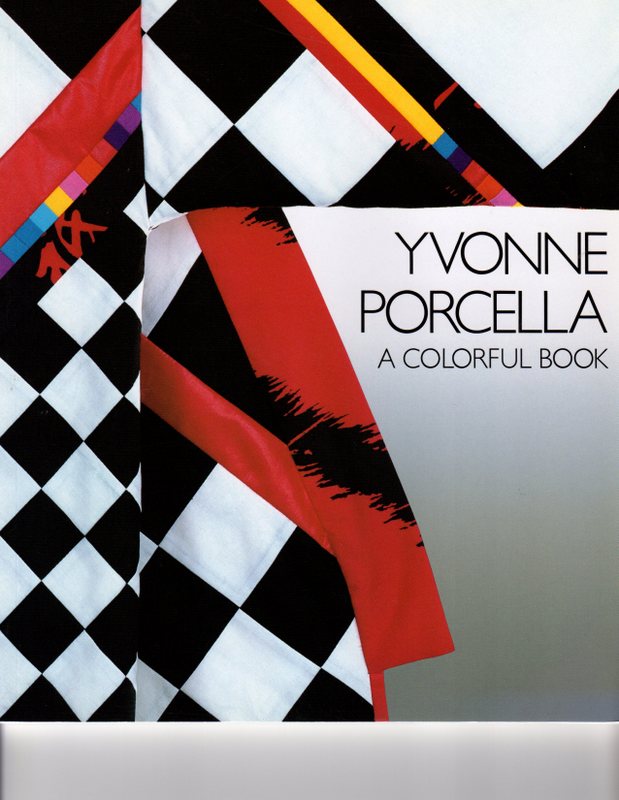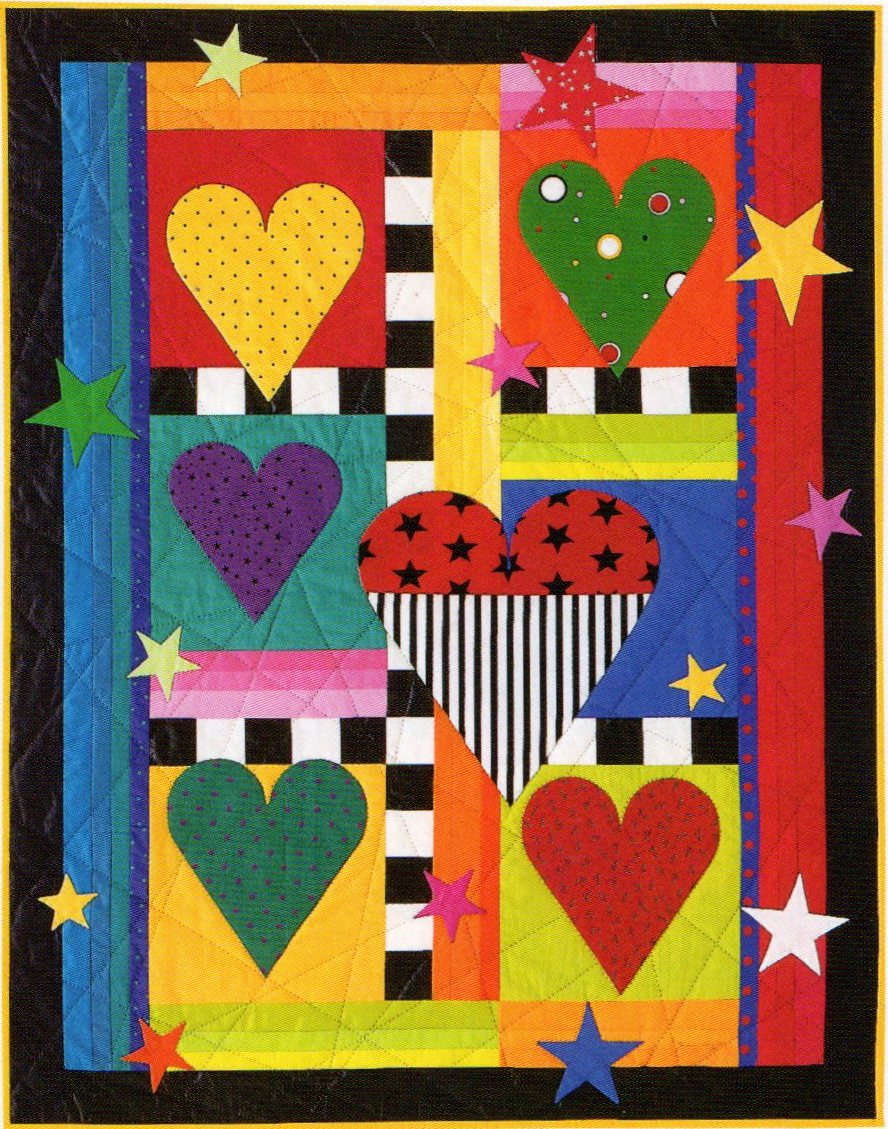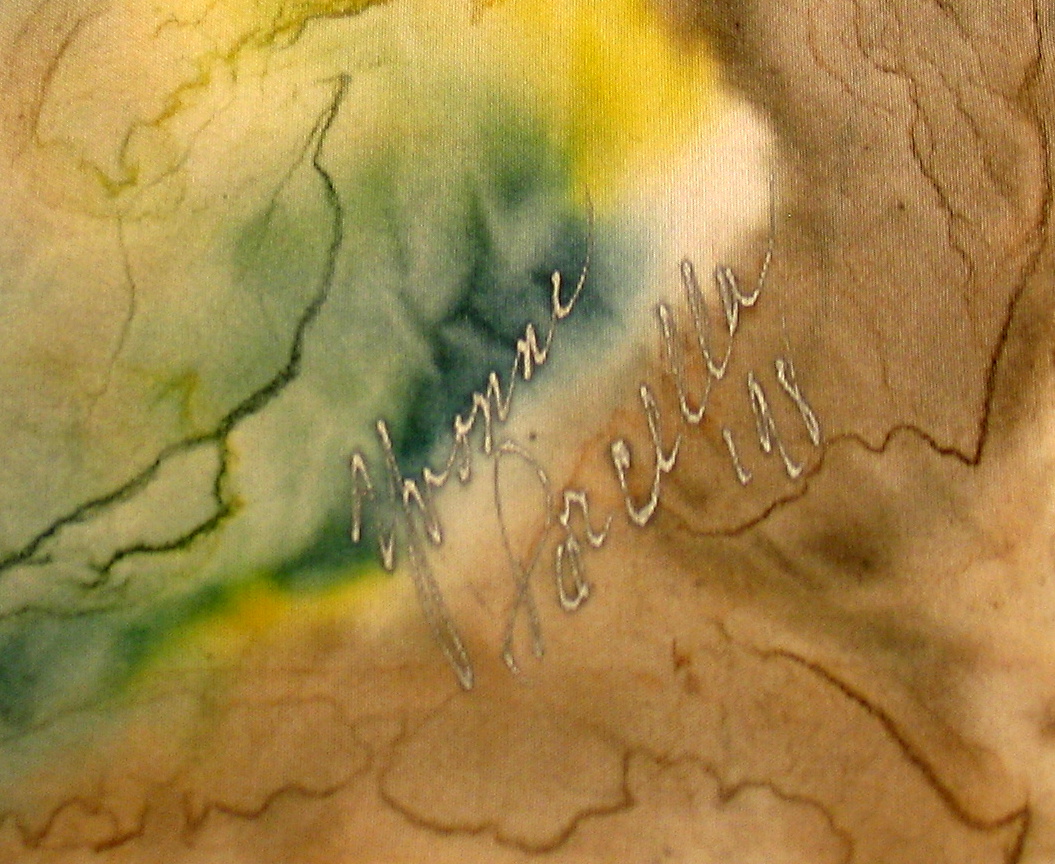 Hand dyed scarf with Yvonne's signature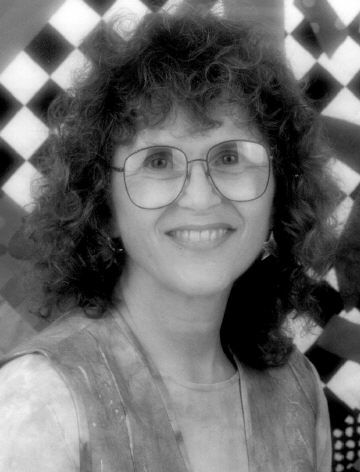 Photo courtesy Yvonne Procella
Selected Reading
Fox, Sandi. Yvonne Porcella: Art Quilts and Kimonos, 1981 to 1995. Exhibit catalog. Atlanta, GA: Connell Gallery, 1995.
Porcella, Yvonne. A Colorful Book. Modesto, CA: Porcella Studios, 1986.
-------. Colors Changing Hue. Lafayette, CA: C&T Publishing, 1994.
-------. "A Compelling Need to Create: Remarks by yvonne Porcella at Her July 18th Induction." The Quilters Hall of Fame Newsletter, no. 14 (Fall 1998).
-------. Magical Four Patch & Nine Patch Quilts. Lafayette, CA: C&T Publishing, 2001.
-------. Pieced Clothing: Patterns for Simple Clothing. Lafayette, CA: C&T Publishing, 1994.
-------. Six Color World: Color, Cloth, Quilts and Wearables. Lafayette, CA: C&T Publishing, 1997.
-------. Yvonne Porcella: Art and Inspirations. Lafayette, CA: C&T Publishing, 1998.