Cuesta took an interest in quilts not because she was born into a quiltmaking family but because she married into one. Her curiosity about her husband's family quilts launched a lifelong quest to fully understand quilt pattern history. This quest began with the study of quilt block patterns while she was serving as a teacher and school librarian. Starting in the 1950s, she actively participated in several round robins- a popular means of pattern exchange. Her participation in these round robins led to opportunities for her to write in various publications, such as Nimble Needle Treasures, Quilter's Newsletter Magazine and Quilter's Journal.
Cuesta announced her interest in African American quilt history with a query published in Quilter's Newsletter magazine in the mid-1970s, asking readers to send her information about quilts made by African Americans. She began a new file that filled rapidly and she became a voice for the overlooked African American quilters.
In 1980 Cuesta made a special presentation entitled "Afro-American Women and Quilts" at the first meeting of the American Quilt Study Group. The paper was then published in the first volume of Uncoverings. Cuesta later served on the group's board of directors and presented two other papers at the annual seminars.
The Kentucky Quilt Project asked Cuesta to curate an exhibition of African American quilts and write a book to accompany it. The exhibit and book, entitled Always There: The African American Presence in American Quitls, gave Cuesta an opportunity to present her findings regarding the diversity, originality and importance of African American quilts and quiltmakers.
Cuesta's work on pattern history, quilt documentation, and African American quiltmakers has greatly enriched the understanding of the American Quilt experience. To paraphrase her own 1983 Quilters Hall of Fame acceptance speech, Cuesta has "given it her best shot" by "minding her P's and Q's"- her patterns and her quilts for nearly fifty years. Quilters and historians everywhere are  the beneficiaries.
"It seems I may be standing alone, like St. John in the wilderness, exhorting the cause of the individual African-American quilter's creativity, a recognition of the diversity of African-American quilting, and most of all, an abandonment of the en-masse 'cookie cutter approach' to the investigations and research of African-American quilt history."
Cuesta Benberry
Piecework, January/February 1995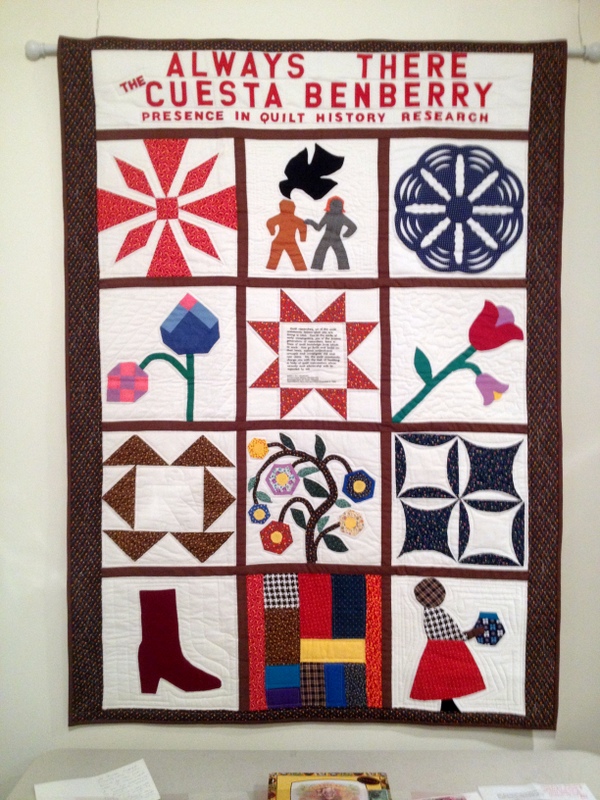 "The Always There Cuesta Benberry Presence in Quilt History Research" made by Honoree Xenia Cord, replicates the only quilt attributed to Cuesta. The center star includes a quote from Cuesta's induction speech, "We, the quilt community, charge you (quilt researchers with the task of building a body of quilt information whose veracity and scholarship will be respected by all."