Marti Michell was born Martha Glenn on August 23, 1938 in Des Moines, Iowa and raised near Mitchellville, Iowa on the family farm called Glennsdale Farm.
Marti was an over achiever from the beginning with a race to the hospital for an early start on life. Some people just can't wait for a chance to conquer the world (of quilting).
At three Marti was named Grand Champion Baby Health girl at the Iowa state fair, a fore shadow of good things to be ahead.
Fast forward to her college years at Iowa State where Marti majored in textiles and clothing and home economics journalism.
The next chapter takes us to romance with Richard Michell who entered Iowa State the same year. Dick grew up in a Chicago suburb, so farm girl meets city feller. Dick and Marti were married in December 1961 and left Ames, Iowa after graduation. They have shared their lives for over sixty years. Along the way Dick became an integral part of the business, each exercising their own particular skills.
In the early years of marriage Marti worked for the Dairy Council in Wichita KS. Their son Jeff was born during those years. They relocated to Ohio and during those five years daughter Stacy was born.
Dick and Marti moved to Atlanta for Dick's job. Always preferring to plot her own path Marti started a sewing school in her home. Patchwork was not a part of the curriculum, but serendipity took a hand and with the urging of a friend's comment Marti enrolled in a quilting class. Back in the day fabrics well suited for patchwork and quilting were scarce and uninteresting.  Available books on quilting and patchwork were equally hard to find. The entire selection of those books would fit comfortably on a foot of shelf space. Among those books none were instructional. The Standard Book of Quilt Making and Collecting  by Margarite Ickis yielded important secrets of needed skills.
Some of her sewing students were curious and expressed an interest in quilt making. Now she had to stay one step ahead of the students and a new path opened up. She and a friend dived into producing patchwork articles for local craft shows. Production limitations tilted her toward kits instead of finished products. Marketing those kits began the next chapter. She connected with a company at the Atlanta gift show. Her company called "Yours Truly" (1972) marketed the kits and she opened a retail outlet called Ginger Snap Station. If Marti couldn't readily find what she needed she searched until she did OR Richard searched until he found a source to produce it for Yours Truly.  For example, Marti was unhappy with the industry-wide quilt batting sizes available in 1975 and she turned to Richard. He forced a new supplier, and they created the most common standard sizes used by nearly all batting companies today, including 120"x120" King size. The growing momentum for patchwork and quilting put the wind at her back.
One thing led to another, as things do, and Marti designed the "Quickest Quilt in the World" for Woman's Day magazine. And then Marti designed and converted 100% cotton prints.
She was the first to publish quilt books for direct sales to quilt shops. Successful Machine Applique by Barbara Lee was the first. Soon the list of authors included names now very familiar to quilt makers like Jean Wells, Marianne Fons and Liz Porter, Cheryl Bradkin, Mary Ellen Hopkins, Harriet Hargrave and Susan McKelvy, all filling an important niche and making patchwork and quilting instruction accessible.
The support that Marti offered enabled new inexperienced quilt makers.
In 1985 Yours Truly was sold along with Ginger Snap Station. Marti went on the road teaching good quilt making skills. By 2015 she had taught in 49 states and 26 countries. Only the Covid pandemic slowed the travel schedule.
In the meanwhile, she continued to design fabrics. First for Springs Industries called Richmond Hill, a line of fabrics sold exclusively to quilt shops. Marti was a freelance designer form 1986-1995 and continues to design and teach internationally.
Marti's longtime association with Quilt Inc. and Quilt Market spawned the creation of School House, a forum allowing the quilt industry to introduce new products in an instructional setting during attendance at Quilt Market. Marti handled the logistics and organization of School House since its inception.
Her book, Quilting for People Who Don't Have Time to Quilt, (1988) was a resounding success and brought new converts to quilt making. She continued to write books with clear instructions and appealing projects. She developed patterns for McCalls Patterns.  She produced projects published in various magazines aimed at quilt makers along with more fabric lines with her name on the selvage.
In 1991 Marti was honored with the Michael Kile award for excellence in product development and marketing. The award recognized Marti's commitment to the support of quilt makers.
 In 1995 Jane Gruchacz approached Marti with an idea for patchwork templates that would revolutionize the way quilters could improve on both time and accuracy. "From Marti Michell" was born. Marti never fails to credit Jane for the initial idea. Jane explained the concept and, knowing Marti's skills, she and Marti worked out an agreement for the development and production of the templates.  Over the subsequent years Marti has expanded the template sets from basic block templates which facilitate a myriad of blocks to sets for specific and more challenging blocks. Publications to expand on the concept naturally followed.
In short, no one has taught more classes in more places to more people or written more lucid instructions than Marti!!
In 2004 Marti received the Silver Star award for lifetime achievement. The award was bestowed by Quilt Market. Marti shares every accolade with Dick, she couldn't have done all without his and family support.
Marti generously shares her quilts for exhibits. The International Quilt Museum in Lincoln NE installed a special exhibition in 2018 recognizing Marti called "Marti Michell, the Business of Quilts".
Marti is an international star in the quilt world underscored by the special exhibition of her quilts at the European Patchwork gathering in Sainte Marie aux Mines France.
The Quilters Hall of Fame planned to induct Marti in 2020 but that was postponed by the Covid precautions until 2021.
When any other honors come along Marti will surely be considered.
The Quilters Hall of Fame wisely selected Marti Michell reminding the quilt world of how tirelessly she has worked to support and encourage quilt making.
By Bettina Havig
You aren't making quilts to please me or your mother-in-law or a quilt show judge or a snooty sister. Instead you can make quilts that you like, that express your own creative urges, make a statement or tell a joke.
Marti Michell, Quilting for People Who Still Don't Have Time to Quilt, (1998), pg 7.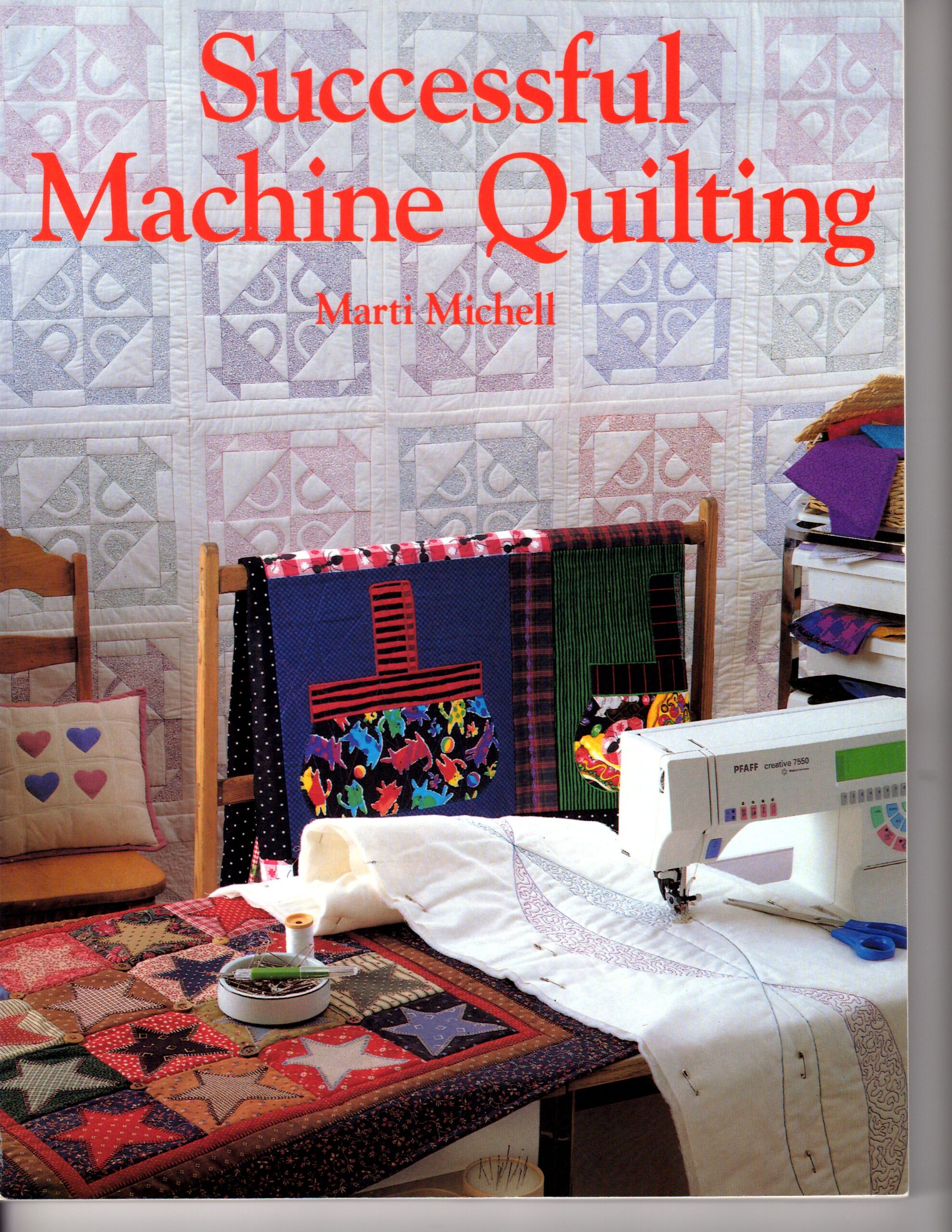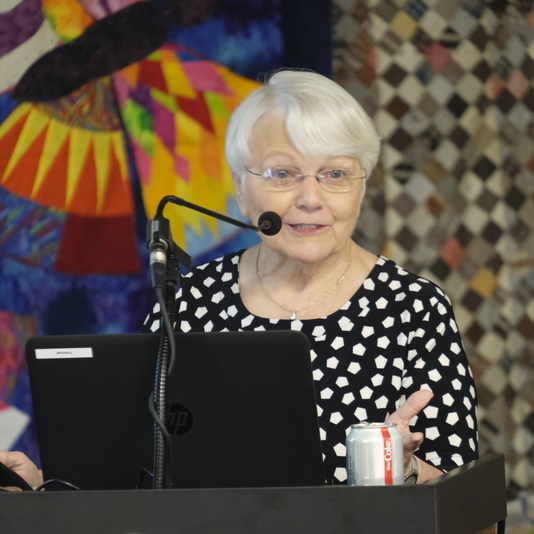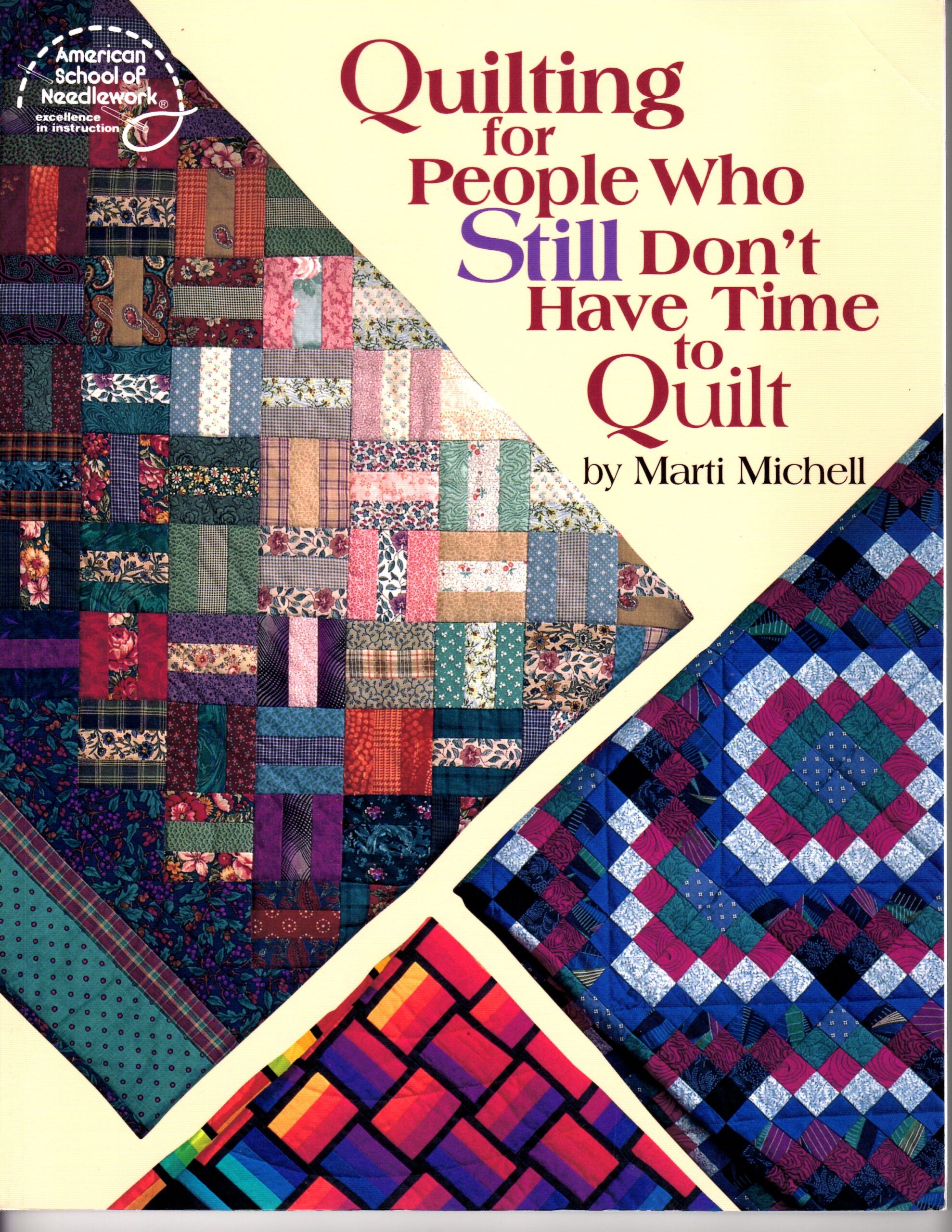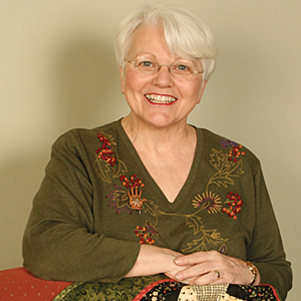 Selected Reading
Michell, Marti. Creating Curves With Log Cabins. San Marcos, CA; American School of Needlework, Inc.,1997.
---------. Perfect Patchwork System: Six is for Hexagons. Atlanta GA., Marti Michell, 2001
---------. Quilting for People Who Still Don't Have Time to Quilt. San Marcos, CA; American School of Needlework, Inc., 1998.
---------. Quilting Secrets. San Marcos, CA; American School of Needlework, Inc., 1992.
---------. Scrap Patchwork & Quilting. New York, NY; Meredith Press, 1992.
---------. Successful Machine Quilting. New York, NY; Meredith Press, 1995.
---------. Weekend Log Cabin Quilts. San Marcos, CA; American School of Needlework, Inc., 1991.