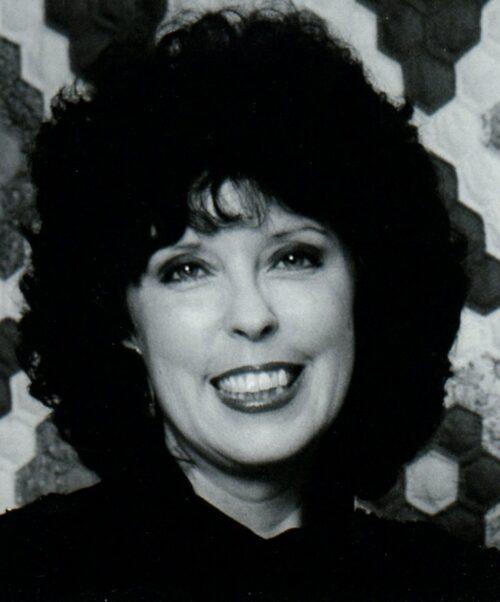 I've been taking a break from writing because for the first time since last Spring, I've been able to travel for quilting events. In early July, I got together with my local study group, the Northern Illinois Quilt Study Group, to look at a member's collection of doll quilts. Then a week later I was at the Quilters Hall of Fame Celebration where Marti Michell and Mary Gasperik were inducted as honorees. And I've just returned from the American Quilt Study Group's annual Seminar in Harrisonburg (Shenandoah Valley), VA. Next up for me is a four-day session on Red and Green antique and vintage quilts at the end of September. Phew! I feel like I've waited so long for this, and I'm going to make the most of every opportunity.
Well, not every opportunity. The one that will have to stay on my bucket list for another year is the International Quilt Festival in Houston Texas, an annual event begun and produced for over 40 years by Hall of Fame Honoree, Karey Bresenhan. You can read all about Miss Karoline at the link below. (I don't think anyone calls her that, but it seems so politely Southern, and this lady deserves all the respect I can give her.) I can't go to Houston this year, but that shouldn't stop you; and if you can't go either, let me give you an armchair tour.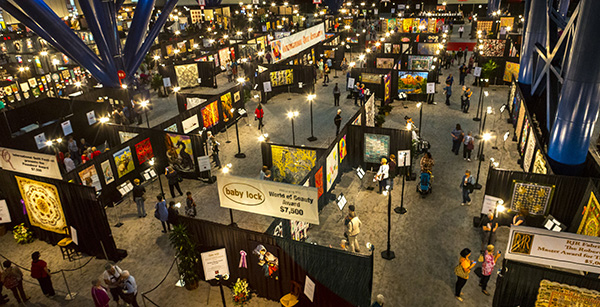 The International Quilt Festival, Houston is back in 2021. The festival runs from Oct. 28 to Oct. 31 2021. Preview event is on the evening of the 27th and classes and other events start from the 25th. One day admission fee is USD 15 per person.
What will you see if you go? Quilt Show Categories for IQF 2021 are:
Hands All Around
In Full Bloom
In The American Tradition
Landscape Quilts
Tactile Architecture™
For $10.00 you can attend a lecture on current-interest topics ranging from Featherweights to creativity and everything (hexies, quilt restoration, judging, tension, pictorial quilts and more) in between. And for a higher fee, let me "point" out some of the classes:
Mandala Madness- Muriel Mandala design using Appliquik Rods for turning the appliqué pieces, taught by Kyra Reps.
Barn Quilt Block Painting- Taught by Margaret Atkins with Rhoda Gersch.
Sunstars- A Kaleidoscope Class, two days taught by Paula Nadelstern.
Or if you're looking for something curvy instead of spikey, try one of these:
Teeny Tiny Flamingo Collage- Laura Heine
Quilted Texture from A to Zen- Bethanne Nemesh
Turned-Edge, Layered Hand Appliqué- David Taylor
These are just a few of the classes listed on the first page of the website; there are 15 more pages with something for all interests. You can view them all at the link below.
Is October too soon for you? Don't worry; you'll have another chance August 4-6, 2022 when Quilt Festival moves to Long Beach CA for a summer session. Here's a photo of the venue, the Long Beach Convention Center. And check out the background: there's a cruise ship on the left and what looks like an ocean-going steam vessel on the right! You could arrive by sea.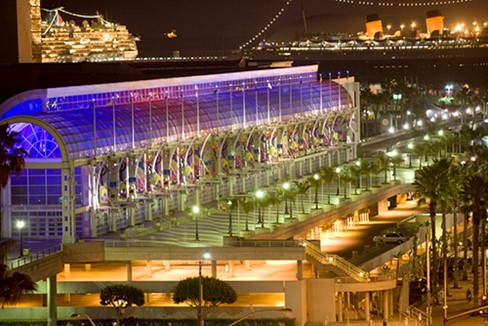 If running the world's biggest quilt show wasn't enough to merit Quilters Hall of Fame recognition, Karey Bresenhan could still be an honoree, and I'd still have interesting things to tell you about her. Did you know she read "Gone with the Wind" before she was ten years old? Or that Bresenhan shares a common profession with Ruth Finley (see my February 3, 2021 post)? Karey holds a bachelor's degree in journalism from Sam Houston State University and a master's degree in journalism from The University of Texas at Austin, and Ruth went undercover to write exposé. Karey's writings are a bit more tame than Ruth's; she wrote for corporations, and later put her word-craft to use in writing quilt books. But, still a connection.
My first introduction to Karey's written work was what turned into her magnum opus, "Lone Stars: A Legacy of Texas Quilts" which she wrote with her cousin, (and life-long quilting collaborator) Nancy O'Bryant Puentes. Growing out of the Texas Quilt Search -which followed Kentucky as just the second quilt documentation project in America—"Lone Stars" eventually covered three volumes. There's a link below to an article which showcases a selection of ten quilts, and a second link to all 144 of the books' quilts on the Quilt Index.
Let me show you one which is my favorite because it embodies Karey's love for her home state and its quilting legacy.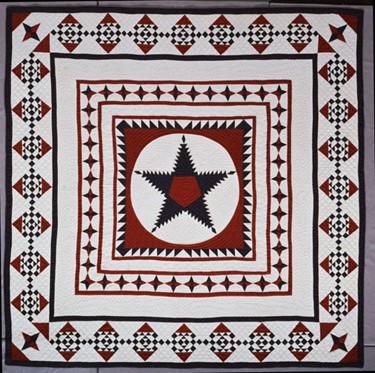 This quilt, made by Karey's mother with the help of her aunt, cousin, and Karey herself, is quintessentially Texas. It's a Lone Star of Texas executed as a feathered star, set in medallion format and framed by a sawtooth border; the next border features four-pointed stars known as Texas Tears; the outer border is a row of Battle of the Alamo blocks, (per Karey) "named in honor of that Shrine of Texas Liberty". Quilting motifs include Texas wildflowers such as the bluebonnet (the state flower), feather quilting and a row of five-pointed Texas stars.
Karey wrote several other books– "America from the Heart: Quilters Remember September 11, 2001",
"Hands All Around: Quilts from Many Nations", with Robert Bishop and Nancy Lehman, and these titles: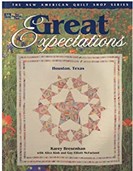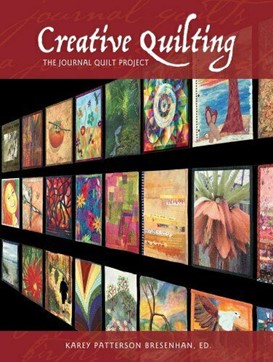 I started off telling you that I have deep respect for Karey Bresenhan, and here's why: I don't think I could write this blog without some of the resources Karey has had a hand in. She co-founded the Alliance for American Quilts (now the Quilt Alliance—see link below) which has promoted the safeguarding of American quilt history through projects such as Quilters S.O.S. (Save our Stories), Boxes Under the Bed, and Quilt Treasures. I often poke around on these sites to find information, photos and videos to share with you. She was also one of the forces behind the 1999 Ultimate Quilt Search which resulted in the selection of quilts for "The Twentieth Century's Best American Quilts", and she had most of those exhibited that year in Houston. I often find information about honorees in that book. Thanks, Miss Karoline.
And I'm not the only one who thinks highly of Karey. When HERstory.online put out a call for quilts honoring strong women, this one featuring Karey Bresenhan was submitted. It, along with dozens of others, hung at the International Quilt Festival in Houston in 2017. It looks like Karey and captures her love of all things Texas.
Can I end this by paraphrasing Winston Churchill? Never have so many quilters owed so much to one person, and that person is Karey Bresenhan.
Your quilting friend,
Anna
Bio info. https://quiltershalloffame.net/karey-bresenhan/
Houston classes. https://www.quilts.com/quilt-festival/quilt-festival-houston/all-classes/
Lone Star selections. https://www.texasmonthly.com/articles/common-threads/ (You only get two free views at this site.)
Full Lone Star collection. https://quiltindex.org/results/?search=quilts&qproject=Texas%20Quilt%20Search
The Quilt Alliance. https://quiltalliance.org/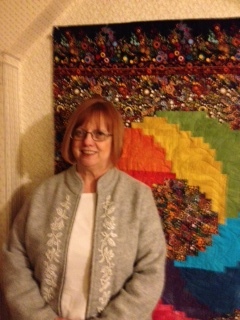 I'm Anna Harkins, and I volunteer on the Collections Committee at The Quilters Hall of Fame. What else would you like to know about me? Married, no kids; one old horse, retired, and live in a western suburb of Chicago. I've been quilting for about 20 years (I wish I could say I learned from my grandmother, but some of us come to this later than others), and I'm a quilt history dilettante, "a person who cultivates an area of interest, such as the arts, without real commitment or knowledge." There are real scholars among you, and I have no pretensions to that level—hats off to you! But I am interested, especially in the people who have made up the quilt world here in the US, which is why I've agreed to blog for The Quilters Hall of Fame. I plan to write every week, and I hope you'll join the discussions.
Tags:
Anna Harkins