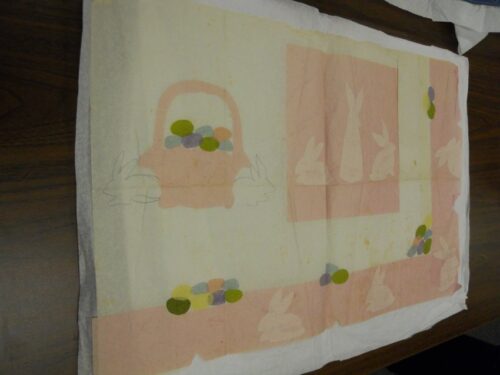 I'm writing on Saturday, but you won't read this until after all the eggs have been found. I hope you had a happy Easter. And I hope you will enjoy this quick look at some of our Honoree's Easter quilts.
Since Ruby McKim was last week's topic, I'll start with her. Here are the rabbits from the Peter Rabbit quilt; it was first published in 1916 in the Kansas City Star and is now adapted to a panel available on the McKim Studios website.
McKim was noted for the squared-off (quadratic) shape of some of her designs, but she also had softer images like the lambs in her Spring appliqué.  This was part of the Four Seasons series originally published in the 1930s and also available on the McKim Studios website. What do you think of the triangular dandelion?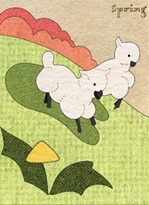 I had to look hard to find other Easter animal images by Honorees.  Ruth McDowell has an entire farm series, but her work, although wonderfully realistic, doesn't say "Easter" to me. I only found one other rabbit, this one by Yvonne Porcella (who usually does those happy, frisky dogs). But she did an Asian-inspired quilt and included a rabbit (from the hare-in-the-moon tradition) on the back of it.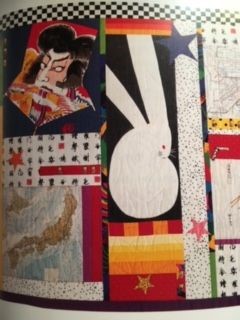 The Quilters Hall of Fame has, as part of the collection, a number of objects that are not necessarily connected to our Honorees, but are used for education. Among these is an extensive number of family quilts, historic fabric samples, and quilts made by our great friend, Arnold Savage.  This is one he finished in 2005 from a top constructed in 1934 of tiny Nine Patches that he made as a child while recovering from rheumatic fever. He hand quilted it with Easter eggs and named it "Opus 4 / Recovery Quilt 4 Easter Egg Quilt." What an odd, but charming image to put in those alternate blocks! I wonder what made him choose that motif; maybe he was working on this at Easter-time.
When I thought about the Easter theme for this blog, the first thing that came to my mind was the Marie Webster French Basket pattern. Even though it's filled with flowers instead of eggs and chocolate bunnies, it reminds me of an Easter basket. There is a good example of a completed quilt in the Hall of Fame collection, along with a pattern. As you'll see in the third photo, instructions were sparse; but since this was sold as a stamped kit, maybe that was sufficient.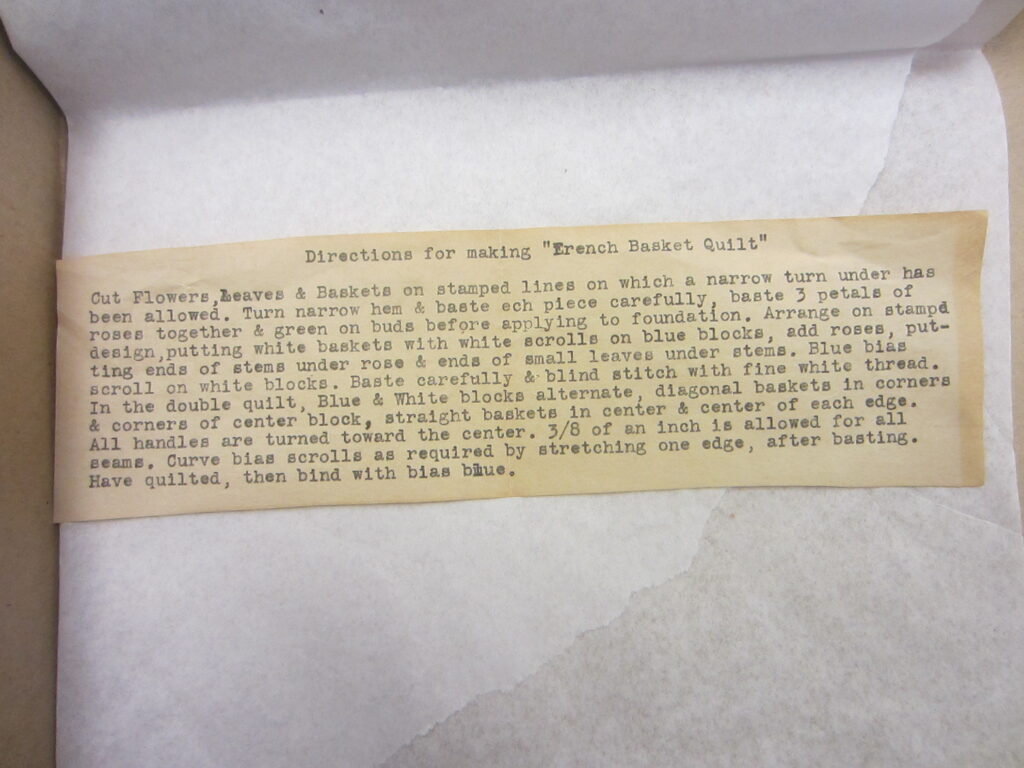 This design was very popular and appeared in other colorways. A few years ago, Honoree Georgia
Bonesteel designed reproduction fabrics based on Marie's designs – this panel shows it in pink.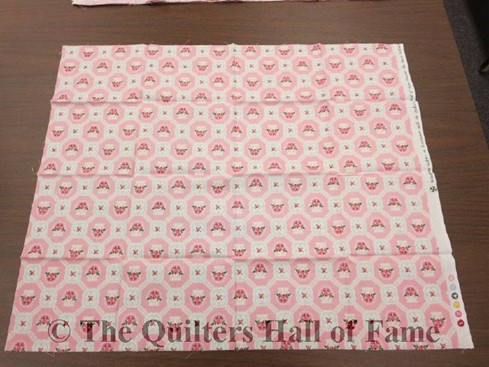 And here's a French Baskets with a green background—which I like better, even though I'm usually a blue gal.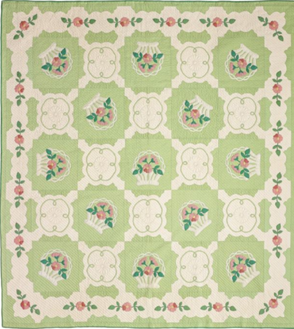 Webster designed three other basket quilts, Dutch Basket, Magpie Rose, and Pink Dogwood. Here are some shots of them from our collection.
And she also had a Bunny quilt, with eggs on the ground and in the baskets.
Other Honorees made basket quilts. This is a Ruby McKim Flower Basket quilt in the Hall of Fame Collection. McKim also had a fruit basket design, but again, nothing with eggs (and certainly no Peeps).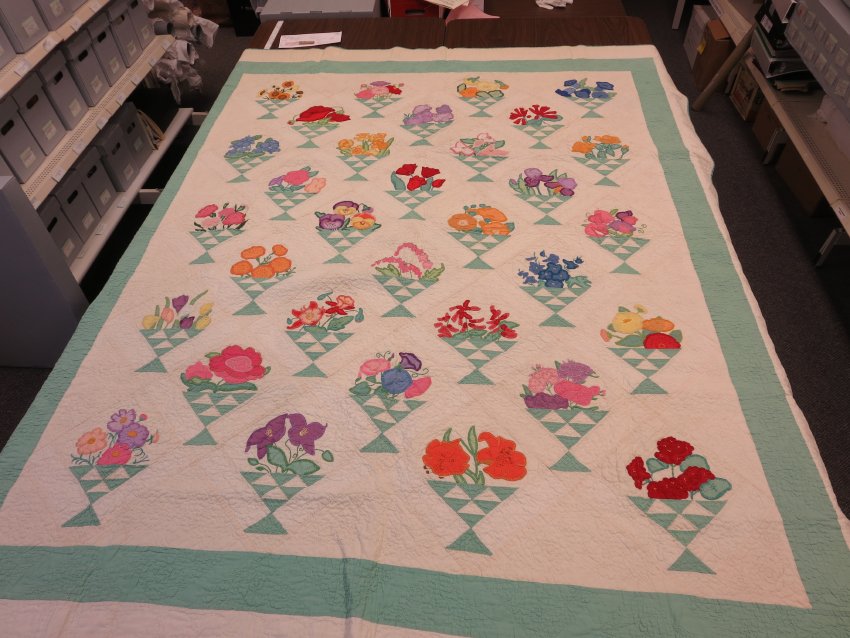 Honoree, Anne Orr was famous for her postage stamp designs, and she created at least two basket images in this style.
And a dishware pattern was the inspiration for Grace Snyder's tour de force, Flower Basket Petit Point. There is a small plate in that pattern in the Hall of Fame Collection.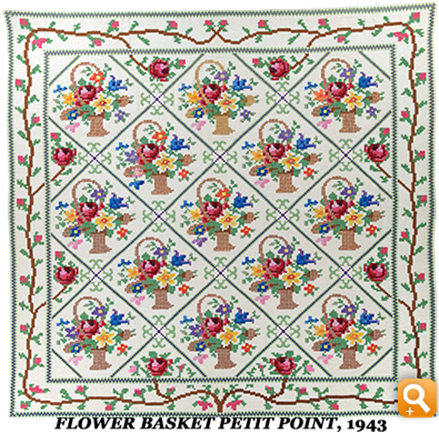 Of course, Marie Webster and many other pattern creators had lovely Spring flower designs which would be timely to show, but I'll save those for another time. I want to stay on the Easter theme—unlike the editor here who really stretched the connection. I would not call those motifs "Easter Lily", even if Honoree Ruth Finley did; it looks more like pomegranate and coxcomb to me.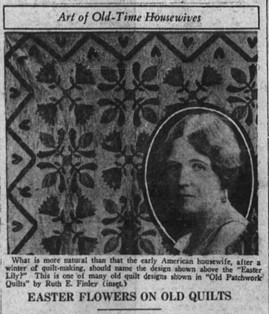 I'm going to close with a quilt that looks more Autumnal, but which I think really conveys the Easter message. This quilt was made in 1939 by Mary Gasperik, our 2021 Heritage Honoree who will be inducted in July. In her own words, this quilt is about a woman "trying to bear the trials of poverty inflicted upon her by the depression" who must stop and rest "to gather fresh courage to reach the 'World of Tomorrow'…. The birds are singing songs of encouragement. Beyond these mountains lies Recovery."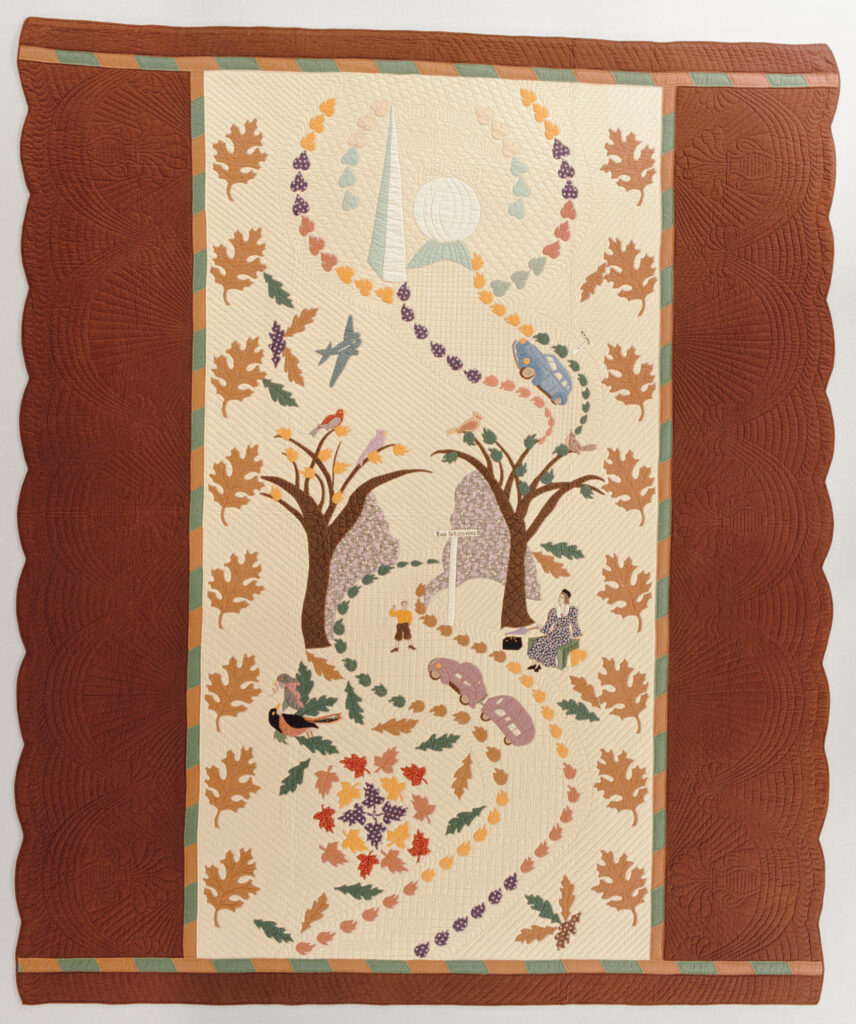 And isn't that an appropriate thought for us this year? We've been through a lot with the pandemic, but we're on the road to recovery and there's hope for the future. There's always hope for a new beginning at Easter-time.
Your quilting friend,
Anna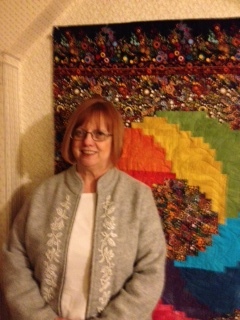 I'm Anna Harkins, and I volunteer on the Collections Committee at The Quilters Hall of Fame. What else would you like to know about me? Married, no kids; one old horse, retired, and live in a western suburb of Chicago. I've been quilting for about 20 years (I wish I could say I learned from my grandmother, but some of us come to this later than others), and I'm a quilt history dilettante, "a person who cultivates an area of interest, such as the arts, without real commitment or knowledge." There are real scholars among you, and I have no pretensions to that level—hats off to you! But I am interested, especially in the people who have made up the quilt world here in the US, which is why I've agreed to blog for The Quilters Hall of Fame. I plan to write every week, and I hope you'll join the discussions.
Tags:
Anna Harkins
,
Anne Ore
,
Arnold Savage
,
Grace Snyder
,
Marie Webster
,
Ruby Short McKim
,
The Quilters Hall of Fame
,
Yvonne Porcella