By Marguerite Ickis, c. 1930-1940.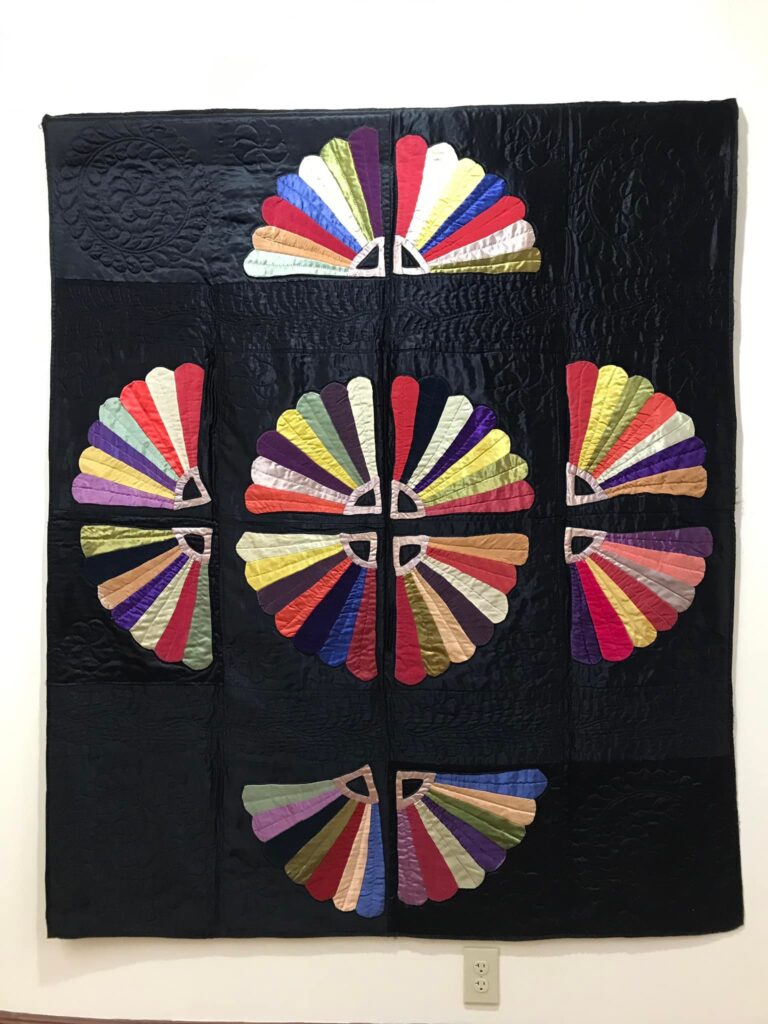 Honoree Marguerite Ickis made this quilt from pieces of costume fabric leftover from theatrical plays made possible by the WPA Federal Theatre Project, for whom she was a consultant. The Federal Theatre Project organized and produced theater events. It was an effort of the administration of President Franklin Delano Roosevelt to provide work for unemployed professionals in the theater during the Great Depression.
The quilt has a black satin background with fan blades made of various shades of red, yellow, blue, magenta, purple and pink, in satin, velvet and crepes. All fabrics are solids, no prints. The batting is a very thin sheet cotton. The quilt is pieced, appliqued and quilted by hand and has a straight grain binding of black satin attached by machine and sewn down by hand. The features, color scheme, and arrangement give the quilt an "Art Deco" flair.
For the quilting, there are feathered wreaths in large plain areas. Each fan blade has one line of quilting running through the center lengthwise. One row of stitching follows the shape of applique. On the triangular ground opposite the fans there are eight petal floral motifs. Heavily feathered vines fill the sashing.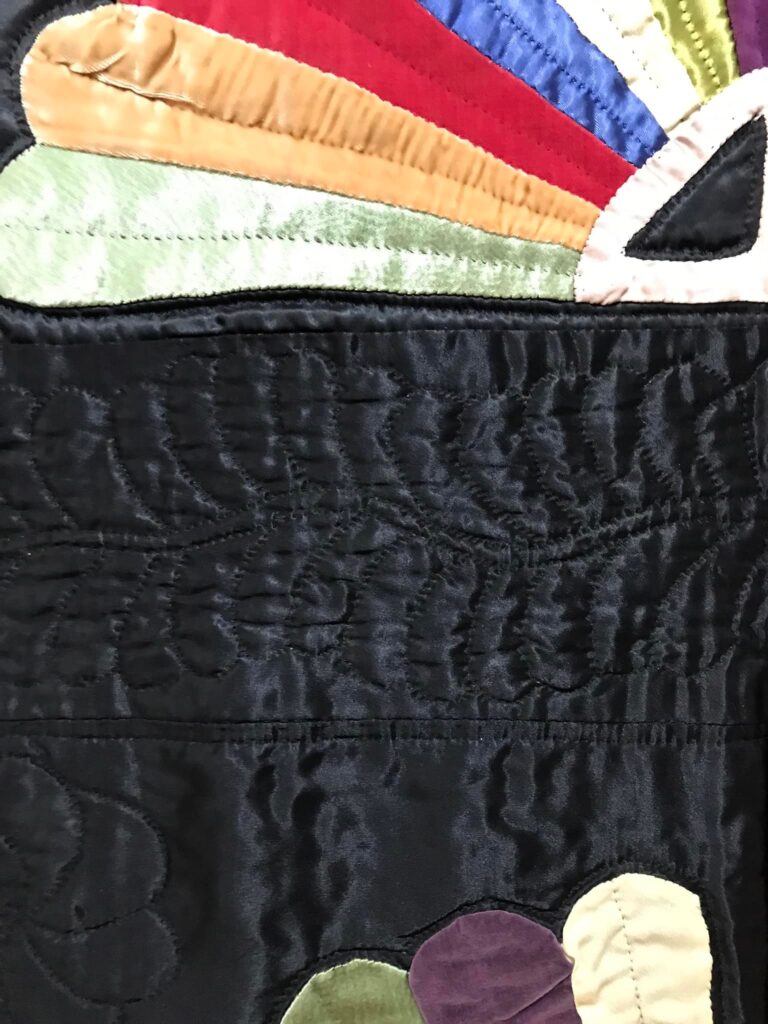 Marguerite Ickis was inducted into The Quilters Hall of Fame in 1979. She loved to tell people, "I've led nine lives, and I've loved every one of them." She was a botanist, worked for the Girl Scouts, was an editor, a dean, writer, quilter, researcher, an innkeeper, and upon retirement a painter.
The Quilters Hall of Fame is currently working on a virtual tour of the Marie Webster House featuring quilts from the collection. This quilt will be included in the virtual tour, soon to be posted!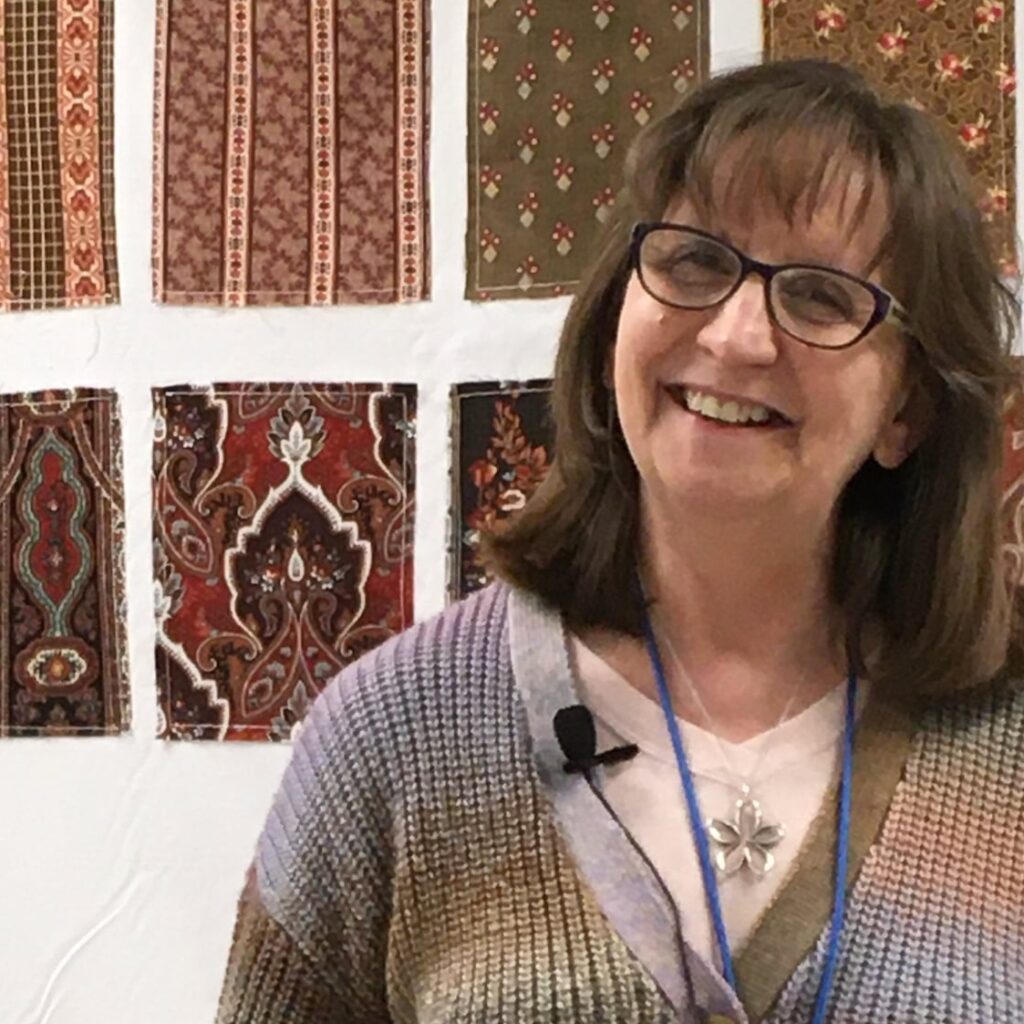 When I was in high school, while exploring Nashville, Indiana, I saw a quilt hanging in the rafters of one of the shops. I don't remember the details of that quilt, but I do remember it took my breath away. The art of quilting has held my interest since then. I love that my current job, as Executive Director at The Quilters Hall of Fame, gives me the opportunity to learn about those who have made outstanding contributions to the world of quilting and to share that information with others. The Quilters Hall of Fame is located at 926 South Washington Street, Marion, IN. Please stop in and see us sometime!