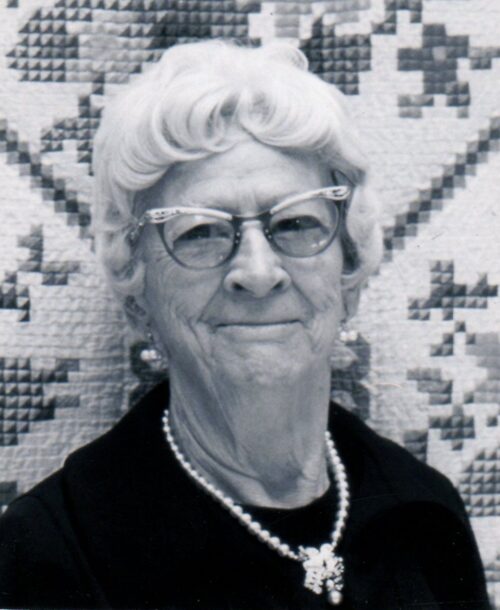 Idle hands may be the Devil's workshop, but Grace Snyder must have put him out of business. The story of her life is told in an autobiography written with her daughter titled No Time on My Hands. One reason she had no time was that she made over 300 quilts including one containing over 87,000 pieces! But Grace wasn't busy all the time; she was a dreamer too. As a child she "… wished that (she) might grow up to make the most beautiful quilts in the world, to marry a cowboy, and to look down on the top of a cloud." If you count air travel for looking down on a cloud, her dreams all came true. How many of us can say that?
At first glance, Grace Snyder's life is unremarkable: the daughter of 1880s Nebraska homesteaders, she married a Nebraska rancher/cowboy (Bert), did some teaching, and raised four children. But she also made quite a few remarkable quilts, and that's what we'll look at today. You can learn more about her story in the bio information on the Hall of Fame website and the Nebraska Quilters site (links below); the latter is an especially thorough presentation for a reason I'll tell you about later.
Let me start with some of Grace's not-so-remarkable quilts—and when I say "not so remarkable", it's only in comparison with her others. From her earliest days, Grace was taught to make small neat stitches, and every Snyder quilt displays her fantastic workmanship. But some of her quilts are show-stopping designs and others are more personal. These are the personal ones—the ones that reveal something significant to the maker. (You won't be able to zoom in on these images, but you'll find them in the expanded bio link and can view close ups there if you want.)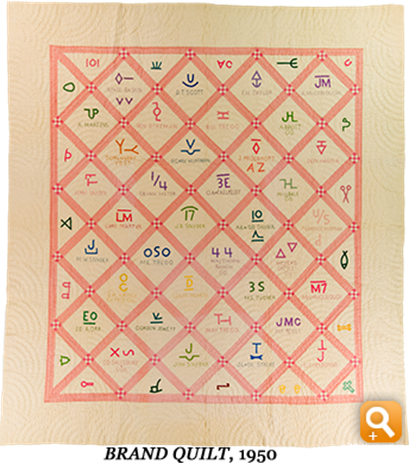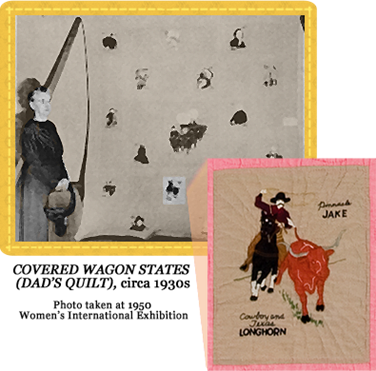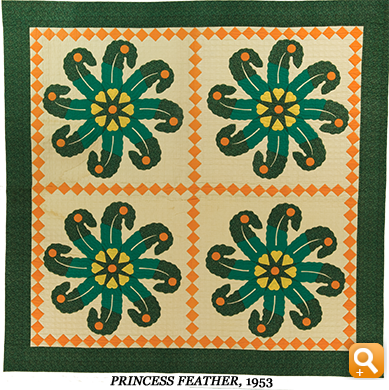 This quilt was made with fabric from one of Grace's favorite childhood dresses. Not an unusual story, but here's the Snyder twist: the dress was torn as she ducked through a barbed wire fence to escape a charging bull.
Not every Grace Snyder quilt tells such personal stories. Here are some that tell us the quilter could be conventional. I wish I could give you better shots of the quilting; I've put links below to their home sites where you can at least zoom in.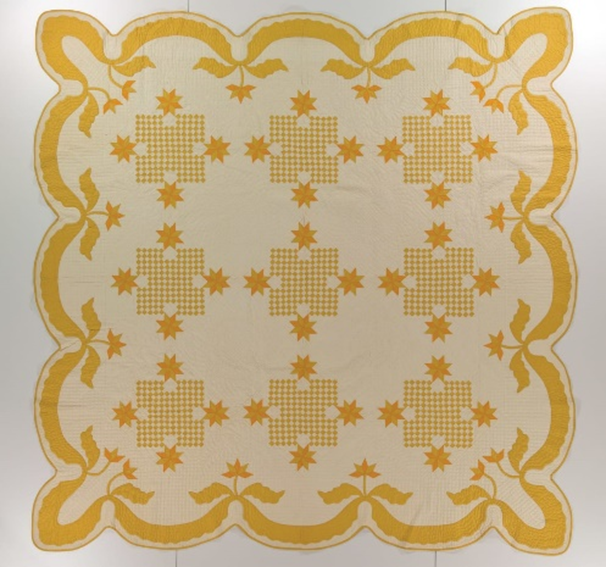 The Lincoln Quilt, International Quilt Museum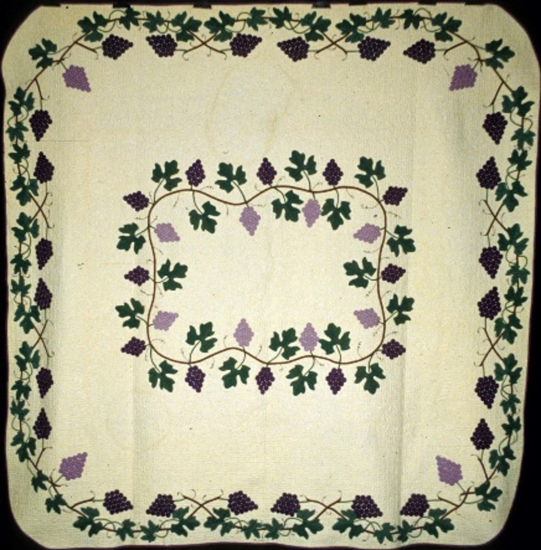 Snyder, Grace. Grape and Vine Applique. 1951. From University of Nebraska – Lincoln, Nebraska Quilt Project (Lincoln Quilters Guild). Published in The Quilt Index, http://www.quiltindex.org/fulldisplay.php?kid=57-90-6E2. Accessed: 09/12/2020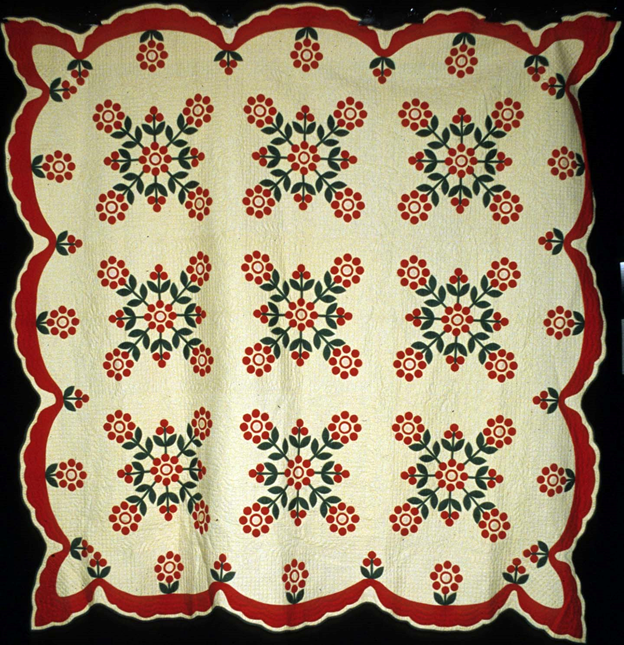 Snyder, Grace. McGills Cherries; Applique. 1945. From University of Nebraska – Lincoln, Nebraska Quilt Project (Lincoln Quilters Guild). Published in The Quilt Index, http://www.quiltindex.org/fulldisplay.php?kid=57-90-6E1. Accessed: 09/12/2020
Remember I mentioned show-stoppers? I think these last three would qualify, but (wait) there's more. Grace won quite a few ribbons in her day, having made 24 quilts expressly for exhibition or competition. In addition to honors at county and state fairs, in 1950 four of Grace's quilts were displayed at the Women's International Exhibition in New York City. "Covered Wagon States" won a special ribbon in the International Division, and "Grape and Vine Applique" won a blue ribbon for its fine applique work. Her "Flower Basket Petit Point" and "The Bird of Paradise" were placed in a special division since there was nothing else like them at the exhibition. And there's still more: Grace also has two quilts that were included among the 100 chosen for publication in The Twentieth Century's Best American Quilts, and here they are: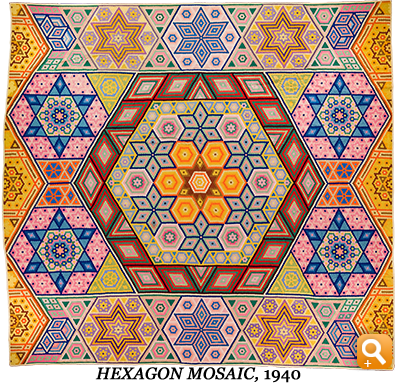 This is a mosaic in the style of Albert Small (who made three hexagon quilts, the last one having pieces only 3/8 inch!). Grace probably saw the design in a 1939s magazine, and she made up her own color scheme from a black and white photo included with the article.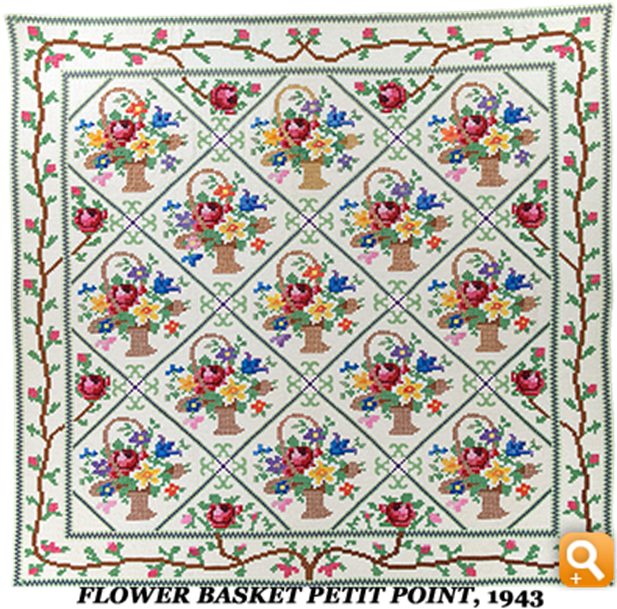 Nebraska State Historical Society
Before it was one of the 100 Best, this quilt was the Sweepstakes winner at the 1944 Nebraska State Fair and earned Grace a prize of $2.50. You can't really appreciate how detailed it is without seeing the video in the extended bio (link below.) The video starts off with some great close-up shots so you can see how she used half square triangles to create the look of needlework. Really, follow that link and play at least the first minute of the video. Wowza!
The State of Nebraska is justly proud of Grace Snyder, and Nebraskans make sure her legacy lives on. Her autobiography has been re-interpreted as a book for young readers, Pioneer Girl, which teachers throughout the state use in the required State History course. The University of Nebraska has also developed study aids to keep Grace's story alive because it's the story of the state itself, a real life Prairie life. And of course there's the presentation available at the extended bio link below. What other state has memorialized one of its quilters in this way?
That got me to thinking about who the famous or most-recognized quilters are in each state I live in Illinois, and we have Bertha Stenge (I promise to write about her soon) and next year Mary Gasperik will be inducted. Indiana has Marie Webster; California claims Yvonne Porcella and Jean Ray Laury; Nancy Crow put Ohio on the art quilting map. So, who is your state's best or most notable quilter—current or historical? Is there one for every state? Is she or he in the Quilter's Hall of Fame, or will you be making a nomination so your state won't be left out? If Grace Snyder's story tells us anything, it's that someone can be living a quotidian life, all the while making quilts and making her dreams come true. So, look around for people like her, and look at yourself to see if your dreams are coming true.
Bio information https://quiltershalloffame.net/grace-snyder/
Expanded bio http://nequilters.org/node/8
The Lincoln Quilt https://www.internationalquiltmuseum.org/quilt/20090320001
Grape and Vine Applique http://www.quiltindex.org/fulldisplay.php?kid=57-90-6E2
McGill's Cherries http://www.quiltindex.org/fulldisplay.php?kid=57-90-6E1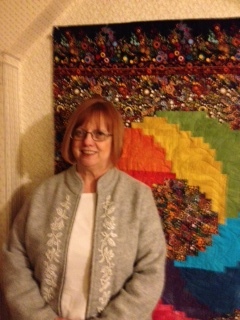 I'm Anna Harkins, and I volunteer on the Collections Committee at The Quilters Hall of Fame. What else would you like to know about me? Married, no kids; one old horse, retired, and live in a western suburb of Chicago. I've been quilting for about 20 years (I wish I could say I learned from my grandmother, but some of us come to this later than others), and I'm a quilt history dilettante, "a person who cultivates an area of interest, such as the arts, without real commitment or knowledge." There are real scholars among you, and I have no pretensions to that level—hats off to you! But I am interested, especially in the people who have made up the quilt world here in the US, which is why I've agreed to blog for The Quilters Hall of Fame. I plan to write every week, and I hope you'll join the discussions.
Tags:
Anna Harkins
,
Grace Snyder