Marie Webster Guild 10/21
Usually I write about a Hall of Fame Honoree, but today I want to talk about some women without whom there would be no Hall of Fame. The Marie Webster Quilt Guild of Marion Indiana is like most other guilds: they meet, have show and tell, and put on an annual quilt show.  But unlike other guilds, they have dedicated themselves to supporting the Quilters Hall of Fame.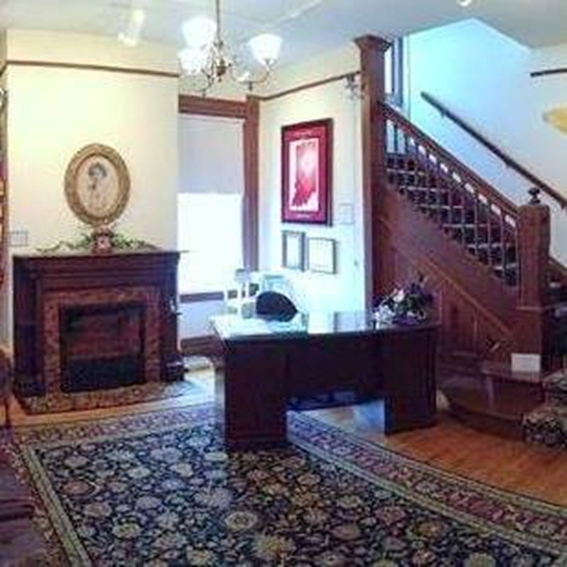 Someone has to welcome visitors and cover the phone and attend to the gift shop every day that the Museum is open.  Sometimes that falls to the Executive Director or paid staff, but they have their own work to so, so it's more likely to be done by volunteers from the Marie Webster Guild. And who do you think hangs displays at the Museum?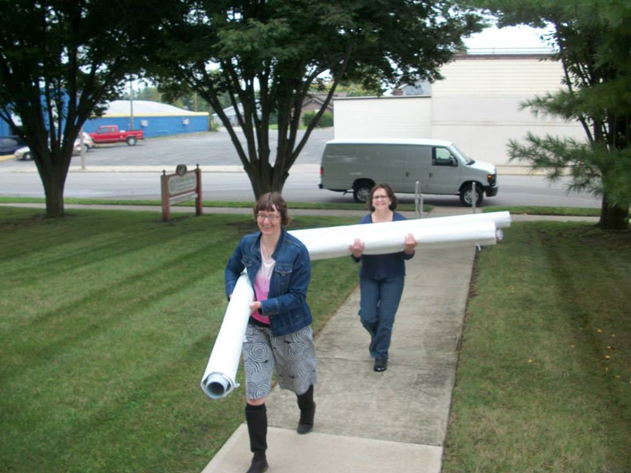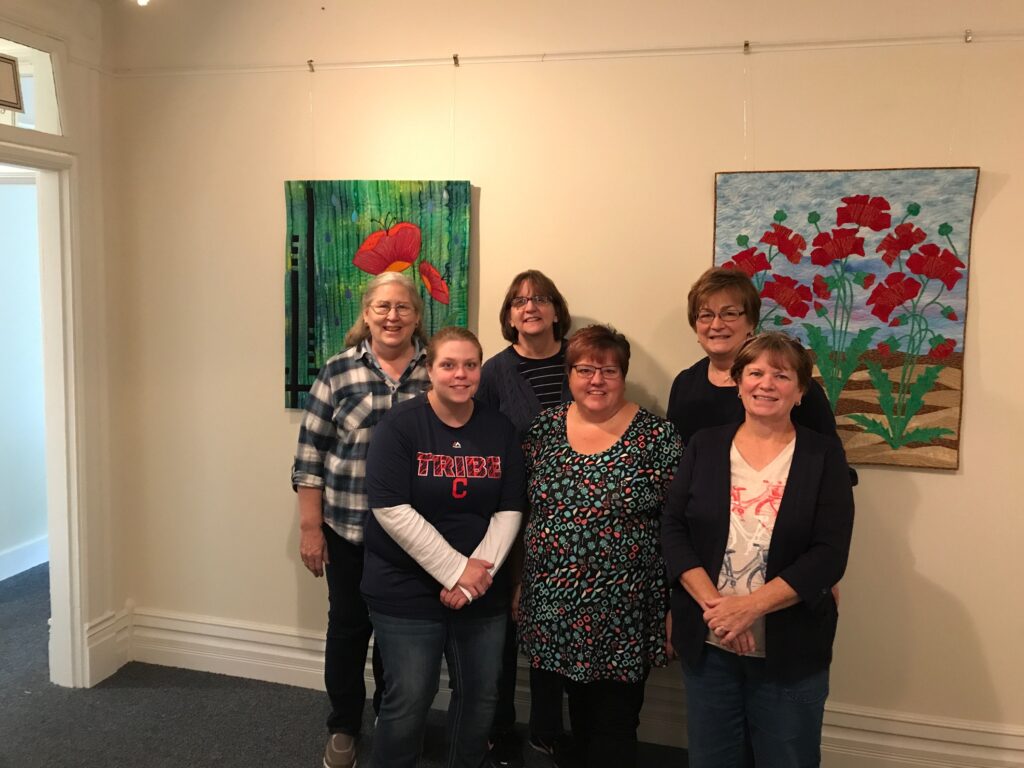 They also hang the entire show for Celebration every year. That includes the Honoree's quilts at the Library, and quilts that go along with the lectures and programs at the church. This is in addition to hanging their own quilts, organizing the Vendor Mall and operating the craft and book sale at the same time.
And if you've been to Celebration, you know that they put in countless hours of work for the fund-raising auctions. Can you imagine how much work it is to package all the fabric that's donated for the silent auction? Look how many tables of stuff they have; every bag has to be packaged with a bid sheet attached. And of course, someone has to store all the donations throughout the year.
And they help out with the live auction. Anyone can donate to the live auction, but the Guild also makes items—a different theme is set each year. One year the challenge was "Black and White and a Color".
Next year, the challenge will be to make an item using fabric designed by Marti Michell, the 2021 Honoree. (I could take us down a rabbit hole of wondering how many of the Hall of Fame Honorees have designed fabric, but that should wait for another day.)
Here's the fabric, and they still have a few yards left in case you want to pick up the gauntlet. I think I actually had some of that blue at one time, and enjoyed working with it.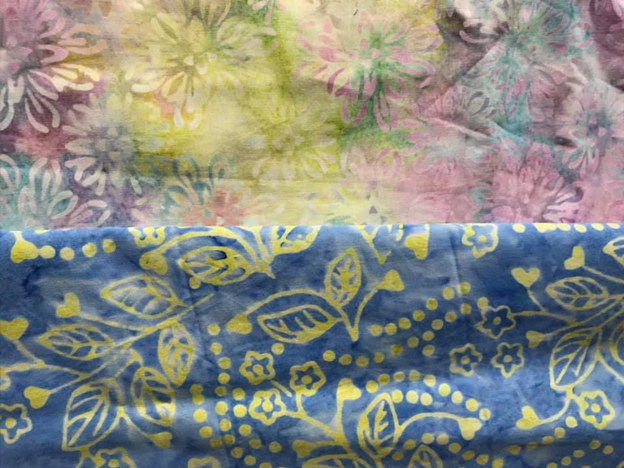 What show is complete without raffle baskets? One of these has stuff I would have wanted—guess which one. (Yes, I'm a sucker for fabric, especially pre-cuts.)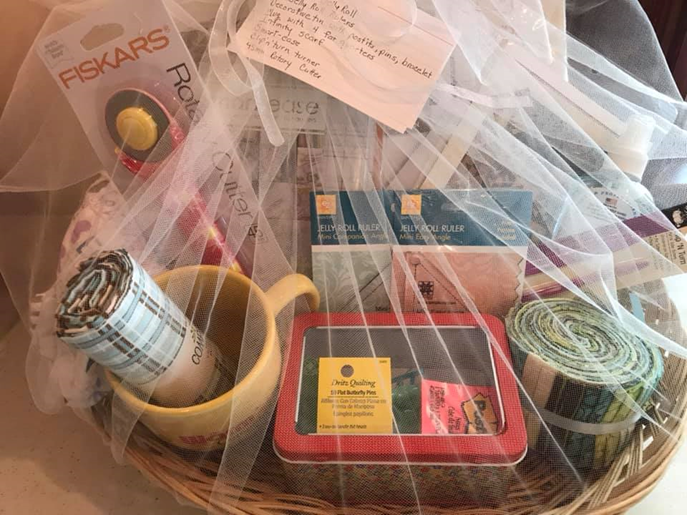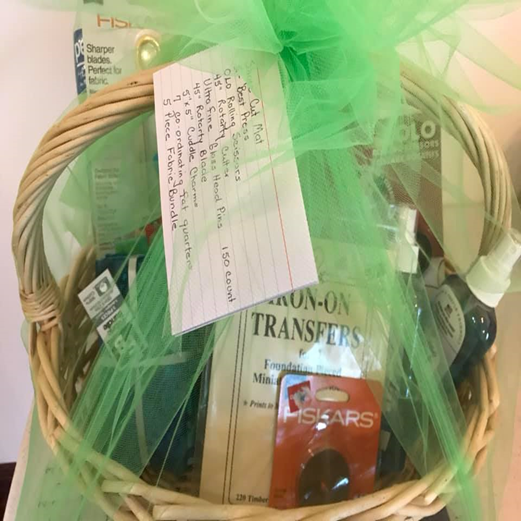 My Guild puts on a quilt show every other year; I'm pretty sure we couldn't do it annually. Thanks, Marie Webster Guild. You got a pass this year because of Covid—a well-earned break. But I know you'll be back for the next live Celebration. In fact, you're probably planning now. Or maybe not. Because this is the time of year that the Guild does a holiday craft market at the Hall of Fame. Guild members sell for their own account (free space at the Marie Webster house as a thank you for their hard work all year), but it's also a great way to bring new people in to the Museum. Here are some shots from past sales.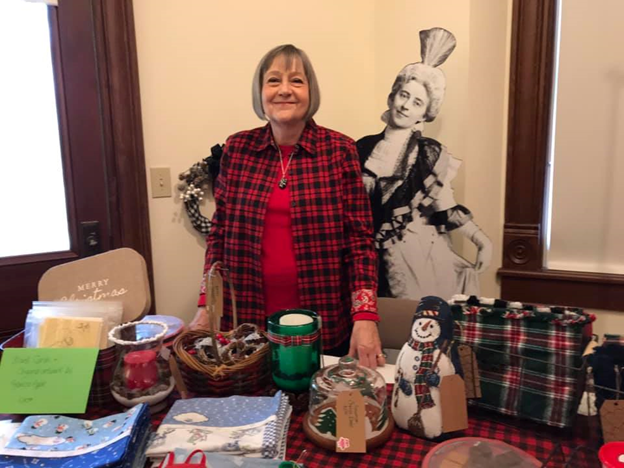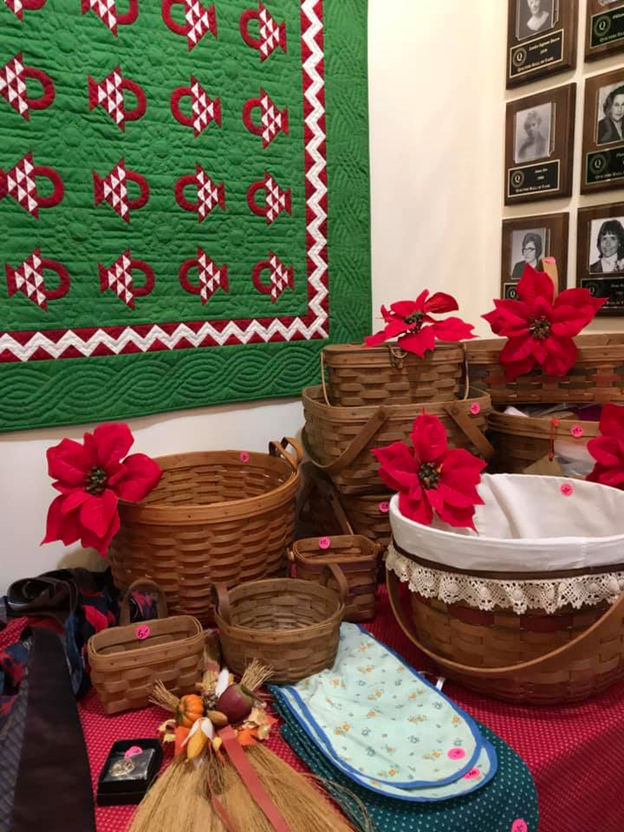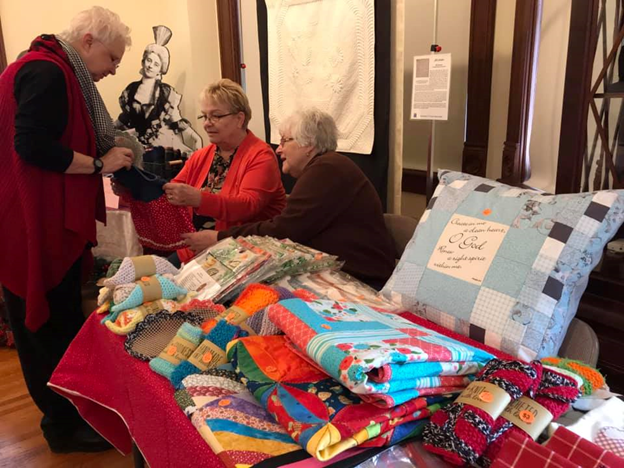 If you can't shop in person, fun things are available year round on the Hall of Fame website. Most of these items have been made by members of the Marie Webster Guild. https://shop.quiltershalloffame.net/products?page=1 Check out the face masks on the last page.
Oh, and by the way, those lapel pins are designed each year by Marie Webster Guild member, art teacher and current Chairman of the Quilters Hall of Fame Board of Directors, Debi Shepler.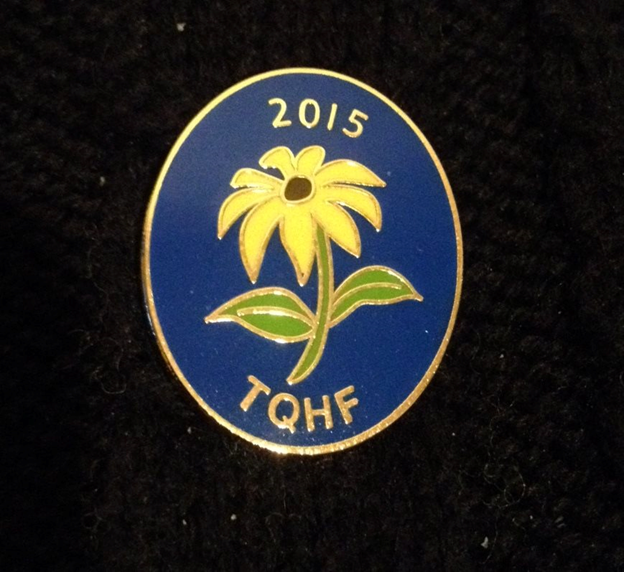 But wait (as they say on late night TV); there's more. It's almost time for holiday decorations. I know not many of us will get to Marion to see the house this year, so here are some photos from Christmases Past.
Before
After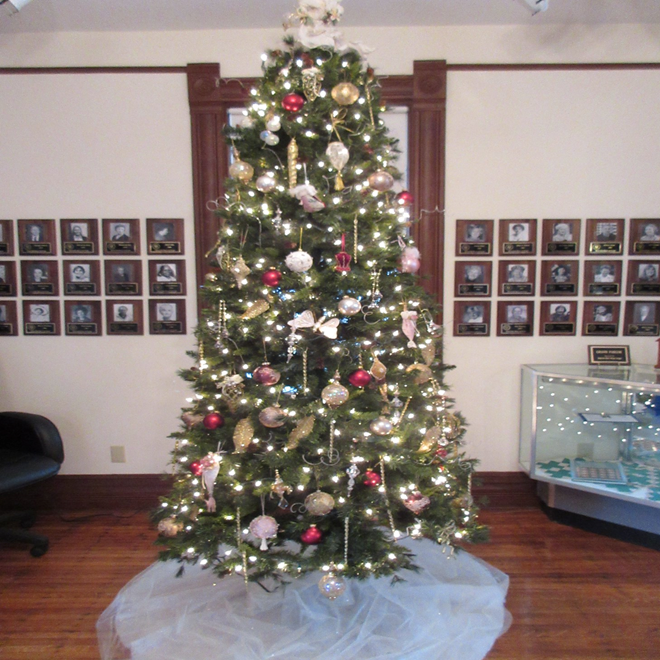 There's more that could be written about how the Guild was instrumental in the restoration of Marie's house and the work they are doing and supporting on the train depot across the street. But I think you get the idea. The ladies of the Marie Webster Quilt Guild may not be Honorees, but they certainly deserve recognition for all their work. They aren't in the Hall of Fame; they are the Hall of Fame. And here they are.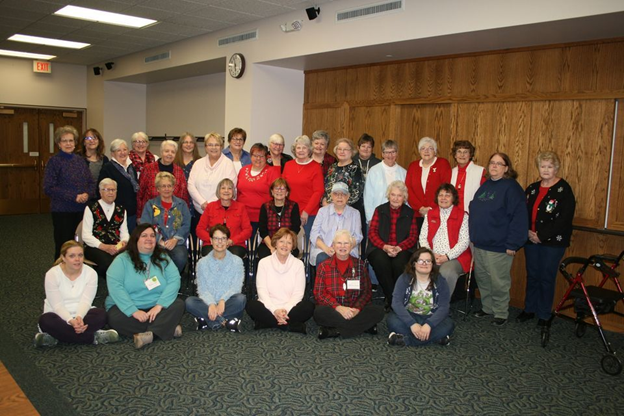 Kudos and thanks to all Marie Webster Guild members.
Your quilting friend,
Anna