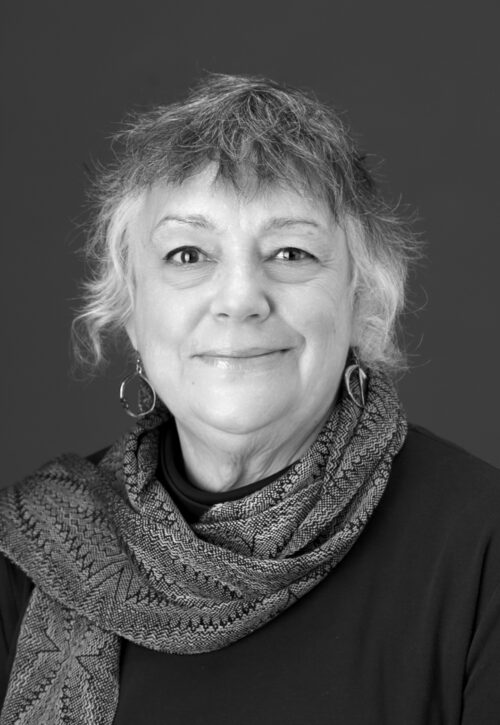 In looking for material for this week's post, I noted an article in American Quilter titled "Thread Witch: The Magic Artistry of Ruth B. McDowell." I was unable to locate and read the article, but the label for this Honoree stayed with me as I looked at her work. She really cast a spell on me, and I think you will be enchanted as well.
Ruth McDowell is a trained artist with a Massachusetts Institute of Technology B.S. in Art and Design and a brief stint as a technical illustrator in the late 1960s and early 1970s. She started quilting with traditional blocks, and her first books follow this theme.
But then she found Ruby Short McKim (another Hall of Fame Honoree who published quilt designs during the Depression). Or, at least that's what Ruth says: "I was fascinated with the designs I found in Ruby McKim's 1931 book, 101 Patchwork Patterns. Her original blocks based on poppy, iris, rose and trumpet vine were graphically interesting, botanically recognizable, and straightforward to piece with traditional methods…. The trumpet vine I found especially fascinating."
Well, I wondered about that, because the line from McKim's designs to McDowell's quilts is anything but a straight one. Look at these three side-by-side comparisons and tell me if you see any connection.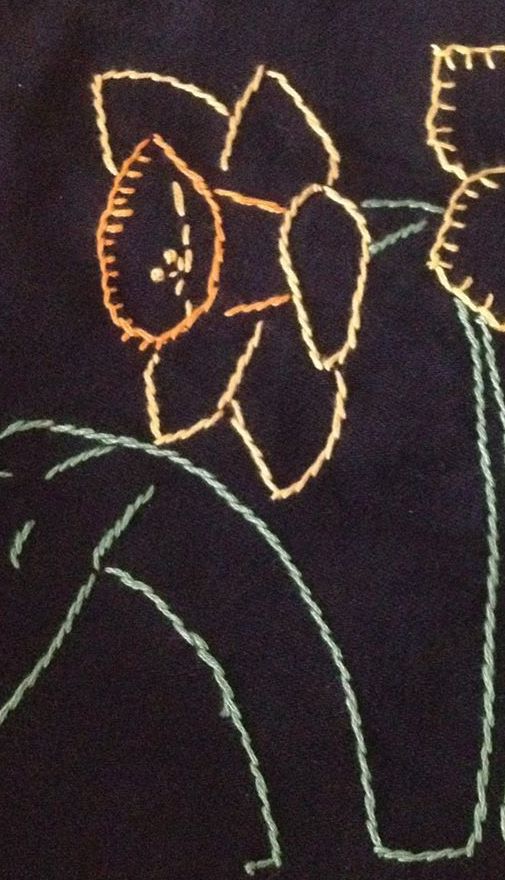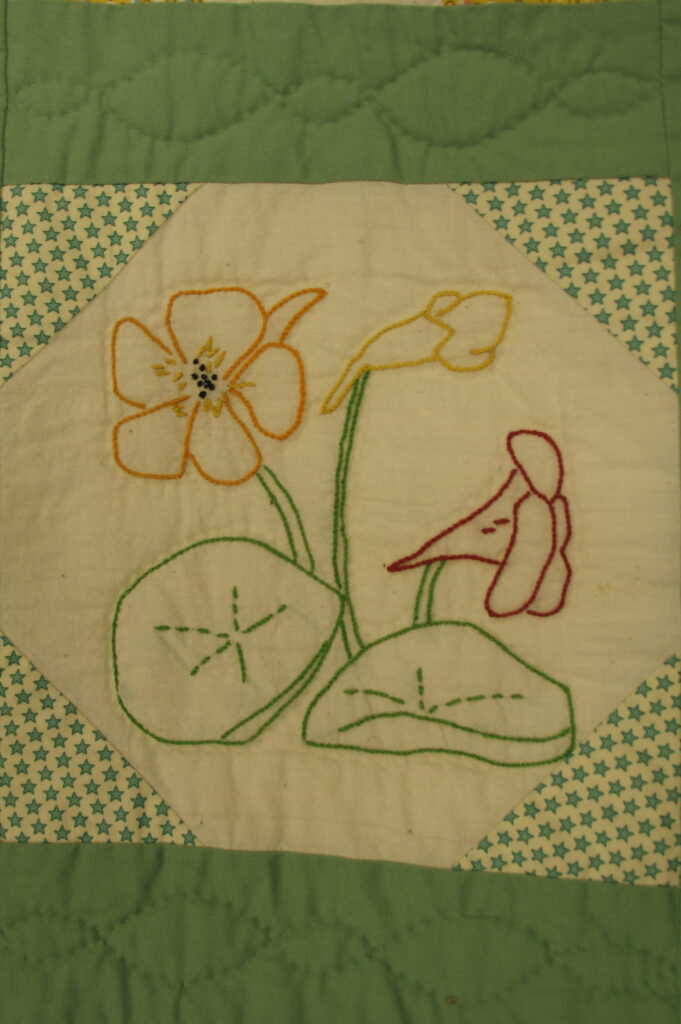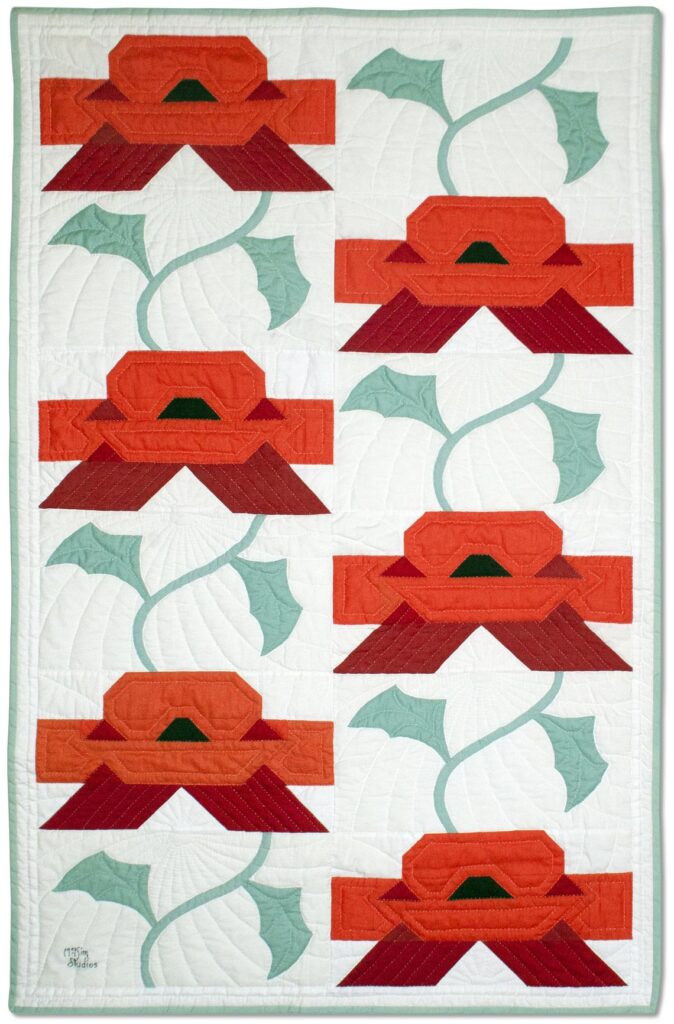 Yes, in both versions the Daffs nod, the Nasturtium leaves retain the pentangle veins, and the Poppies have tall stems. But McDowell has taken McKim's simple shapes and turned them into something completely different. And if that isn't witchcraft, I don't know what is.
Like most magic-workers, McDowell has some secrets up her sleeves. But they aren't really secrets; she has shared her methods in ten books. I own Fabric Journey: An Inside Look at the Quilts of Ruth B. McDowell, and although I'll probably never make a McDowell-style quilt, the text is perhaps the most self-revealing I've run across in the quilting world. And this openness seems typical of McDowell; for example, many of the photos on her website (link below) are accompanied by a personal comment, a tip, a little story about her inspiration source, etc. You don't ever need to ask "What was she thinking?"—Ruth will tell you!
And, in addition to the wonderful quilt pictures and artist's commentary, Fabric Journey gives me a little insight to the McKim/McDowell connections. I can look at McDowell's line drawings in the book and see the similarity to the stylized McKim flowers. Phew! I'm relieved: it's not witchcraft, but it's still bewitching.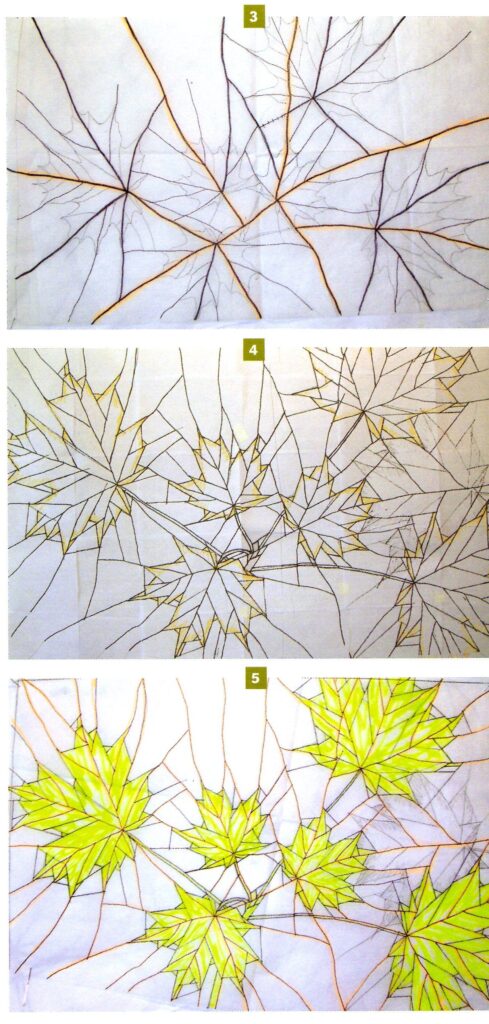 Of course there's more to a McDowell quilt than the initial sketches, and you'll find information about fabric selection, piecing considerations, and border choices for each quilt in the book.
Here are some of Ruth McDowell's other books.
All of Ruth's quilts are pieced, right-sides-together, with templates. This is a very particular technique, which has an enormous impact on her imagery. That is the technique that she teaches in her books. Also, as you see, nature plays heavily in McDowell's choice of subjects, and I think you'll enjoy seeing a few quilts on that theme. All of the photos, unless noted, are from McDowell's website—a virtual show in itself.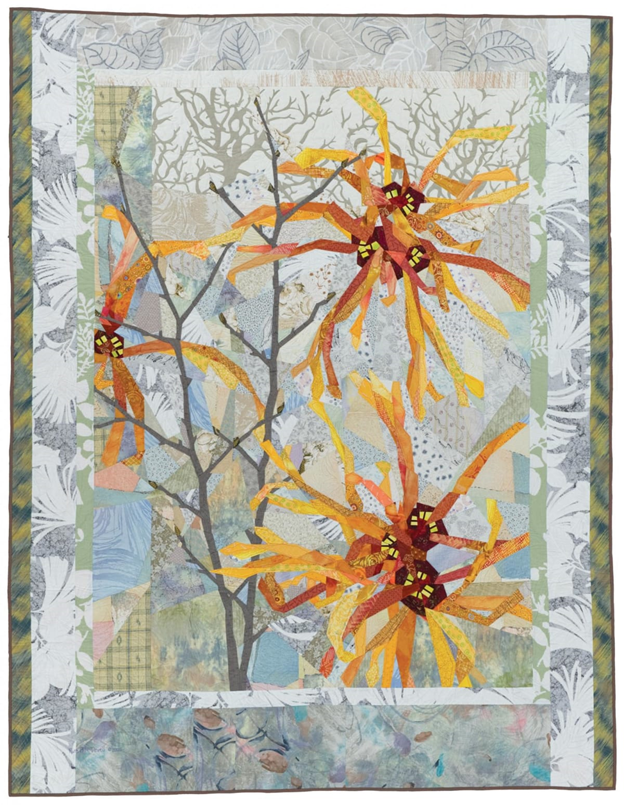 "Witch Hazel Jelena". International Quilt Museum Object Number 2006.011.0001 (See more IQM quilts at the link below).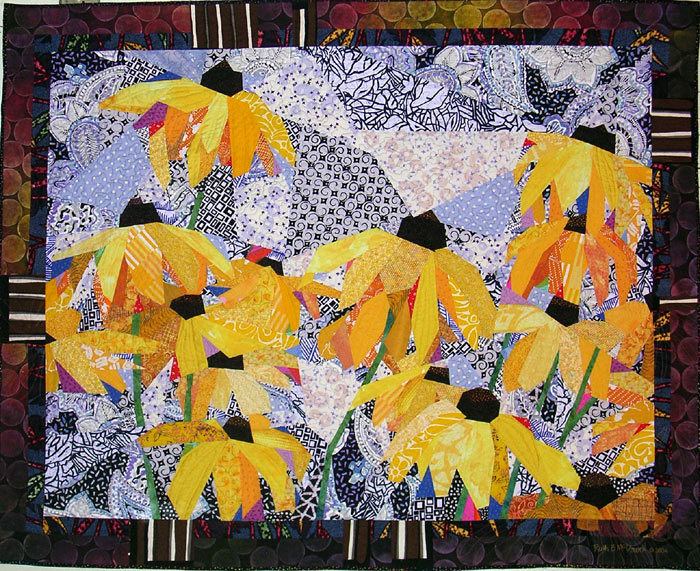 I chose these two because I have rudbeckia in my garden, but I am having no success in establishing the Solomon's Seal. And the one below, Rue, is a plant that was reputed to repel evil spirits (not that I would want to repel "The Thread Witch", but I did grow rue at one time).
Farm life seems to be another area of interest for McDowell. It's one thing to capture a leaf in a line drawing and turn it into a quilt, but quite another to capture muscle, movement and personality. McDowell can do it!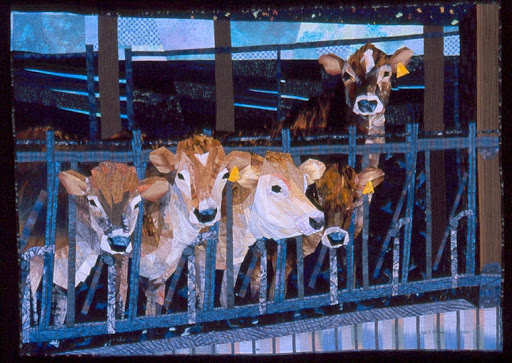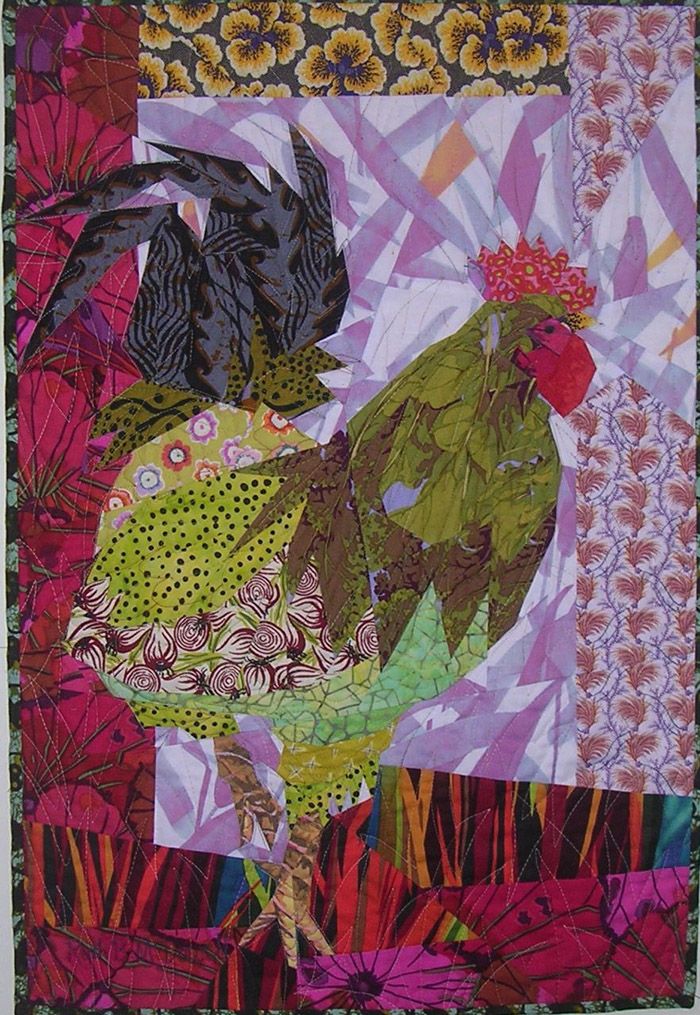 She can also do architecture—which should be no surprise given her skill with line drawing and her background as a technical illustrator. But these quilts aren't just blueprints in fabric; I can smell the mustiness and feel the age of the wood.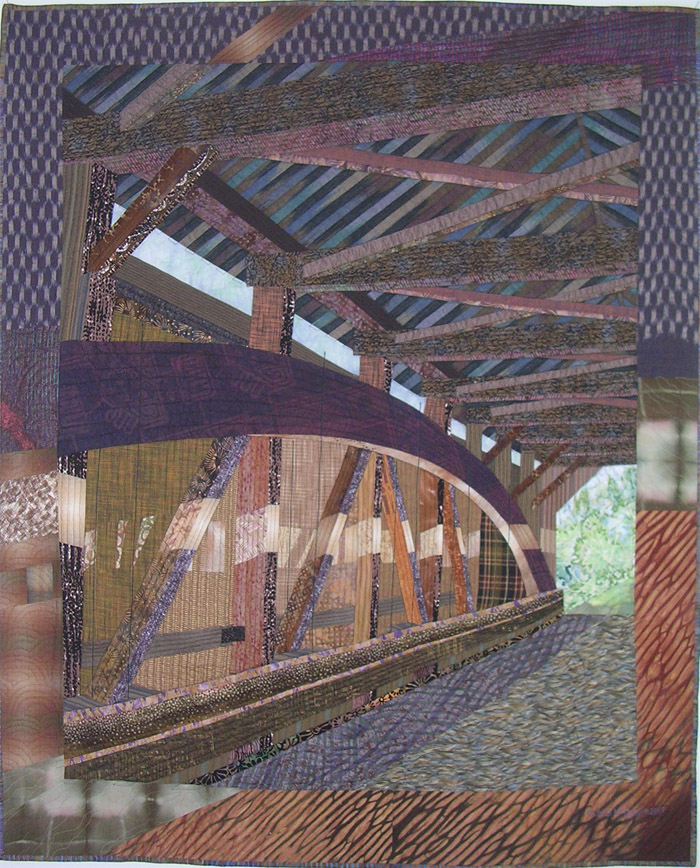 If you're not already impressed with Ruth McDowell, let me tell you a few other things. She has had numerous solo exhibits in the US, and has been featured in invitational art quilt exhibitions in this country, Japan and Germany. Like several other Honorees, she was chosen for inclusion in "The 100 Best American Quilts of the Twentieth Century", but in her case, it's for two quilts, not just one. She has quilts in the permanent collections of many museums, and her work is also in corporate and private collections. You can read more about her life and achievements on the Hall of Fame website.
I'm going to leave you with one more McDowell image. This one is perfect for this time of year. And there's nothing witchy about it.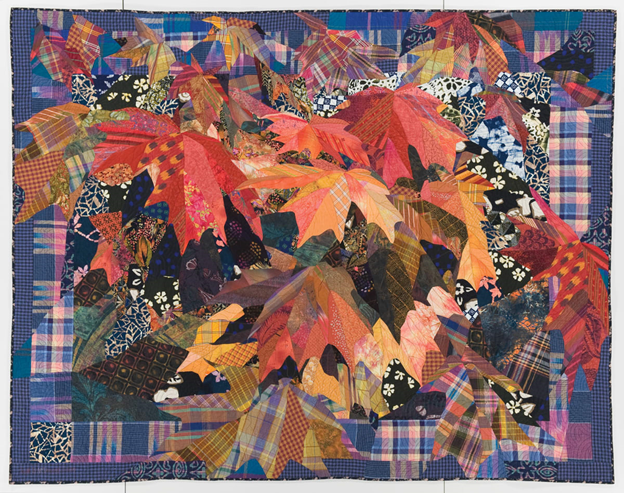 "Sunshine and Shadow: Maple Leaves". International Quilt Museum. Object Number 2008.040.0228. Byron and Sara Rhodes Dillow Collection
---
Your quilting friend,
Anna
International Quilt Museum McDowell quilts: https://www.internationalquiltmuseum.org/search/node/Ruth%20B.%20McDowell
McDowell's quilts for sale: http://www.ruthbmcdowell.com/clients/rbm/catalog.cfm Navigate from here to other parts of the website to see more quilts.
More bio information: https://quiltershalloffame.net/ruth-b-mcdowell/
Even more quilts on Facebook: https://www.facebook.com/Ruth-B-McDowell-303778260912
Tags:
Ruth B McDowell
,
The Quilters Hall of Fame