I was interested to read that this week's Honoree, Carter Houck, was a sailor; I thought I could write about something we have in common. But she was a racer, and I was a cruiser (my husband and I crewed on the Schooner "Madeline" out of Traverse City, Michigan)—totally different experiences. Even so, it made me wonder if there was a connection between Carter's sailing and quilting. I searched and searched and only came up with this book she wrote: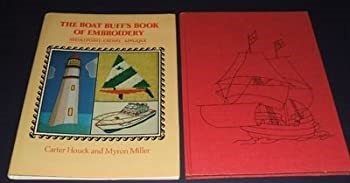 Carter also enjoyed hiking and was active in an Appalachian Trail organization, but I couldn't find anything on that either. So, that leaves me to tell you about her quilt career; don't worry–there's lots of material there. You can read her bio at the link below, and I'll give you a few extra bits. After studying fashion and working for Singer and Butterick on the East Coast, Carter found herself with her family in Texas. But, to use a sailing term, she wasn't becalmed. She contacted the editor of the largest newspaper in the state, the Fort Worth Star Telegraph, and convinced them that they needed a sewing column (which she could write from home while caring for her children, and submit by mail). Here's the announcement telling of the upcoming feature.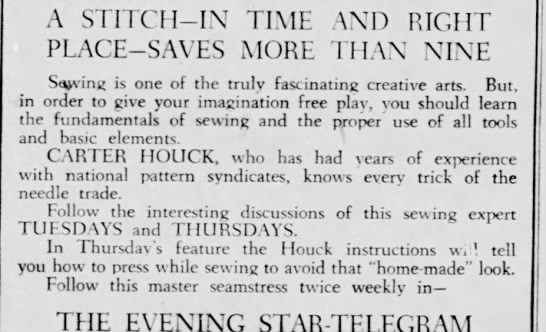 These columns dealt mainly with garment and home décor sewing (lots of ruffles included), but one she did on appliqué could hold its own in any quilt book. The accompanying sketch shows Carter's pattern-making skills.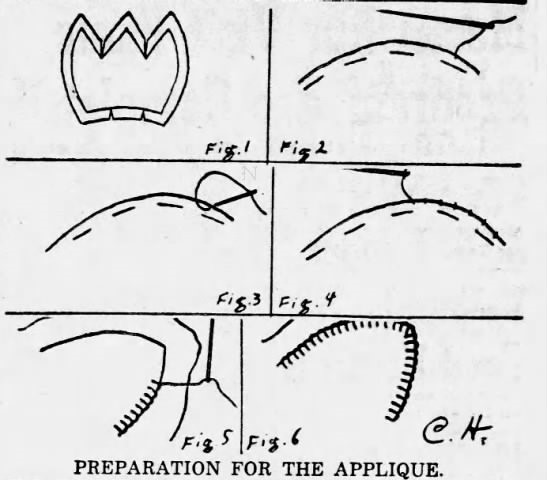 She knew her audience, and in addition to suggesting the use of appliqué for decorating children's clothes and making knee patches, she noted, "Occasionally, on such things as western shirts, where the material is heavy, and the design all in one color, you will wish to outline it in another color."
Following a move back East and a ten-year hiatus, Carter began another sewing column, this time for Parents Magazine. She then moved to Lady's Circle Needlework, where she and her photographer/business partner, Myron Miller, scoured the old homes of Connecticut to find samples of embroidery and other handwork for the magazine. And that's how her quilt career started. When they found some quilts in a bedroom, Myron said to Carter, "These are it! Forget all of that piddly diddly needlework, quilts are really exciting." Carter knew that the only quilting magazine of the day was the black-and-white Quilter's Newsletter (published by another Honoree, Bonnie Lehman), and that since Lady's Circle had color printing capability, they could successfully compete. Carter edited Lady's Circle Patchwork Quilts magazine for 20 year. And she came to be a feature writer for the competition as well. Here are some covers to give you an idea of how quilting evolved over the span of her editorship.
It was a small step from editing into publishing and Carter was prolific in that area. She's known for writing the quilting books shown here. (Treasury and American Quilts have art-quality photos by Myron Miller.)
She worked with Honoree Donna Wilder on the first two below, and with Robert Bishop on the second two:
And showing her general needle craft expertise, she is also credited with these.
In addition to her own books and those she co-authored, Carter edited Christine Dobbs' Crazy Quilts and wrote the introduction to Pat Long Gardner's Handkerchief Quilts. Impressive! You could get a good start on filling a library with all of Carter's books.
Her renown in the print world led to invitations to judge at quilt shows. She was also a quilting judge for the Museum of American Folk Art in New York City. In an interview with the Quilt Alliance (link below), she gives some insight into the early days when shows were more "hometown", but hectic in other respects. Here's Carter judging a local guild show: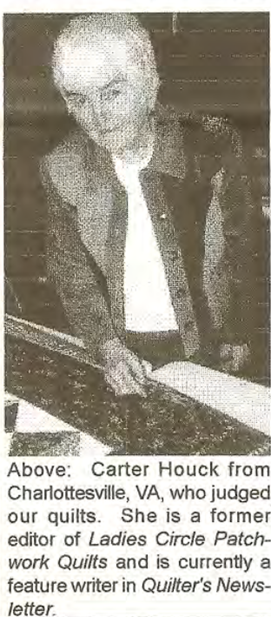 Although she was proficient with the needle, Carter is not known for her own quilts. She freely admitted that her knowledge of quilts came from 20 years of handling, photographing and looking up the history of other people's quilts. I couldn't find any Carter Houck quilts on the internet—nothing in the Quilt Index or the International Quilt Museum, not even in the folklore museum for whom she judged. But here's one photo of Carter with a quilt she "rescued" and remade (from "Passing on a Little Bit of Who I Am": The Transmission of Quiltmaking to a New Generation by Christine Humphery).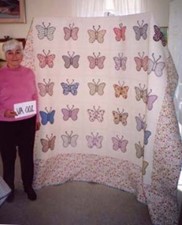 The Quilters Hall of Fame does have one piece of Carter's work, but it's in a quilt made by another Honoree, Georgia Bonesteel. Georgia asked quilters to make blocks for a quilt that she would put together; the blocks were to be houses representing their lifestyles or quilting styles. This is what Carter sent her- a two story deep pink Victorian house with center gable and circular window. The second story has a horizontal rectangular framed piece of white Aida cloth with the name "Carter Houck" cross-stitched in medium blue, and two square two-over-two windows. The porch roof and the house and gable roof have crocheted trim, probably hand done, to represent gingerbread molding.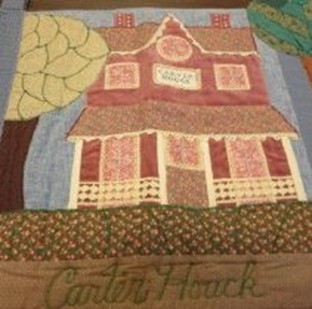 Okay, since I couldn't find any hobby photos of Carter, I'm going to close with an image from the company of her second husband, A. Grant Holt, who, with a couple of Amherst College friends, operated a Christmas décor business in the 1960s. I actually have one of these things, and I'll bet they, or other Holt Howard ceramic items, are familiar to you too. My editor thinks these are scary, but I say they are typical "mid-century modern".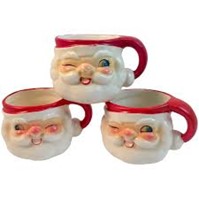 So, the next time you read a quilting magazine, or get out your Christmas decorations, or go for a hike/sail, think of Carter Houck. She passed a year ago in April, and I'm sure she has found what every sailor looks for: fair winds and following seas.
Your quilting friend,
Anna
Bio info. https://quiltershalloffame.net/carter-houck/
Interview. https://quiltalliance.org/portfolio/qsos-with-carter-houck/
Passing On a Little Bit. (scroll down for Carter; or read the interesting entries preceding hers) https://quiltalliance.org/ardis-james-scholars/passing-on-a-little-bit-of-who-i-am/