GEORGIA BONESTEEL HAS BEEN MAKING QUILTS for more than forty years.  She first learned to sew by watching her mother, who said, "In those days, I had to sew in order to save money dressing two daughters." Georgia's father worked as an attorney with the U.S. Department of Justice, and the family moved often.  "Always being the new girl made me more outgoing and helped me conquer shyness," Georgia recalls.
After attending Iowa State University in Ames, Iowa, and Northwestern University in Evanston, Illinois, Georgia earned a degree in home economics.  Upon graduating, she started work in merchandising at Marshall Field & Co. in Chicago.  She had the opportunity to utilize her creativity and strong sense of color by designing store window displays at the Old Orchard store and preparing fashion models for runway shows.  Marriage in 1959 and children took priority until a move to New Orleans in 1969.  With three children in school, Georgia was finally able to concentrate on her favorite pastime, sewing.
"I had studied textiles at Iowa State, but I'd probably have to say the adventure with piecing and patchwork began when we lived in New Orleans."  Georgia told the Quilters Hall of Fame Newsletter in 2003.  "I was mostly just making home projects and clothes for my daughter at the time, but I remember a particular McCall's pattern for neckties that I was making for my husband, too.  Those ties must have been about 4 inches wide, geometric, terrible designs.  I'm surprised he wore them.  I used to sew a small label, "Home-made by Georgia,' in them," she recalls.  "There was always some fabric left over"
"Being frugal," she continued in the article, "I wanted to do something with the leftover patchwork triangles.  I found a little book with about 12 patterns, and I tried them all.  It was called Modern Patchwork and was published by Countryside Press Farm Journal Inc. and had a 1970 copyright date.  I made pillows with those leftovers."
Little did Georgia know that her job in the fabric section of a New Orleans department store in 1972 would lead to a professional quilt career.  After winning an audition for a television wardrobe assistant, she went on to guest star on several segments of an educational series called Sewing Is Fun.  During this filming, she discovered that remnant silk tie fabric could be recycled into charming crazy-patch-quilted handbags.  She didn't learn to "properly" quilt until several years later, by sitting with the senior citizens quilt group at the Opportunity House in Hendersonville, North Carolina, where the family had relocated.  As she recalls in her book, Lap Quilting, "I learned to sew at my mother's knee: I learned to quilt through serendipity!
The move to North Carolina launched her interest in full-size quilts and a further step, teaching quiltmaking at the Blue Ridge Community College.  Soon she was able to combine teaching and quiltmaking into a PBS television series of her own called Lap Quilting, produced by the University of North Carolina Center for Public Television.  The first six segments taped in 1976 had limited viewing in North Carolina but were so well received that another seven were taped to create a full thirteen-week series that aired across the country.  A companion guide, Lap Quilting Your Legacy Quilt, which sold for five dollars, became a top seller.
Soon Georgia's children were collating copies on the dining-room table, and her mother was typing up addresses for the mailings.  That little booklet helped to buy a hardware store, and Georgia and her husband began operating Bonesteel Hardware & Quilt Corner.  This gave Georgia a base for classes, supplies, and sewing machine sales.
By 2003, Georgia had completed twelve series for television.  Each series comprised thirteen thirty-minute shows with a theme, demonstrations, step-by-step methods, and interviews.  The exposure Georgia received from her television programs led to more books, workshops, judging of quilt shows, lectures, and even a line of fabric with Wamsutta.  Her world of teaching extended from Alaska to Australia to Europe.
In addition to the television series, Georgia has written nine books, the most recent among them Georgia Bonesteel's Quiltmaking Legacy.  Featured in each book is Georgia's novel approach to lap quilting, which helped to bring great portability to the marvelous art form.  Georgia also authored a three-volume continuity program (basically a series) for Oxmoor House entitled Spinning Spools.   
Working with fabric and all the paraphernalia that accompany quiltmaking has let Georgia to develop several useful quilting products.  She likes a supported lap hoop that accommodates a busy lifestyle and an indented thimble that helps quilters master the quilting stitch in a hoop.  Georgia had a wood crafter make supported lap hoops that sold in her store until the postage became prohibitive.  She never made but did carry the indented thimbles in her shop.  Georgia also created a portable light box as a solution for transferring patterns, but she is most proud of her product that combines a graph pad and template in one tool-a continuous grid printed on freezer paper, Grid Grip.
Georgia has been honored with several awards; the Silver Star Salute at the International Quilt Festival in 2000, the Bernina of America Leadership Award in 2002, A North Carolina Quilt Symposium Yearly Scholarship Award in 2003, and induction into The Quilters Hall of Fame, also in 2003.  In 2005 she and her quilts starred in the documentary The Great American Quilt Revival, which aired on several PBS television stations.  The film, produced by her son Paul Bonesteel of Bonesteel Film, Inc., is the story of how quilts came to be recognized as works of art and how the craft of quilting has exploded into popular culture.
Through negotiations with Baum Textile Mills, Georgia was able to produce more than twenty-five cotton fabrics based upon Marie Webster's designs.  The fabrics, along with a panel interpreting Marie's quilts, became best sellers and earned more than $3,000 for The Quilters Hall of Fame.  Georgia has also been the subject of a profile in Sophie magazine, and her quilt Moon and Stars was chosen as the cover art for a children's CD.  Celeste Sings, Kids Dream (Romantic Realist Records).
Teaching remains Georgia's passion and she gives seminars at weeklong retreats at John Campbell Folk School in Brasstown, North Carolina, and Nine Quarter Circle Ranch in Gallatin Gateway, Montana, as well as a two-week session at the William Black Lodge in Montreat, North Carolina.  Each of these venues requires a new and original quilt project for students to learn. "Learning and sharing over a longer period of time at these venues has very positive results," says Georgia.  "The interplay of students is invaluable.  That is how quiltmakiing has thrived and grown from hand to hand and mind to mind."
Locally, Georgia remains active with several quilting groups and continues to produce art quilts and designs (in between traveling with her husband, raising chickens, and visiting with her eight grandchildren).  She is also a master gardener, volunteers regularly, maintains a plot in a community garden and constantly updates and cares for her lakefront property.
Over the years her philosophy and drive have not changed; she still believes making something handmade is always worth the time and expense, and its even better when not perfect.  "When it comes to creating quilts, making a mistake is the truest form of creativity"
By Amy V. Bonesteel Smith
"Many of the quilters explain that before, quilting had seemed such an overwhelming task, but lap quilting has made it both possible and plausible."
Georgia Bonesteel
Introduction to More Lap Quilting
with Georgia Bonesteel, 1985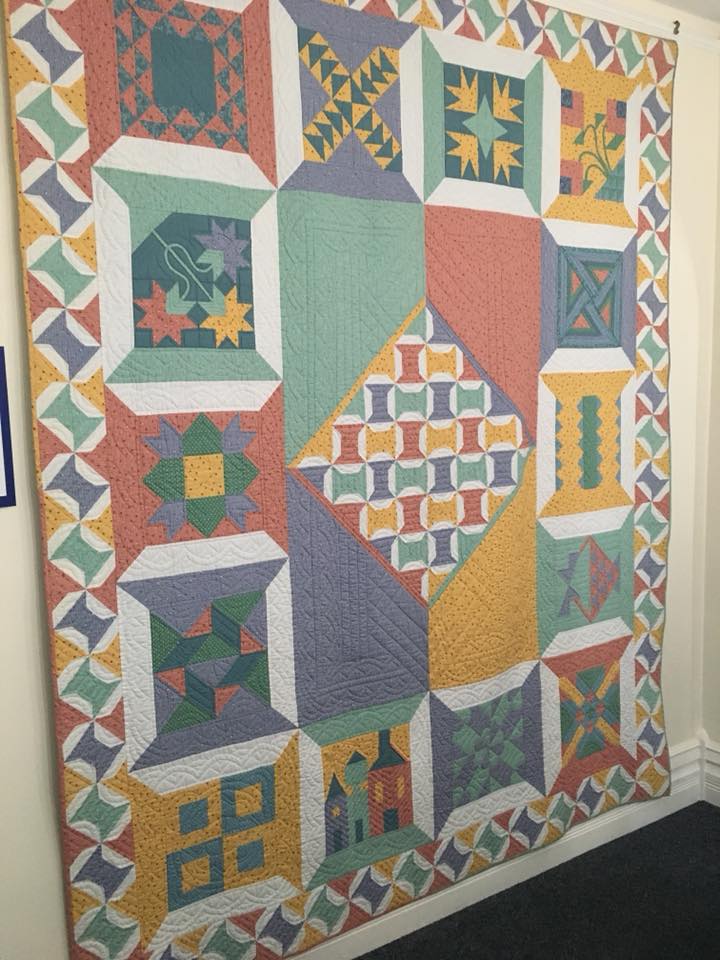 Spinning Spools was designed, pieced and hand quilted by Georgia Bonesteel. This quilt was featured on the cover of "More Lap Quilting with Georgia Bonesteel" and is now in the collection at The Quilters Hall of Fame.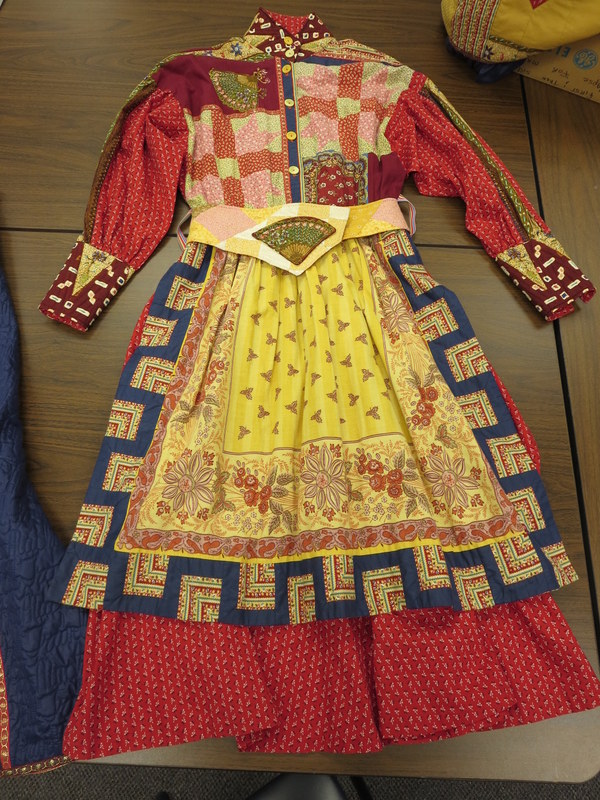 Have Machine Will Travel is a four part ensemble comprising a dress, belt, sleeveless tunic and portable machine cover. The dress is based on antique blocks worked around a colorful batik fabric. Made by Georgia in 1982.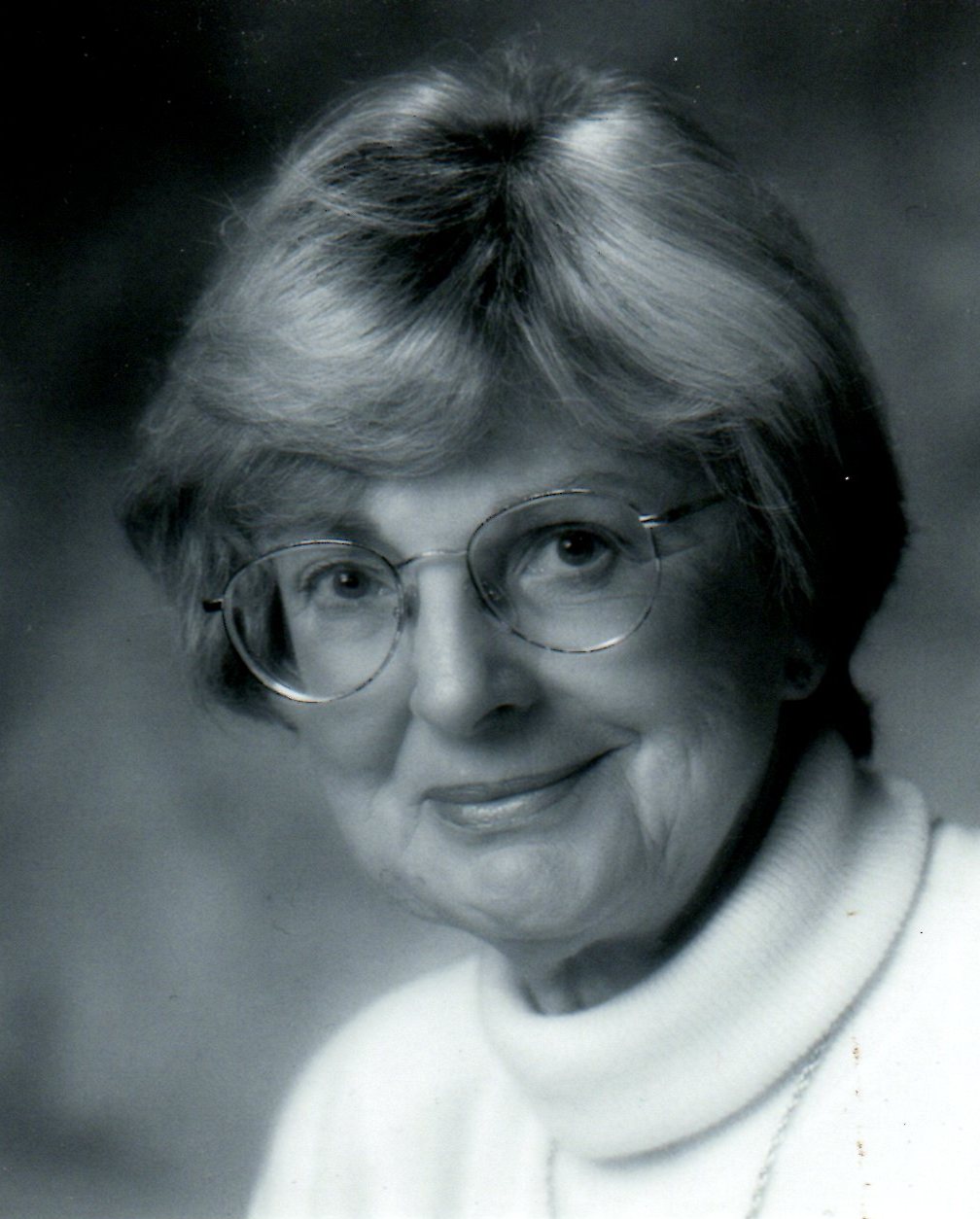 Photo courtesy of Georgia Bonesteel
Selected Reading
Bonesteel, Georgia. Bright Ideas for Lap Quilting. Birmingham, AL: Oxmoor House, 1990.
-----. Lap Quilting Lives. Bothell, WA: Martingale/That Patchwork Place, 1999.
-----. Lap Quilting with Georgia Bonesteel. Birmingham, AL: Oxmoor House, 1982.
-----. Patchwork Potpourri. Chapel Hill: University of North Carolina Press, 1997.
-----. Spinning Spools. 3 volumes. Birmingham, AL: Oxmoor House, 1990.